What to Pack for a Mexican Vacation
Next weekend, Bob and I are heading south of the border to check out a part of Mexico we've never been to before- Cancun. Seeing as how this is typically a spring break destination, we are looking forward to seeing what else Cancun has to offer besides drinking and crazy nightlife. I'm most excited about exploring the cenotes, visiting the turtle sanctuary and snorkeling off the coast.
Since my other passion is personal style, I like to make inspiration boards for each city or vacation I'm taking and what my dream wardrobe would look like. Sometimes I'll take outfit ideas and try to come up with something similar for my own trip. This not only helps me pack but also keeps my photos looking cohesive and pretty.
For this trip, I am thinking of sticking to a white/coral/ teal color palette. I want to have several ways of mixing and matching and keeping the choices to a three color limit makes this really simple to do.
Here's what I'm hoping to put in my suitcase to Mexico:
Basics first:
First of all, I love white– dresses, tanks, skirts, bathing suits. I think a white dress with sun-kissed skin is probably the most sexy look a girl can have, so I'll be starting my packing list with a few white basics. (Even though these pieces are all pretty special, since they are white, they can be mixed and matched with a bunch of other colors and thus, makes them basics!) (skirt, tank, dress)
Bathing Suits:
The next thing I would think about is my bathing suits. Yes, I said suits- as in more than one. Whenever I go on a water/beach intensive trip, I always pack multiple bathing suits because I don't like to put on a wet bathing suit when I'm dry. Yes- totally a personal preference. Another reason I like to bring two is that one can be for lounging around the pool and another for water activities. For snorkeling and swimming in the cenote, I'm going to want a suit with a little more support and coverage. For relaxing by the pool, maybe a suit something where I can remove the straps to prevent tan lines. (coral suit, zig zag suit)
Shorts:
Shorts are great for a quick cover up from the hotel to the pool or when you want to walk around the downtown area. I like to choose a short that can be rolled up if I want to go shorter, but also has the ability to be a longer walking short. If you are only going to bring one pair of shorts, I'd pack the jean since it will blend and go with more things. (coral shorts, jean shorts)
Shirts:
Recently, I've really fallen for a good button up shirt. It can be tucked it a skirt, worn over a bathing suit as a cover up, buttoned up half way and tie at the waist with jean shorts for a laid back look, sleeves rolled up for day or rolled down when there is a little chill in the air. If you choose to bring one along, play around with the other items in your bag as the right one can easily be added to any outfit. (shirts 1, 2)
Shoes:
Shoes, shoes, shoes. I love shoes- it is true. But for an easy beach vacation, I like to stick to low sandals that can easily be taken from the beach to dinner. And again, same as with the bathing suits- bring two in case one pair gets wet or the tide washes one away! (pink shoes, flower sandals)
Jewelry:
Jewelry is a place to go wild– throw your color wheel out the window and have fun. (Although, these two pieces still have bits of teal and coral in them!) I think the bigger the better- make a statement! With bold stand out ear rings or bracelets, let your clothes be the supporting role (your basic white dress or jean shorts will just make your jewelry look that much more special.) (Ear rings, bracelet)
Accessories:
Accessories are another place to have fun- a cute straw hat not only adds personality but protects your face from the sun. A great printed bag can hold everything from your sunscreen and a bottle of water on the beach to any souvenirs you pick up in the markets. (hat, bag)
1 fancy dress: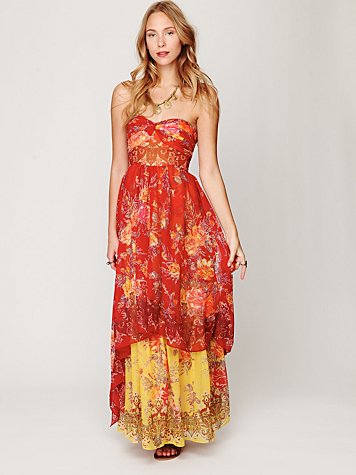 And, last but most certainly not least, pack one really special, totally awesome, makes your boyfriend's jaw drop open, dress. Something whimsical and pretty, something that floats when you move and makes you feel pretty.
So many people complain that they are bad packers or over packers; Don't get confused with your clothes and pack the wrong things and don't over pack because you don't want to feel like you have nothing to wear. With these choices you'll have over 10 different combinations (way more than enough for a long weekend). My biggest advice would be to spend the time picking out outfits and potential combos before you go, that way you'll notice if you are missing anything.
So… What do you think? How do you pack for short or long vacations?