What to do in El Paso when you Can't Find Mexican Food



Two weeks ago I traveled to El Paso for a social media in tourism conference. Besides meeting some great people  and learning about some awesome tourism campaigns, I wandered around the Downtown El Paso area on my last day in the city, in search of Mexican food.
Anyone who knows me or has read this blog for any time at all knows that I have a deep connection with Mexican food. Heck, we traveled around the world tasting Mexican food in every city we visited. (If you think that is strange- change your mind! We were surprised by how many cities around the world had some type of Mexican food, usually made by Mexicans. Although, Icelanders can not make Mexican food- don't be tricked!)
A few things surprised me about El Paso. First of all, the downtown area is in a rebuilding phase and nothing seemed to really be open. I did stumble upon a cute little area that had about four restaurants and bars behind the convention center, but that was about it. Secondly, I could not find Mexican food to save my life. I realize that a stone throws away is actually Mexico, but for some reason, there are hundreds more taco stands, taco carts and taco trucks in downtown LA than in downtown El Paso.
While I wasn't there to really explore the area, I did find some treasures that I thought I'd share incase anyone finds themselves driving through.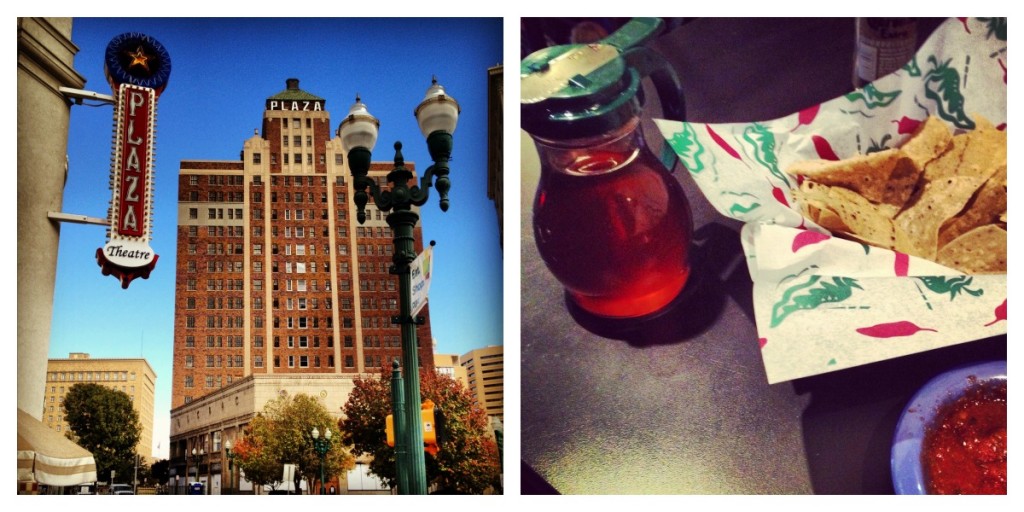 Where to Eat: Tabla– this cute tapas bar was where we ate lunch the very first day. I had their simple salad (filled with huge chunks of avocado) and split a burger with my new friend Melanie from Lynchburg Virginia. The burger was out of this world delicious- we were both moaning about just how good this burger tasted. This burger is reason alone to travel to El Paso. They should have a huge billboard on interstate 10 guiding people off the road and into Tabla.
Where to discover: Across the street from the convention center are several art museums that are free to the public. They aren't huge museums but they had unique El Paso and Mexican artists that gave a deeper look into Texas and Mexico's history. My favorite new artist is Frederick Carter, who combines El Paso history and landmarks into bold, almost cartoon like paintings.
Where to eat Mexican Food: Leos Mexican Food Restaurant has a lively atmosphere, huge bowls of queso dip and tasty tacos and fajitas at very reasonable prices. While we only ate lunch at Leos, there is a stage area that offers live music most days of the week.
While this isn't a comprehensive guide, this will definitely allow you to walk away with a full belly and an interesting perspective into El Paso.