VW Road Trip from LA to Big Sur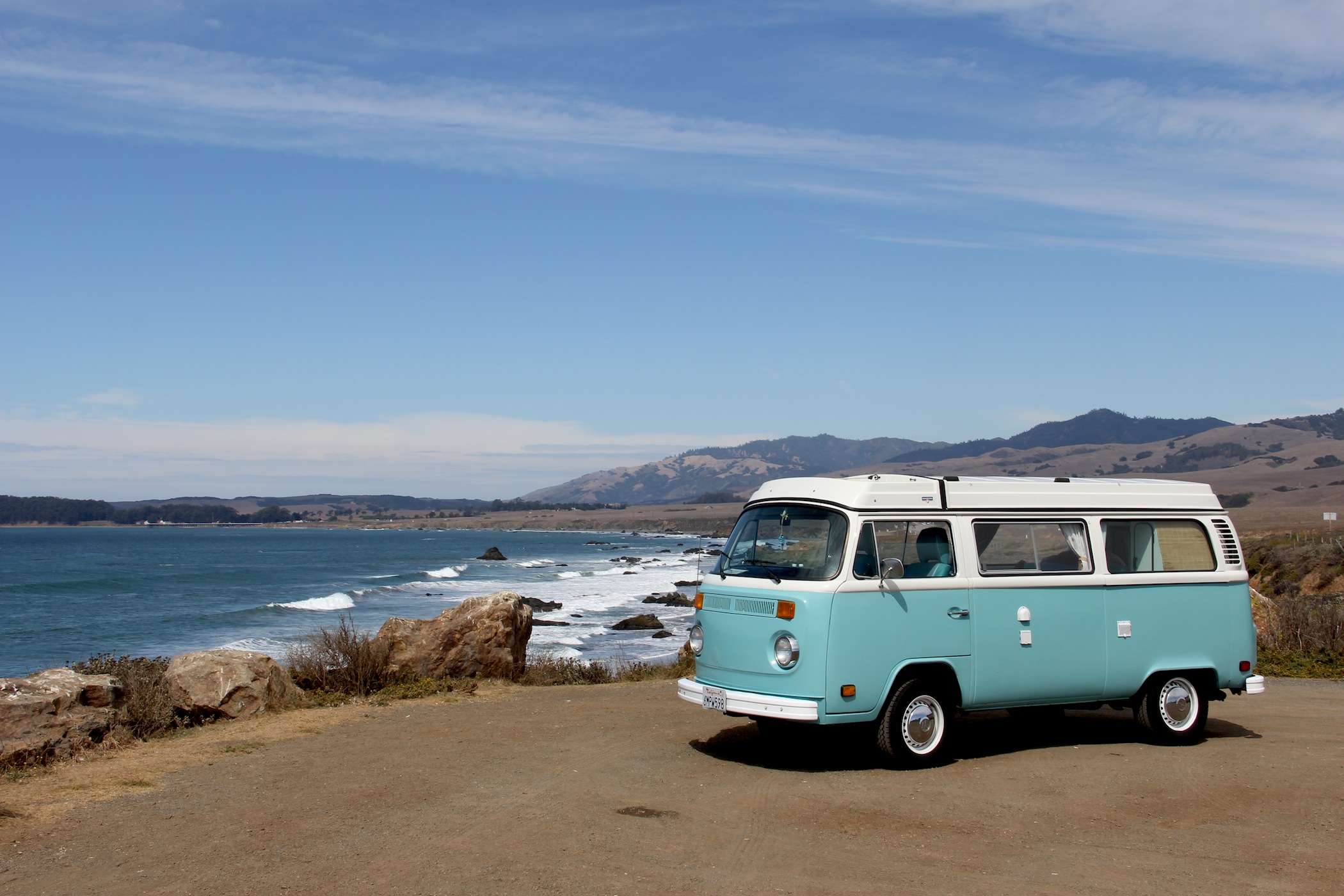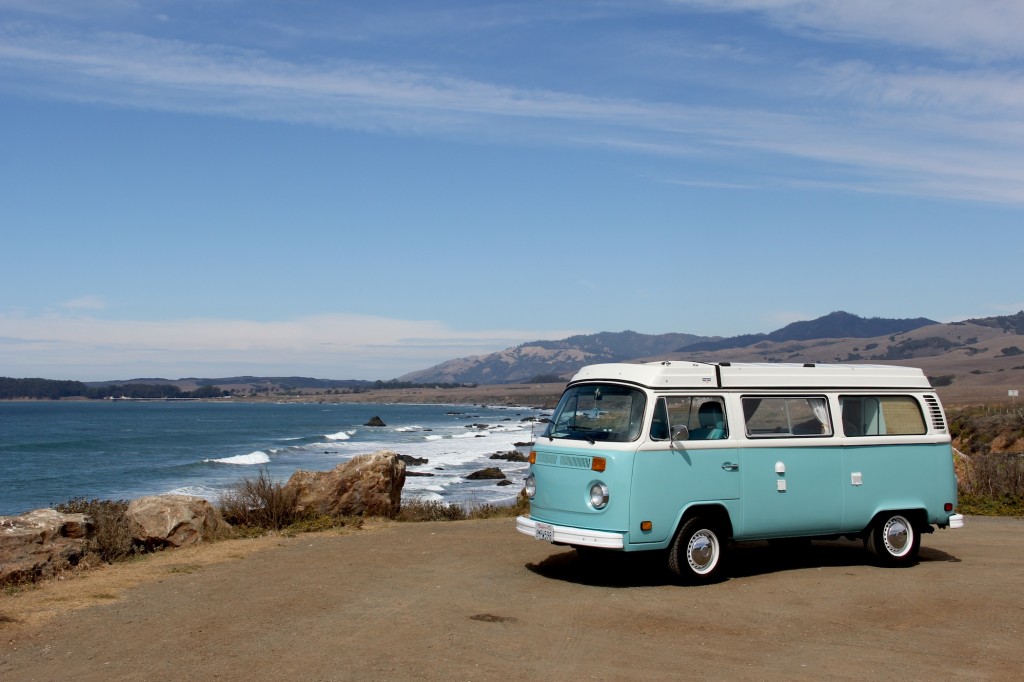 I'm wound up tighter than German mousetrap, but I had no idea about this until half way through today's drive. Somehow totally unaware of my own stress, I woke-up psyched. Jade has always wanted to visit Big Sur, and this morning we weren't only about to drive up there, we were about to go with classic 60's style – in a Pop-Top Westfalia deluxe. I could think of a lot of ways to get to the Central California National Park, but as soon as I found Vintage Surfari Wagons, my head filled with images of cruising along the cliff side curves in a restored VW bus, parking in the middle of the woods for a bonfire, and pulling onto the sand for a beach break cook-in; I of course would be wearing bell-bottoms and mutton chops, while Jade would be in floral prints with braided hair. Clearly I had imagined a photo-shoot, but real life, through a slightly hippie-tinted lens, would let me have my photo-shoot moments and teach me something about myself along the way.
VW Surfari Wagons really went all out and as Bill walked me through the amenities of our road-home, Ala Lani, I knew that admitting I had no idea what to expect out of our next few days was a huge understatement. Vacationing in a camper is literally trying on someone else's life. I wasn't ready for this as I cranked the steering wheel around and pulled onto the 101 North. See, in my photo shoot creation, our VW had been just like a standard car. I was wrong. The first sign of this was the gawkers, which does go with the photo-shoot. Like the first time I wore my Five-fingers, the VW Bus is a conversation piece. We weren't even out of LA before we were talking with a couple of guys who either toured or migrated to California in a bus- and loved it. These two guys would only be the first of the nearly dozen people who wanted to talk with us, and merely a drop in the bucket when compared to the people honking, staring,and waving us down the road (the coolest was the biker who threw us a 'Hang Loose' as we passed Santa Barbara.)
It took me until Santa Barbara to realize that the VW was not my car, and settle into the touring nature of our trip. It's a cruise, a saunter, not a stroll though because it has to much style. Foot all the way down climbing towards Yorba Linda, I was forced to rethink my agenda and slow down. Honestly, I just thought I was at the pace of the average person, if not a bit more mellow than most people, but, in a the few minutes I was made to watch the scenery, I realized how much I have blown through and past in the last few years, how I rush from destination to destination (literal and figurative) without seeing the spaces in between, how much of the world I've missed. After we licked the first mountain pass, I found myself easing off the gas; instead of pushing 65, I settled in around 60 flat. I was relaxing. That was when the first pee attack hit.
When all you care about is the lovely scenery you're driving through, the difference between 60 and 65 miles per hour isn't noticeable. When you're dancing in your seat, convinced that if you move your legs the right way then you won't destroy all the aquamarine vinyl beneath you, it's a big difference. Jade and I raced up the nearest off ramp and into the arms of a nearby Vons just in time. Threat of kidney explosion over, we turned North again, taking time to pull over and 'get a better look' whenever the mood hit us.
Our first true stop was Pismo Beach, basically the Panama City of Central California. Now whether or not you have every been to Panama City, Florida is irrelevant, I think everyone in the world has an idea of the type of town Panama City is, the epitome of beach front tourism, where drinks flow and oddities are around every corner. That idea, that is my impression of Pismo Beach. I'll be the first to say that we didn't spend much time here, but whether it was the boastful banner for 'business of the year' on a taffy shop, the window display of edible insects, or the group of thirteen year olds saying they could chug a fifth of Jager, every time I tried to shake my first impression, it was only bolstered by the atmosphere.
Even if it did feel a little Spring Break-y, it was the rave reviews for Splash Cafe that drew us off the highway, and so we had to taste it ourselves. I would say the majority of the world's 'world famous' type restaurants attract mainly tourists and travelers, however the people in line around us were all locals, not only locals but friendly locals. Even though we were standing in a line, several people just started talking to me about the weather, the beach, and most of all about the clam chowder (in fact the girl right in front of me was in line for the second time in a day). It turns out that 'Splash' (as the locals call it) really draws people in, not just for a sample of a boastful plate, but for tasty return trips. I ordered us up some clam chowder in a bread bowl and headed down to the boardwalk to test it out.
The beach was wide with golden, white sand, clean, and inviting. We stopped along the boardwalk and dove into our food. The chowder was good, but the first orange beams of the sunset were what kept us standing on the boardwalk for a few minutes. The air here was so clear that every color seemed more brilliant than what I'm used to in LA. We were still hoping to hit Morro Bay by sunset though so we headed out of town, stopping only briefly to acknowledge the copious supply of 'Pismo Beach' booty shorts sold along the street.
San Louis Obispo greeted us like an sophisticated New England town. Being that our main reason for stopping here was to see a giant wall of bubble gum, something that, looking back, I'm surprised we didn't find at Pismo Beach, I didn't expect much. This seems to be a town that is clearly progressive in nature but taking care to preserve its history. The brick building streets, creek walkway, and clearly strong artistic scene make me really want to come and spend some time here, but, like I said, we came for Bubble Gum Alley, and like the first apartment complex I saw in Hong Kong, I was taken aback by the sheer size and quantity of gum stuck, smashed, and smeared to the walls of this alleyway.
The VW Bus rumbled to life one more time and carried us to our campsite in Morro Bay. (Not before some guy tried to sell us weed, which, while we didn't buy any, it's cool to know that we don't look like Narc's) We were so focused on the trip up to this point, that we hadn't explored what Ala Lani had in store for us for living quarters. Within a few minutes, we had the bed pulled out and made up, the sink running, and the windows all closed. We lay down in the bed to the sounds of waves crashing just a few hundred yards away, and it hit me that this was awesome. We had really started our road trip to Big Sur, successfully set up our campsite, and were relaxing a few hundred yards from the Pacific.
The thrill here isn't simply being close to the ocean, it feels like were are more connected to the world, the cool ocean breeze tumbles against our pop-top and the ocean smell filters in through the windows. I can't wait to get into Big Sur tomorrow!
This trip was sponsored in part by Vintage Surfari Wagons. Located just South of LA, these camper vans are a great way to see California.