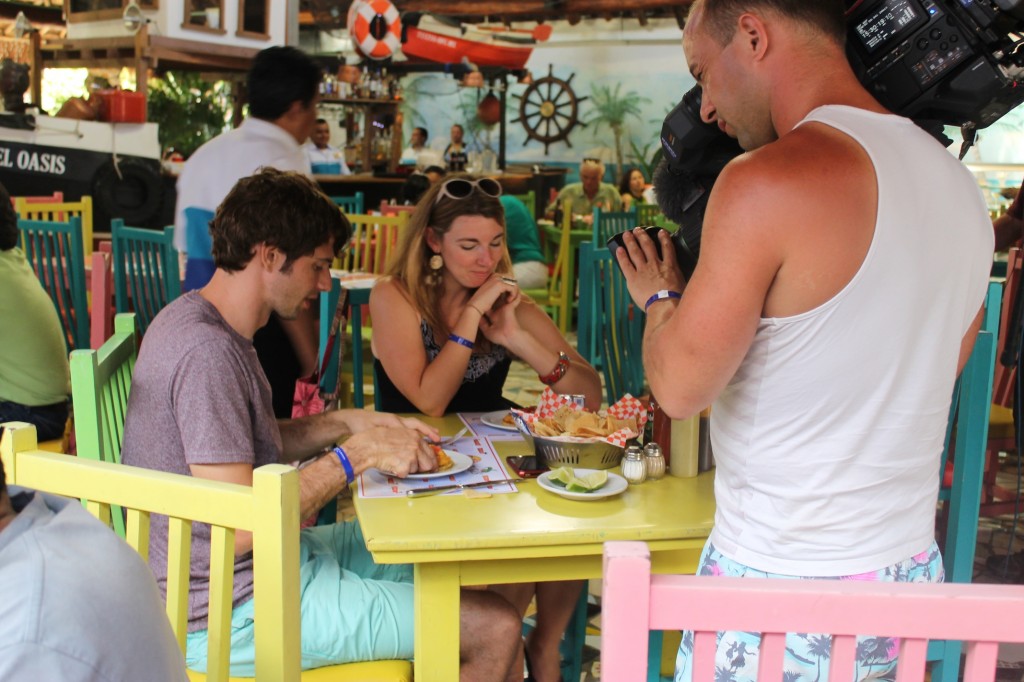 We invented travel blogging.  I mean we didn't, but imagine the mantle we though we were carrying in the beginning.  We created a way for ordinary people, not just Rick Steves, to share their world.  We felt enormous, unbeatable, but really it all started over salads at a failing restaurant…that's when we got our quest.
 I didn't even really get excited until we were on the trip.  Honestly, it seemed a bit overwhelming, but it was

Australia.

– Bob
 I couldn't believe we got asked to go.  I really just wanted to share everything with my family.  I mean it's

Australia.

– Jade
We traveled to Sydney with Virgin Australia so we could tweet every minute we were there, every minute between the three of us. (Bob, Jade, and Rob)
 We had to trade off sometime because the weekend was jam packed.  I mean, V Australia put a baby roo in my hand and

me in a drag show

.
 This was the beginning of twitter and we'd just invented travel blogging, so we were sharing this experience with our friends and family, 4320 experiences actually.
4 days of amazing experiences that would shape the way we wanted to see the world.  We wanted to do it all, the big ticket items and the unique local stuff, and not go broke doing it.  V Australia gave us an Around-The-World ticket, and we discovered we didn't invent travel blogging.  But we weren't like most other travel bloggers or even most other longterm travelers.  We were already on paths, and an Around The World Trip would put our lifelong dreams on hold.
I put it off.  I mean, yeah, it sounded magical, but I didn't want to loose what I had been working so hard to achieve.  Besides the idea of traveling the world was almost too massive to wrap my head around.  
I quit my job first.  My boss fought me on it, but I had to make a change.  It was the advice I'd gotten my whole life that finally made sense, this was the first thing that if I let it pass, no matter the cost, I would regret it.
Eventually, we all had to give up the things that had brought us to LA.  Rob was the last one to abandon his lifestyle and join in, of all of us he had the most to loose.
 It was fast, we averaged a country every 3.5 days, and planning was key.  We had to figure out how to stretch what we had and pack everything in.  Not traveling on a budget, traveling with a budget.
 Leaving LA, this trip and our group were all I had.  We fell in love with animals – I did – holding, petting, feeding. We also discovered the importance of when to say screw the budget.  I mean this is a huge world and some things have to be done.
That's when it happened, We were abandoned halfway around the world.  It was really hard to say goodbye to someone who had been with us as we all changed in the face of the world…everything in the world, but Rob gave us a 15 minute warning and then walked out the door and down the street.  Without Rob, we would never be who we were, and without him deciding to go back to his old life…we would also not be who we are.
We landed in LA, and things weren't 100% different, but probably 75% total new world.
 I started editing, mainly for my Grandmother to see these places she can't go visit herself.
I started planning out next trip.
Nothing came easy from there on out.  Vagabond3's history is a series of twists and turns, and ultimately leading to some would-be mentors. (Continue to Part 2)
Get In Touch With Us:
Go (at) Vagabond3 (dot) com