Travel Style- Coolest Ways to Stay Dry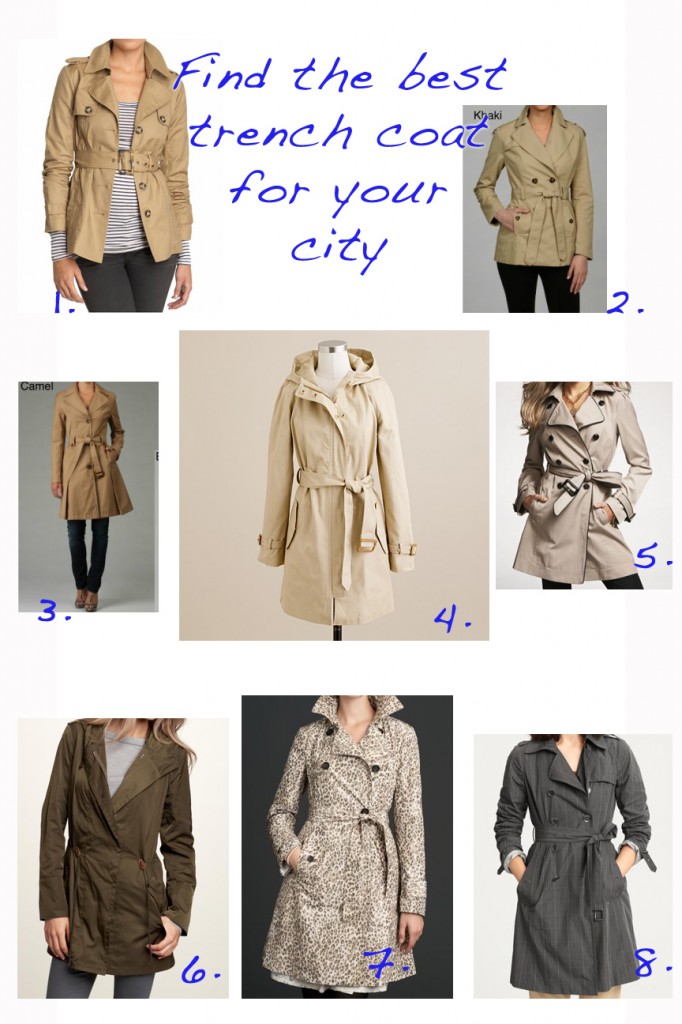 What to wear, where!
Whether you are in Sydney, NYC, London or Vancouver- a classic, smart trench coat is the perfect layering jacket that will never go out of style.  Given that each city has its own personality, the style of trench coats can vary. Try to pick a quality coat that will work best for your daily activities and city.
Here, I've picked some of my favorite styles:
1. BB Dakota Short Trench Coat 2. DKNY Short Rain Trench 3. DKNY Belted Rain Trench 4. JCrew's Hooded Trench
5. Express Double Breasted Trench 6. Gap Cinch- Waist Parka 7. Banana Republic Mad Men Trench 8. Banana Republic Plaid Trench
A few styling tips:
Short trench coats are ideal for day. They have a much more casual vibe and will fit in whether you're in Brooklyn (try scrunching up the sleeves for an edgier look) or buttoned up and strolling along Lake Michigan in Chicago.  If you want something more transitional and easy to wear both day and night, consider a trench that is cut just above the knee. This is a really flattering shape on almost anyone and if it does start to rain, will protect the majority of your body. I like a double breasted trench coat in a deep camel color for London. With a chance of rain always in the forecast, having a trench in London isn't just fashionable, it's practical. You could easily wear this around Notting Hill or Kensington and pop in and out of museums or shops in style.  (Even Pippa loves a good trench coat in London!) If your style is a little funkier, try a patterned or plaid trench coat similar to the ones shown at Sydney's fashion week. Or, if classic just isn't your thing– try the cut in a different color or pattern such as olive, navy, plaid or leopard.
What trench would you wear? Do you feel like there is one style that represents your city?