A Progressive Dinner on The Queen Mary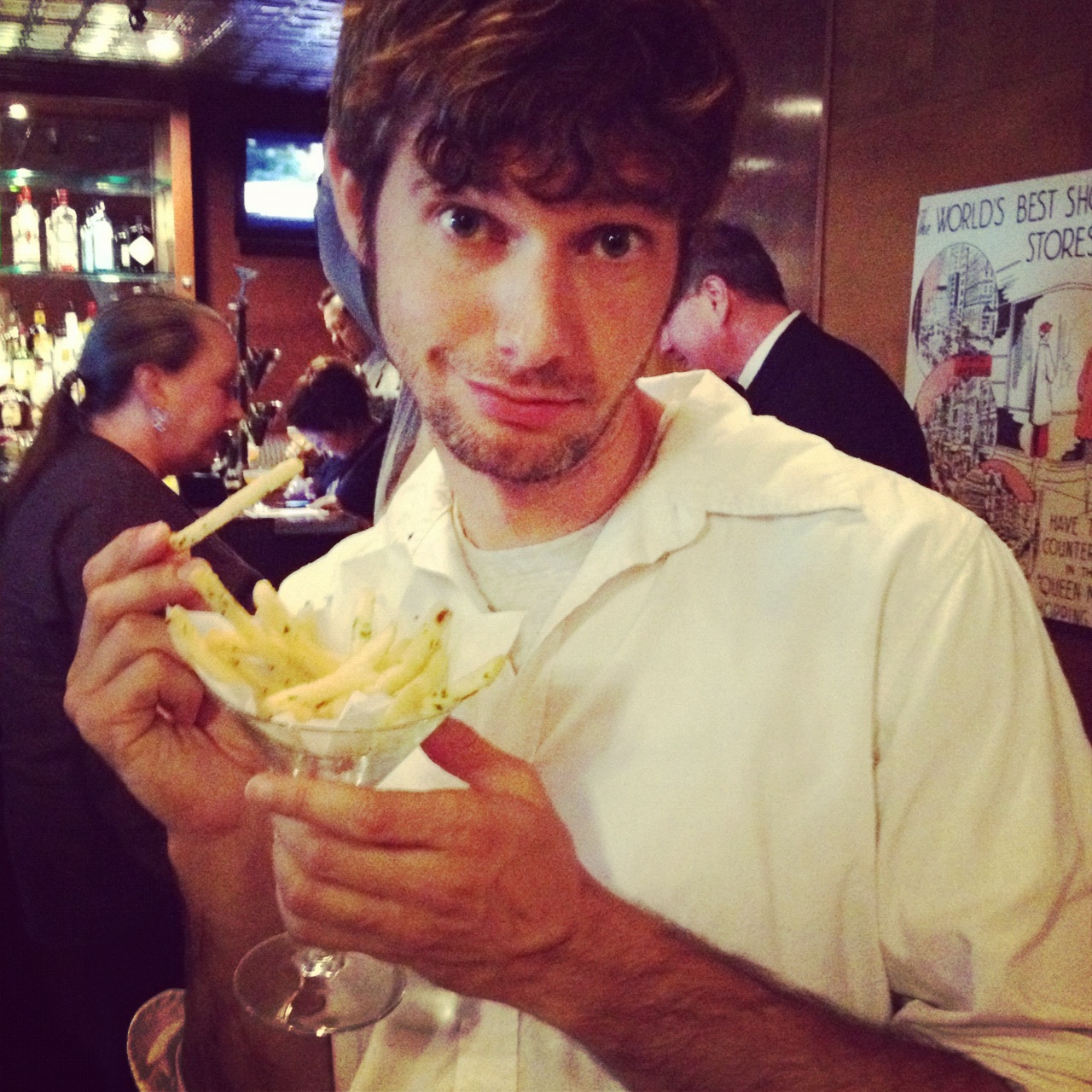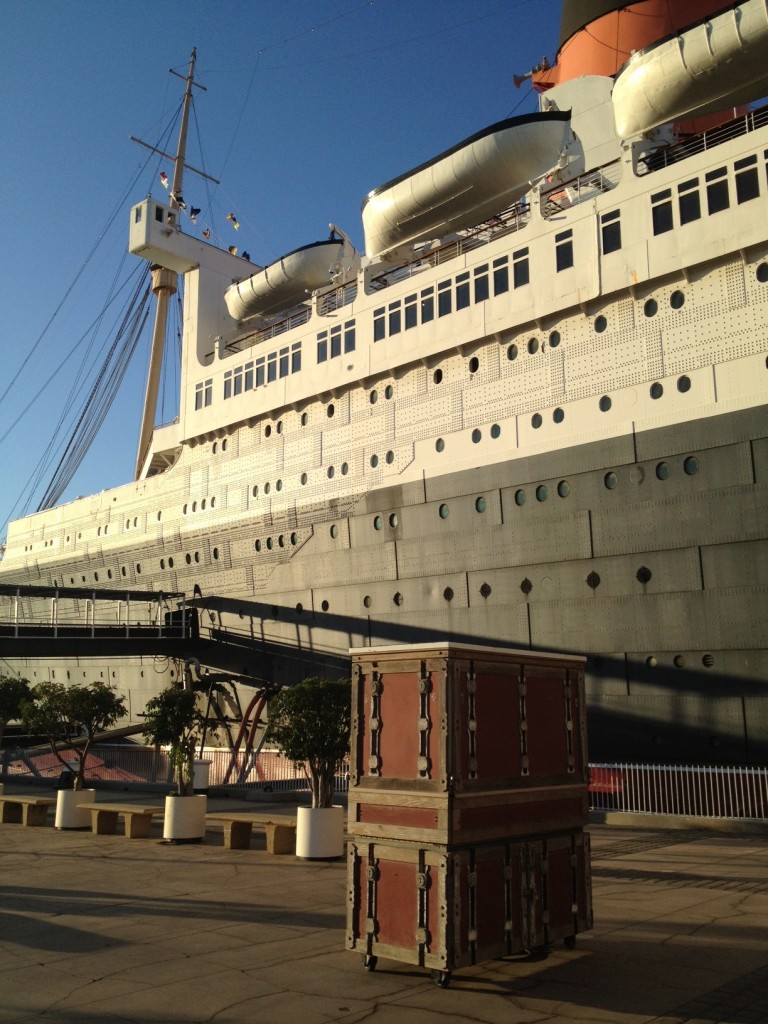 Dinner on the Queen Mary, Long Beach, California
Walking up to the magnificent and graceful ship in Long Beach, it's now wonder this beauty is called Queen. Dressed up in my prettiest vintage style dress with Bob, in his white boat shoes, we arrived at the Queen Mary ready to meet and greet in style. Little did we know that this was about to be one of the best dates we've had all year.
Quick History of The Queen Mary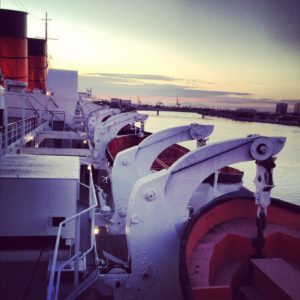 Named after King George V's wife, Queen Mary, the ship had many duties during its 30 years of sailing the Atlantic. The ship was first known as a passenger cruise line and shortly after, an important troop ship during World War II. It was hailed as the largest and fastest troop ship to sail, transporting 16,000 soliders at a time.
Besides its military feats, the ship is also well-known for its design. With over 50 different woods decorating the interior, emphasizing the Art Deco design, it is recognized as an Art Deco Landmark. It is also famous for the ship being haunted, and had several TV shows tape episodes on board, including Ghost Hunters and Unsolved Mysteries. Now, a once a year event called Dark Harbor invites guest to experience the legends and spooky ambience for themselves.
Now that it is a floating hotel and event space, the ship is also on the National Register for Historic Places.
The Titanic vs. The Queen Mary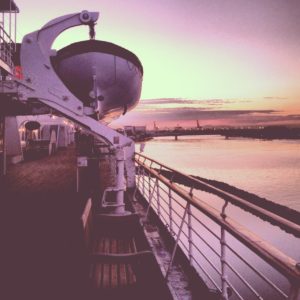 Many people compare The Titanic and The Queen Mary. Stepping foot onboard the Queen Mary, it was fun to envision life aboard the Titanic, or at least aboard the movie version. As one of my favorite movies, I was interested in the fantasy of being aboard the famous ship. (And I can't be alone, there were dozens of sites comparing the two online)
The differences are actually even more fascinating, with the Titanic being 127 feet shorter in length and carrying almost 300 more passengers. (despite the smaller amount of passengers, there were actually more lifeboats on Queen Mary.)
A Progressive Dinner Aboard the Queen Mary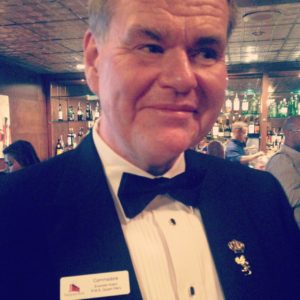 We started our tour in the Observation Bar, nibbling on an enormous cheese platter that was hard to tear Bob away from and a few speciality cocktails. It was here that we first met our host for the evening, the Queen Mary's commodore, the very charming Everette Hoard. Mr. Hoard has worked onboard the Queen Mary for many years and he was the perfect host and story-teller.
Leaving the Observation Bar we headed to the Promenade Cafe for crab cake sandwiches, fish skewers, seasoned fries, and lobster bisque soup. The crab cakes were my favorite and I may have been why they needed to make several more orders- they were so juicy and savory with soft buns. We washed those down with fruity cocktails made to order from our private bartender. This room might be my favorite since it has a low-key vibe with gorgeous views of Downtown Long Beach. As the sun was setting, the golden rays hit against the water and the buildings in the most spectacular way. *I would definitely suggest coming here with a loved one around sunset time for fresh seafood and the view.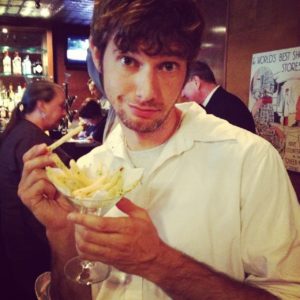 Next we walked out on the deck and up towards Sir Winston's Restaurant for the main course. (I was already pretty stuffed- eating two crab cake sandwiches will do that to you, even if they are minis!) We entered a much more refined dining space, with white tablecloths and thick white napkins. When I saw the menu, I thought my eyes were seeing things: starting with two different types of breads, soup, and a three meat signature entrée with a smooth and savory red wine to top it all off.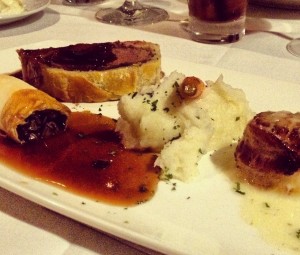 For someone who loves a lot of different types of food, this night was foodie heaven. We had already tasted cheese, seafood and now meat. Like I said, foodie heaven!
Lastly, we had a dessert tasting with port in the newly designed Tea Room. The room was beautiful and the perfect end to our fantasy night. I was so full however, that I couldn't even eat the dessert or drink the port. Bob tried the custard and chocolate pastry stuffed with cherries and said they were both delicious. I had to take his word for it! *Note to self: wear stretchy pants the next time you go to a progressive dinner!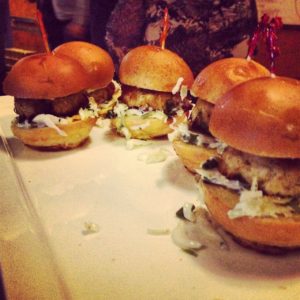 For me, this was one of the best experiences in Southern California. It was fun trying all the different food and drinks, of course, but it was even more exciting getting to see each different part of the ship and learn all the history and haunted stories from the Commodore. If you are planning your own trip to Long Beach and The Queen Mary, plan your visit around a sunset dinner. Make sure you have enough time to get a pre-dinner drink at the Observation Bar to fully lose yourself in the ships ambience and charm.
More Facts:
First voyage was in 1936
Constructed in Scotland in 1930
During the war, the ship was painted a gray color and called "Grey Ghost"
Clark Gable and Audrey Hepburn were both passengers
Currently a Diana: Legacy of a Princess museum onboard
Thanks to The Queen Mary for inviting us onboard and showing us a fantastic time. As always, all reviews and thoughts are our own, even down to the stretch pants tip!