The Perfect 'Love Actually' Christmas in London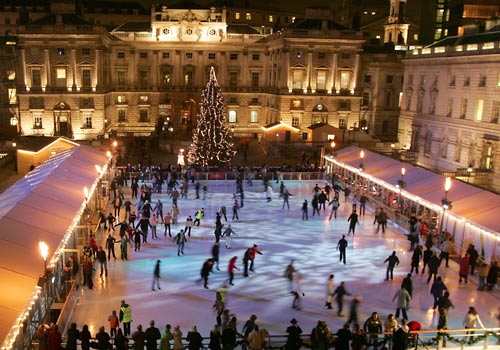 The first Christmas season I spent abroad was in central London. It was also the same month that Love Actually hit theaters.
My mom was in town to visit my new home and travel around Europe for the first time when we took a few hours to stop sightseeing, sit down and relax into the black theatre at ODEON in Leicester Square. And, while I do love me some Hugh Grant dancing and Colin Firth romancing, I think the movie had such an impact on me because of my connection with the city.
If you've never seen Love Actually (are you kidding me?- Cue your Netflix right this second) you might not understand how quirky British movie stars and dramatic yet funny romantic situations could impact a girl so much. But the whole movie is filled with this visceral jolly energy as it counts down the weeks and days before Christmas, with each character stepping outside their normal boundaries and trying something risky and new. Most of the risks pay off, some end in disaster, but every time I hear that cutesy little song around each characters turn of fate, my heart skips a beat.
If I were in London today and this week, I'd plan the perfect Christmastime in London, filling my days with Christmas markets and afternoon tea, ice skating near prominent historical buildings, eating and shopping and reindeer petting in Covent Garden and late afternoons strolling through museums (even if to just get out of the cold).
I love London. If you happen to be there,  here is my perfect Christmas itinerary.
The perfect 'Love Actually' Christmas
Real Food Christmas Market– There are dozens of Christmas markets in London, but I particularly like the Real Food Christmas Market because you can not only get delicious, traditional, local cheeses, mince pies, chutneys and meats but also get to enjoy Christmas carolers while watching food demos and trying some yummy samples. This seems like the perfect place to stock up on delicious, last minute gifts for friends.

Christmas Lights- Almost anywhere you walk around central London you'll see tons of Christmas lights; Harrods is especially bright, as well as Oxford Street, Regents Street and Leadenhall Market hall. There are also dozens of Christmas trees lit up around the city that you could spend several days just trying to see them all.
Ice Skating at Somerset House- With the beautiful historical backdrop, ice skating at Somerset House is not only going to be fun, but sightseeing as well.
Traditional British Afternoon Tea– The Modern Pantry, near St. John's Square, has an eclectic menu with formal dining options. Get dressed up, requesting a table on the first floor formal area and dine on feta fritters and caramelized plantains with your traditional English tea.
Christmas Tree Lighting and Reindeer Petting in Covent Garden– Walking around central London is easy and my favorite way to get around. Covent Garden is an easy stroll by or afternoon stop for shopping, dining, and reindeer petting? Yes, Father Christmas has set up house and brought a few of his friends along for the ride! (This was where Bob and  I took our Christmas picture that year.)
Time Travel to a Black and White London– A limited run exhibition at Tower Bridge with over 60 images taking visitors back through London's black and white history. This is also a great place to snap photos of St. Pauls Cathedral, Big Ben, and Tower of London.
Have you seen Love Actually or experienced a London Christmas? What holiday movie reminds you of Christmas?
photos via 1, 2, 3.