Sweater Cardigans: Travel in Style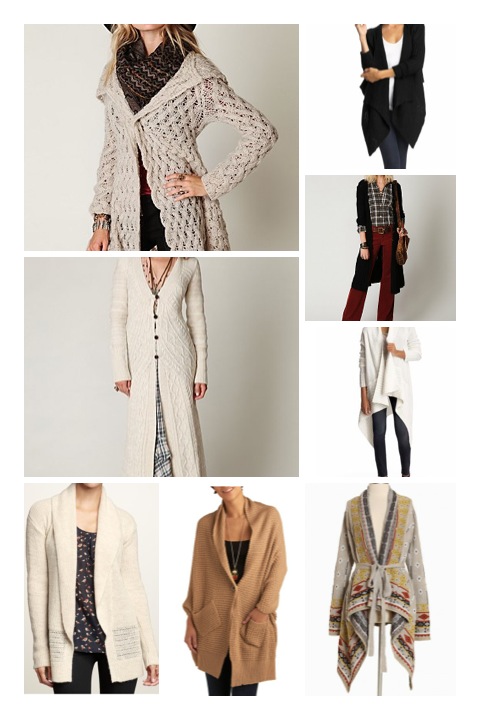 (Sweaters, clockwise from top left: 1,2,3,4,5,6,7,8)
As many people gear up for holiday travel, some might start thinking about what to pack for which climate they will be entering. Living in Los Angeles, it is never that cold, and preparing for a Thanksgiving in Vermont or a Christmas in Florida requires two completely different wardrobes. I thought I'd share some of my favorite layering pieces, perfect for traveling and being on a plane.
Tip: If I'm traveling to a very cold city, I always pack a thick coat or jacket in my suitcase so I don't have to lug it around the airport the entire day.
Sweater cardigans are the happy medium between an awkward heavy coat and a long sleeve t-shirt. They add enough warmth for a red eye flight, but aren't going to make you sweat as you run from one concourse to the next (which always happens to be on the other side of the airport, am I right?!). They are easy to take off when going through security, neatly fold-able into my carry on bag or in the securities plastic boxes.
When picking out a sweater cardigan for traveling, here a few things to consider:
pick a neutral color or pattern- that way it can easily go with every other piece in your suitcase
a longer cardigan can double as a blanket on the airplane when it gets cold, because no one really wants to use those blankets the airline offers- gross!
buttons and belts help add a little shape so you don't end up looking like a huge marshmallow
if it doesn't come with a belt, add your own
since you will be wearing it a long time, pick a material that is soft on your skin and doesn't itch
What is your airplane style? How do you fly in comfort?