SUP Yoga in Maui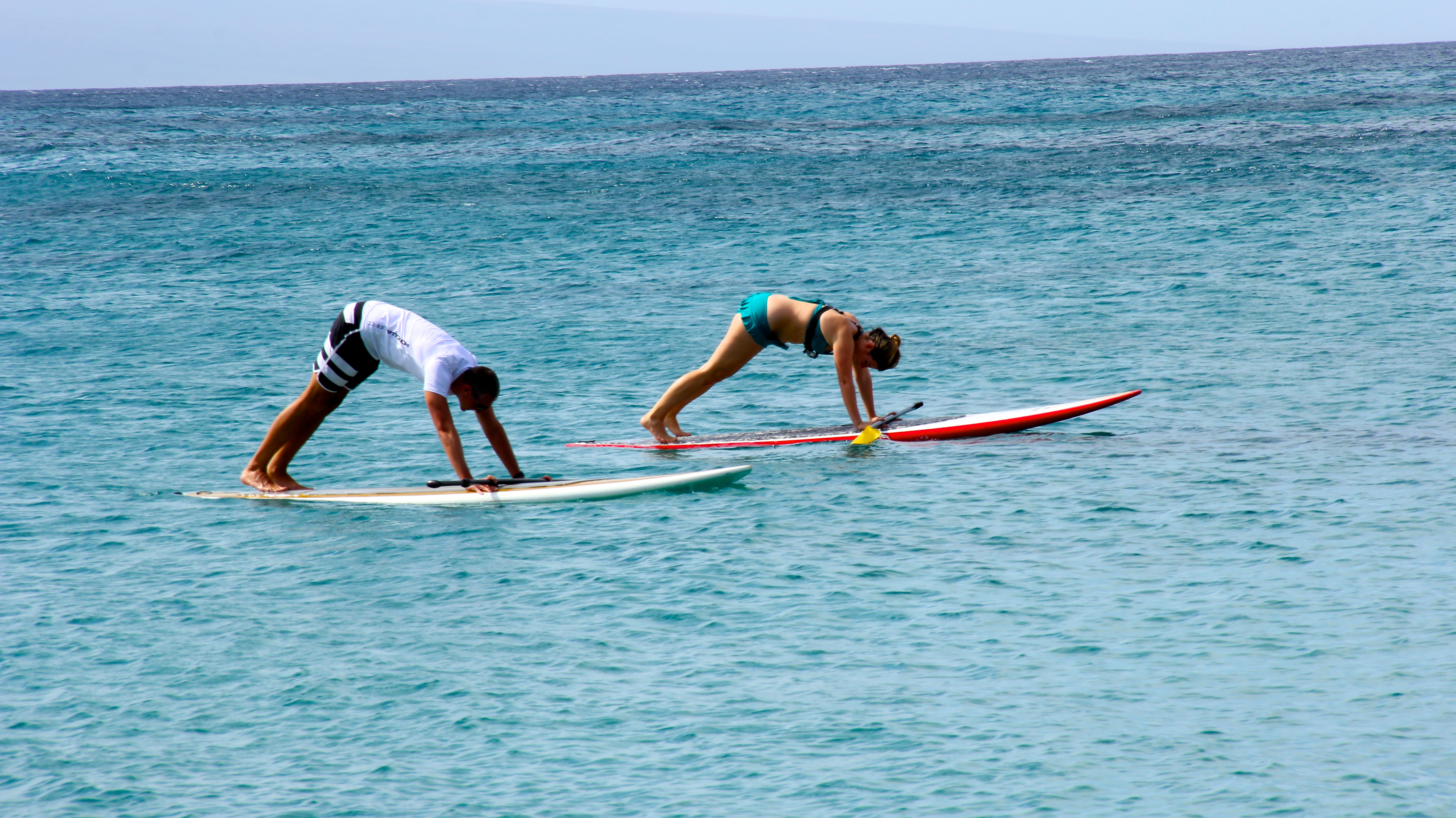 ;
Just when you think you've got the hang of stand up paddle boarding, or SUP like the locals call it, someone decides to up the ante and make the sport a little more difficult. Tiki Man SUP in Maui, not only offers beginner SUP lessons, but also extreme paddle lessons and SUP boot camps. Since Bob and I have SUP'ed before and love it, we decided to try SUP Yoga to challenge ourselves in a new way.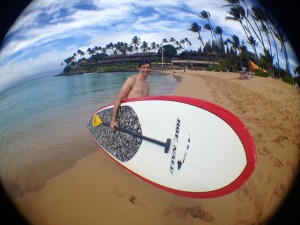 At first, the idea of any type of yoga didn't really appeal to me. In the past I have never really connected to yoga the way some people have- I just can't get excited about being in a small hot room, putting my body into positions that are very difficult while trying to spiritually connect to a higher power. But still, something about combining SUP with yoga intrigued me.
Tiki Man SUP is set up on the beach in front of Napili Kai Beach Resort, the perfect spot for a SUP yoga lesson. The bay is calm, the water is clear and it's not crowded like other beaches around the island. We were greeted by our instructor for the day, Corby, who beyond being one of the nicest people I have ever met, really was the perfect mix of teacher and encourager, making me feel like I truly could master all the techniques he was showing me.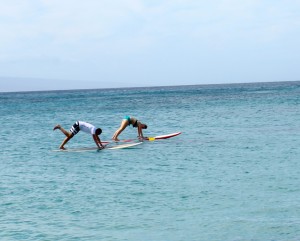 We started with simple stretches, with our eyes closed relaxing into the gentle current of the waves. With the ocean breeze and seashore harmony, I quickly realized that I could actually love SUP yoga. Being outside and on the water, I was immediately more connected and aware of my body and the yoga moves than I have ever been in a stuffy gym room. The energy of the ocean and from the waves passing under the board seemed more like how yoga should be- a deeper connection to myself and my surroundings. Besides just focusing on the yoga moves, you have to use your core to keep your balance on the board (working your core double-time) for a work out that left me literally weak in the knees.
I'll be honest, Bob and I were both much better at it than I thought we'd be. We were able to hold our balance, maneuver into the positions and stay on the board (we only fell off one time each!). There was definitely a sense of accomplishment when we walked out of the water afterwards. I was especially happy that I found a type of yoga that I really enjoyed. Being outdoors and more connected to the environment made it easier for me to relax into and focus on the yoga moves.
SUP is an easy activity for any fitness level and any age group. The boards are thick and wide, making it easier than normal surfboards for balance and stability. As long as you can swim, you can take part in SUP and SUP yoga.
While it took a few hours to set in, I was completely sore on the drive back to our hotel in south Maui and totally hurting the next day, all good signs of a hard work out. Thanks, Tiki Man SUP for showing us such a great time!
Check out our video of SUP Yoga, hosted by Kahi from Tiki Man SUP:
[video_lightbox_vimeo5 video_id=57154299 width=640 height=480 anchor="https://vagabond3.com/wp-content/uploads/2013/01/yoga-poses-maui.jpg"]
(just click anywhere on the photo above to play the video)
Have you tried SUP before? What about SUP yoga?! Next time you're on a board, give it a try and bust a move!