The 2nd Hour of my First Solo Trip

Getting off the bus in Placa Catalunya, visitors are immediately dropped off in the heart of the city.
There are dozens of buses riding in and taking off, scooters and bikes zooming around and hundreds of people wandering the streets. Even though I had directions to the apartment I would be staying in, being dropped off in the middle of the center felt like I had just been dropped in a crowded room and didn't know where the exit was located. Even know there was all that commotion going on, I don't remember actually hearing anything. My heart was pounding and I remember the exact beat like it was the new hit song on the radio and it was stuck in my head. But this beat was different- the energy wasn't actually nerves any more, it was more like a surge or rush of excitement. I still kept all my belonging close to me, but walked around the edge of the square to see the cross streets and get my barring.
First thing I noticed there how many other tourist were in the area, which made even more sense when I noticed the huge tourist center. Not gonna lie, I felt a little silly for being so nervous and wondering if I was going to find my way. But, Perfect- I'll pop in, grab a map and be on my way. Luckily, I didn't have to try butchering the language with the tourism lady, she spoke perfect English and actually knew exactly where the apartment was located- pointed it out the map and told me about a cute coffee shop next door. How incredibly friendly! She was dressed very smart, with a cute, high-waisted pencil skirt, bright orange shirt that only people with olive skin tones can get away with (and I'm incredibly jealous about that- I love orange, but when I wear it it looks like I have the plague), and a huge colorful scarf. She was so chic and as she described the cute coffee shop, I felt like we could be friends immediately. The simple fact that I actually hate coffee, really can't stand the taste at all, doesn't matter. She would order coffee and I'd order tea, impressing her with my knowledge of teas from around the world. And while that situation was all in my head, I felt even more at ease, and started walking  to the apartment.
You know that feeling the first time you walk or drive somewhere new? It seems like it takes forever- you are constantly thinking you've gone too far or that you made a wrong turn somewhere. That is what my walk to the apartment felt like, although when I finally did arrive, I realized it was only five blocks and took me a grand total of eight minutes. I swear it felt MUCH longer.
I checked into the apartment* but since I arrived so early, the rooms weren't quite ready yet. The staff allowed me to freshen up in a private room and stow my luggage so that I could take advantage of sightseeing before meeting up with the other women later in the day. I changed my clothes- which after 24 hours of flying and travel time– felt amazing. I reorganized my luggage and backpack and carried my camera around my neck. I was finally ready to see Barcelona. Woo Hoo!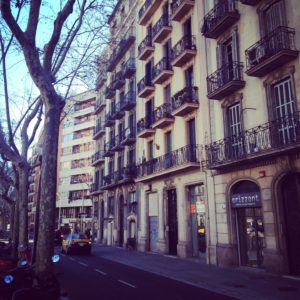 The second hour of my solo trip began with excitement. I realized as I felt more comfortable in the city that I started to recognize beautiful things, could actually hear the sounds of the city and remember who I was- which was a travel lover- who embraces a new city as much as she can. And… after strangely attaching myself to the tourism office woman I felt a little needy- and I could not wait until the other women arrived! I stepped out in the sidewalk and started walking with confidence.
This is part two of a five part series on the first five hours of my first solo trip. Read part one here and stay tuned for part three tomorrow! 
*In full disclosure my apartment in Barcelona, Spain, was free as part of my Costa Brava Trip with Charming Villas. It is a fantastic apartment style vacationing that is perfect for large groups or families located in a great spot in Barcelona. I walked everywhere and this was very centrally located.