Seafood Cook-off and Hushpuppy Recipe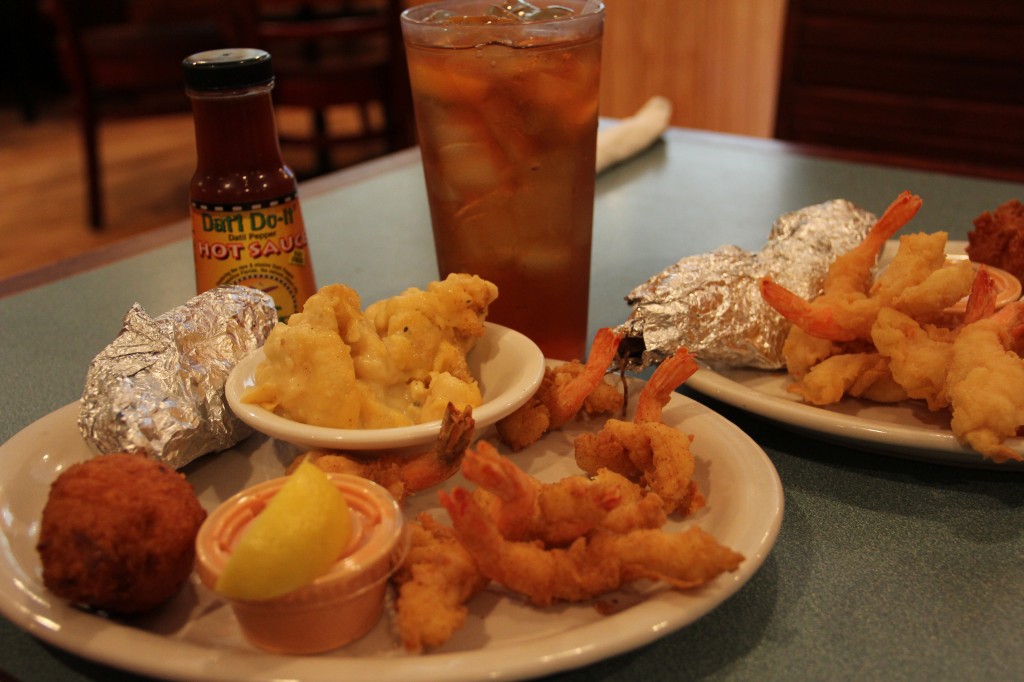 One of my favorite parts of going home to Florida is all the good, southern, fried seafood. I feel so spoiled with the great choices of fried shrimp, blackened fish sandwiches and cheese grits. On my last trip, my mom and I decided to do a "shrimp off" where we tried several different restaurants to find our absolute favorite.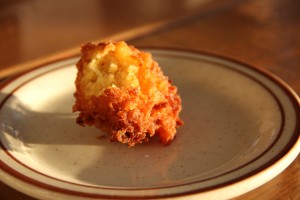 Our first stop was at Barnacle Bills in Downtown St. Augustine. We ordered the lunch special, with fried shrimp, cheese grits, a sweet potato and hush puppies.  All those carbs and fried nuggets- delicious! The shrimp were perfectly browned and the accompanying sweet and spicy sauce was finger lickin' good. Paired with a sweet iced tea, this meal made me a very happy girl.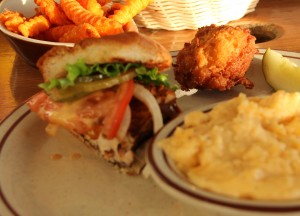 Our second stop was at Aunt Kate's  in Vilano Beach, St. Augustine. Located right on the water, this restaurant definitely wins for location and scenery, but we were there for the seafood. My mom and I split a blackened fish sandwich and the fried shrimp. The sandwich was probably the best blackened fish I had ever tasted and even though the shrimp were good, I think Barnacle Bills' batter is better.
Barnacle Bills- 1. Aunt Kate's- 1.  It's a tie. Both places were really great and I'd highly suggest either of them if you find yourself hungry in St. Augustine.
Now that I'm back in LA, I want to recreate those delicious meals at home. I found the following recipe that combines two of my favorite things (shrimp and hushpuppies) and instantly reminds me of Florida.
 Shrimp Hushpuppies via Food Network
1 cup yellow cornmeal
3/4 cup self-rising flour
1 teaspoon kosher salt
1/2 teaspoon cayenne pepper
1/2 teaspoon smoked paprika
1/2 small onion, grated
1/4 cup chives, chopped
1/2 pound cooked shrimp, cleaned and tails removed, chopped
1 cup buttermilk
1 egg, beaten
1/4 cup cheddar cheese, grated
Peanut oil, for frying
Preheat oil in a deep-fryer or Dutch oven to 350 degrees F.
Mix all ingredients in a large bowl. Drop heaping tablespoon-sized amounts of the mixture into the hot oil. Fry in batches for 2 to 3 minutes each. Remove from the oil to paper towels to drain and season immediately with salt and pepper. Transfer to a serving platter or bowl and serve with the onion dip (from the recipe) or a sweet mango salsa.
These hushpuppies are everything I wanted them to be- super crispy and equal parts delicious shrimp and breaded morsels of goodness. If you like seafood- you will LOVE these.
Have you ever had a hushpuppy before? What is your favorite fried food?