Rock Climbing vs. Ice Climbing: How I One-Upped My Winter trip to Mammoth Lakes
August 7, 2017
by Jade Broadus
Content Produced in Partnership with Visit Mammoth
I'm always up for trying new things. Half marathon, let's do it. Midnight snowshoe hike, done. Paragliding, you betcha. For all the super adventurous things I've done in the past, two activities that had always escaped me both had to do with climbing.
See, I'm a tad bit afraid of heights. By "a tad," I mean full-blown-scaredy-cat, pee-my-pants, get-the-shakes tad. This winter it was finally time for me to get over that silly fear, so I decided to put ice climbing on my Mammoth Lakes itinerary.
Mammoth Lakes averages 300 days of sunshine a year, so even though my visit aligned with an awesome and record breaking winter snow storm, the clouds had cleared for a few hours and it seemed like the best opportunity to get out on the ice covered rock face.
The granite in Mammoth Lakes is some of the best in the world, rivaling Colorado's mountains and even Yosemite. The experience was unreal — I've never been so cold and yet so hot at the same time. I think the nerves were making my blood boil and the constant snowfall and slight wind chill were helping me from breaking out in a sweat. The pictures don't even do the experience justice, mainly because you can't tell how accomplished I felt after I stuck the ice with my foot the first time.
Want the full story? Read my entire ice climbing experience here.
So this summer as I was planning a return trip to Mammoth Lakes, I tried to organize activities that would one-up my winter trip. After such an incredible first trip with skiing, snowmobiling, and epic snowshoeing hikes, I knew I had to pull out all the stops.
Up on the itinerary: SUP the Lakes Basin, hike to the top of Mammoth Mountain, drive around Tioga Pass (and go inside Yosemite, if it was open), and rock climb.
The best part of this dueling adventure saga was that my guide from ice climbing was going to be my guide for my rock climbing adventure. Viren from Sierra Mountain Guides is hands down the best adventure guide I've ever worked with on any adventure trip. Not only is he super knowledgeable and certified, but he's so patient with beginners and really knows how to talk to you so you feel comfortable and confident enough to try something new. Plus, he takes photos of you while your hanging off a rock so you can share them on social media and prove to everyone that you actually did it. (Cause if you don't 'gram it, it didn't happen, amiright?!)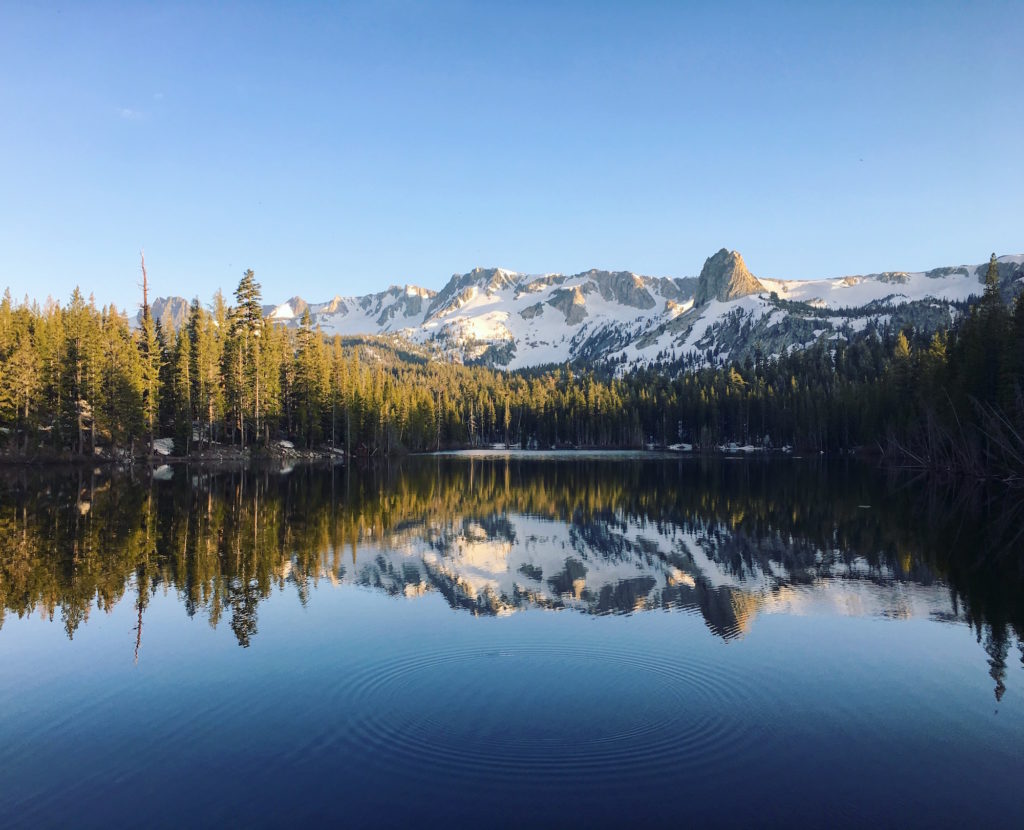 Our day started early, grabbing a breakfast burrito to go from Stellar Brew before driving out to a beginner climbing spot about 20-minutes from the Village. We parked on the side of the road to gear up because the normal parking spot was currently a rushing river from the extreme about of snowmelt (remember that epic record breaking snowfall? Well, all that snowmelt has to go somewhere!). Viren brought all the necessary gear, all provided when you embark on a guided climbing trip. Off we went, bouldering over huge rocks until we got to the top of our launch point. Once there, as Viren secured our ropes, I took videos explaining how scared I was of heights (to better document the before and after of this experience) to make him laugh.
About 10 minutes later, I was repelling off the side of the cliff. With snowcapped mountains off in the distance, I was literally hanging there, wind blowing my hair around, no one around for miles (as far as my eyes could see), and it was just me and Viren enjoying Mother Nature in all her glory. It was one of the most freeing moments of my life.
As I slowly repelled down, I took my time to take it all in — to take in the smell of the mountain air, how the breeze slowly moved around me and the sounds the birds made so high up. I felt like they were cheering me on, along with Viren, as I finally touched my feet on solid ground again. My legs were shaking, and I think the zen moment I had with nature made me forget I was a 100 feet off the side of a mountain. It was unreal. It was, again, one of the most accomplished moments of my life. Maybe even more than having my first baby. Seriously.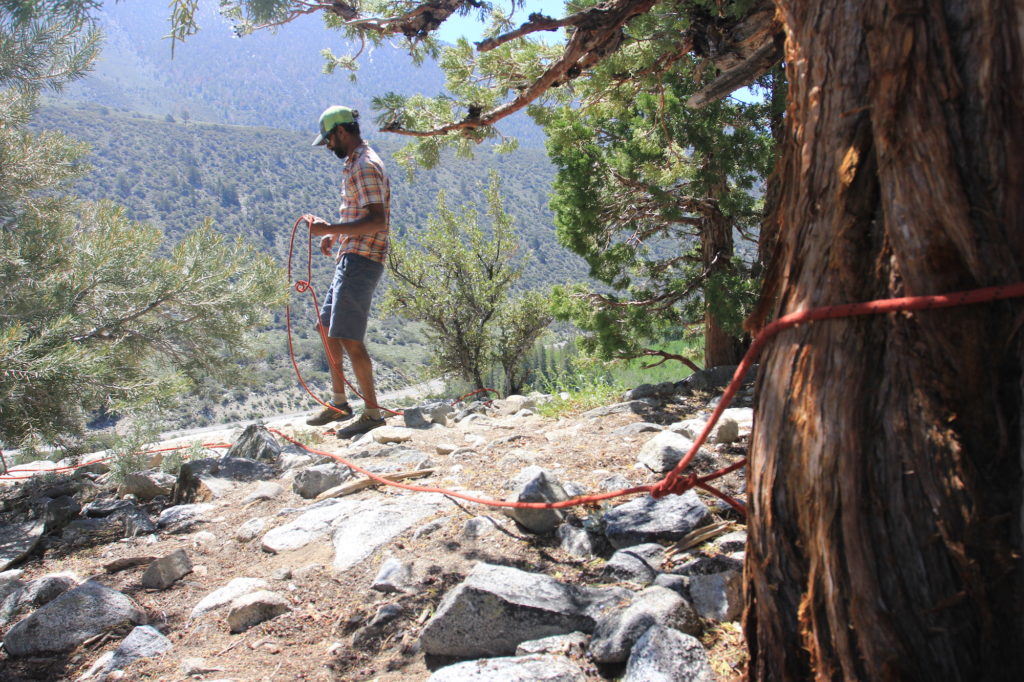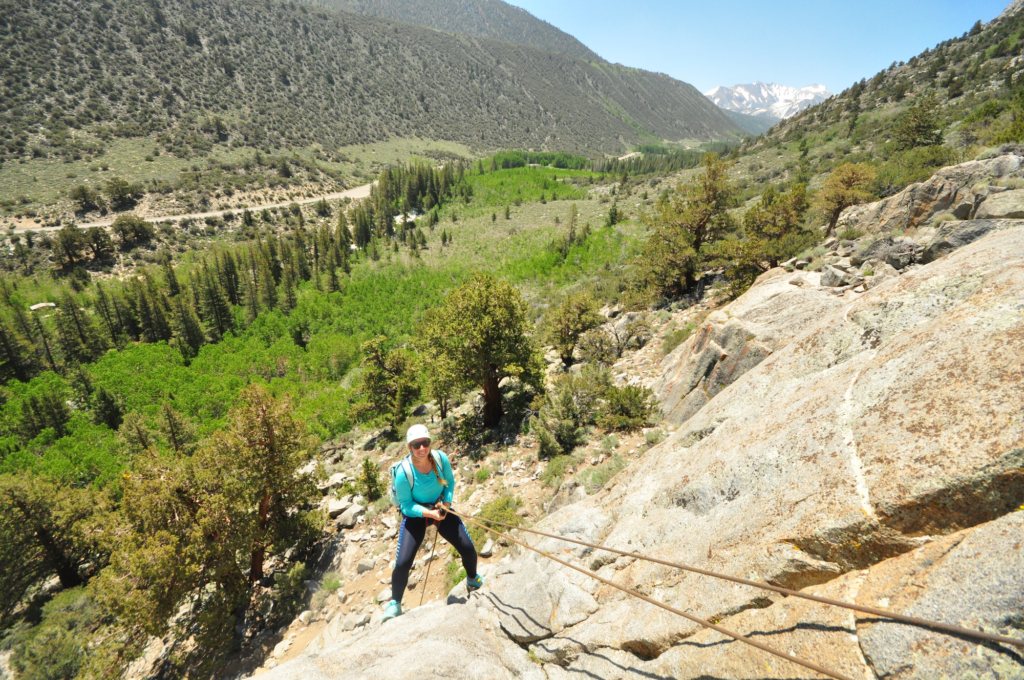 I filled the rest of my weekend in Mammoth Lakes with activities a little closer to the ground, like paddleboarding and hiking. While rock climbing was definitely an activity full of adrenaline, I still felt such a rush while exploring the mountain vistas and hiking around the lakes in search of hidden waterfalls throughout the weekend.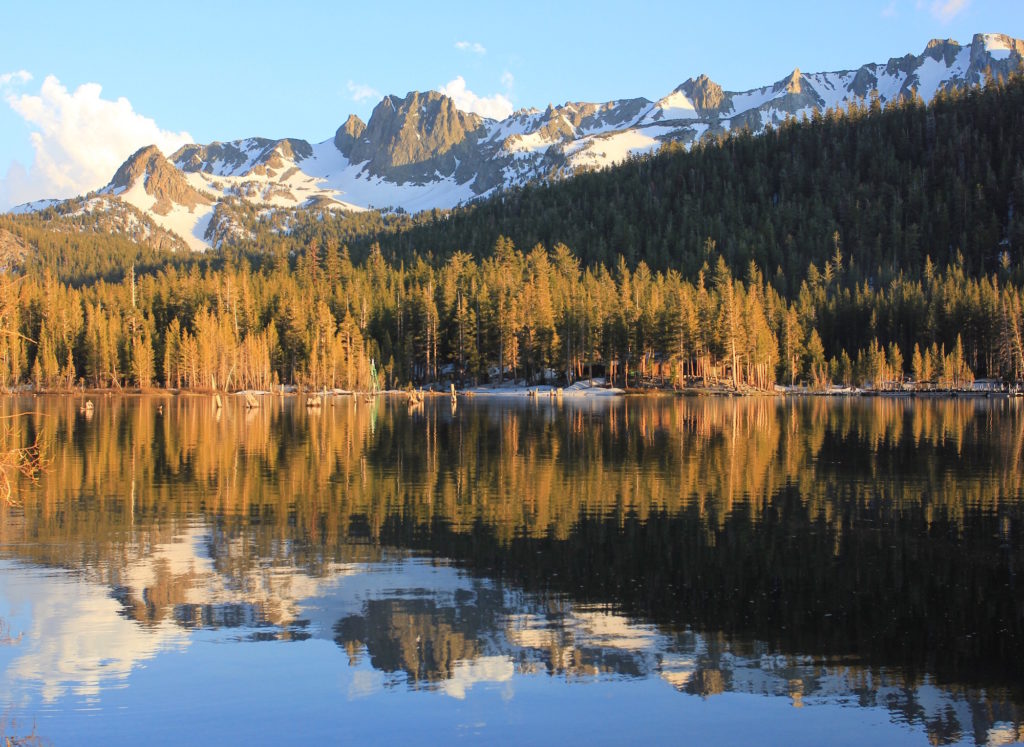 From the incredible winter staples like skiing and snowmobiling to summer highlights like paddleboarding, fishing and rock climbing, Mammoth Lakes really does have it all. Before this visit I had only explored Mammoth Lakes in winter. Now, I know that you have to experience them both for a true Mammoth Lakes adventure. Up next, I think I need to plan my fall trip (lovely fall foliage in the Eastern Sierras sounds wonderful, don't you think?), so I can truly say I've lived the Mammoth Lakes life.