Road Trip : Wyoming Day 1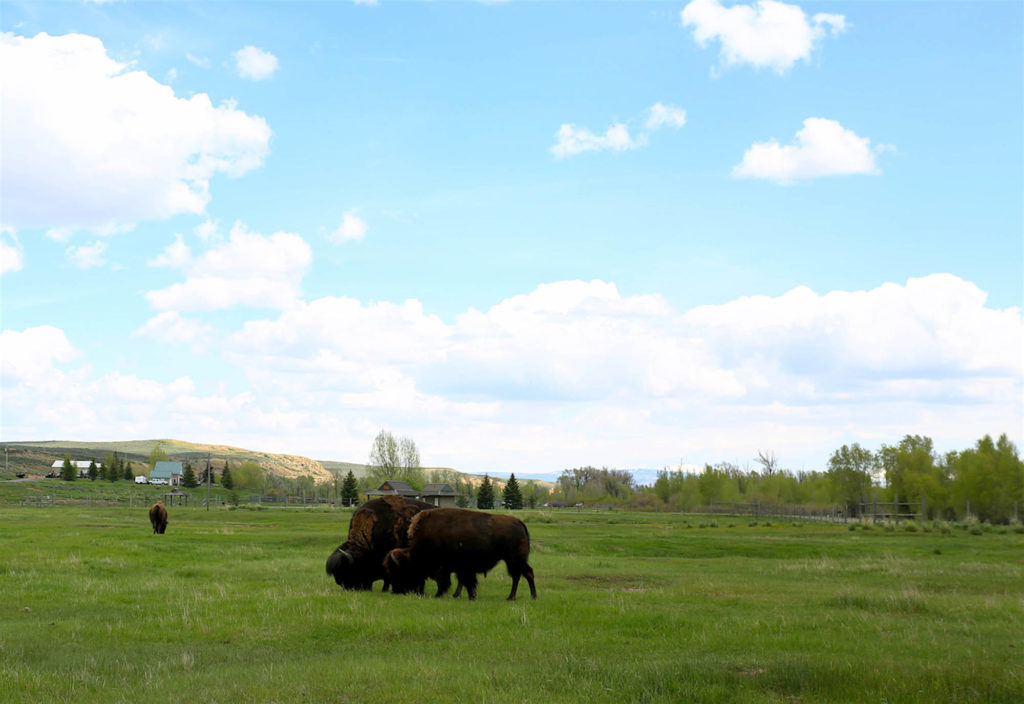 I mean, we all love wild animal encounters – right?
We are exploring Southwestern Wyoming with Travel Mindset on a road trip that is taking the three of us up and down through the state for a week, getting the chance to discover an entirely new side of Wyoming, a place we've only ever visited in winter. As you would expect – it's a totally different experience.
We flew in on the best direct flight we could find from Los Angeles, which landed us in Salt Lake City – an easy 1.5 hour drive from the airport to our first bison sighting across the border! (If that doesn't call for an exclamation point, I don't know what does.) Bison are not common to see on a road trip and a huge highlight for us.
Cruising east on I-80 and crossing into Wyoming, we were blindsided by the flatness of the landscape.  We could see (best guess) 80 – 100 miles in most directions which put the snow-covered mountains in view most of the drive, but around us the land was pancake flat and so incredibly green and lush.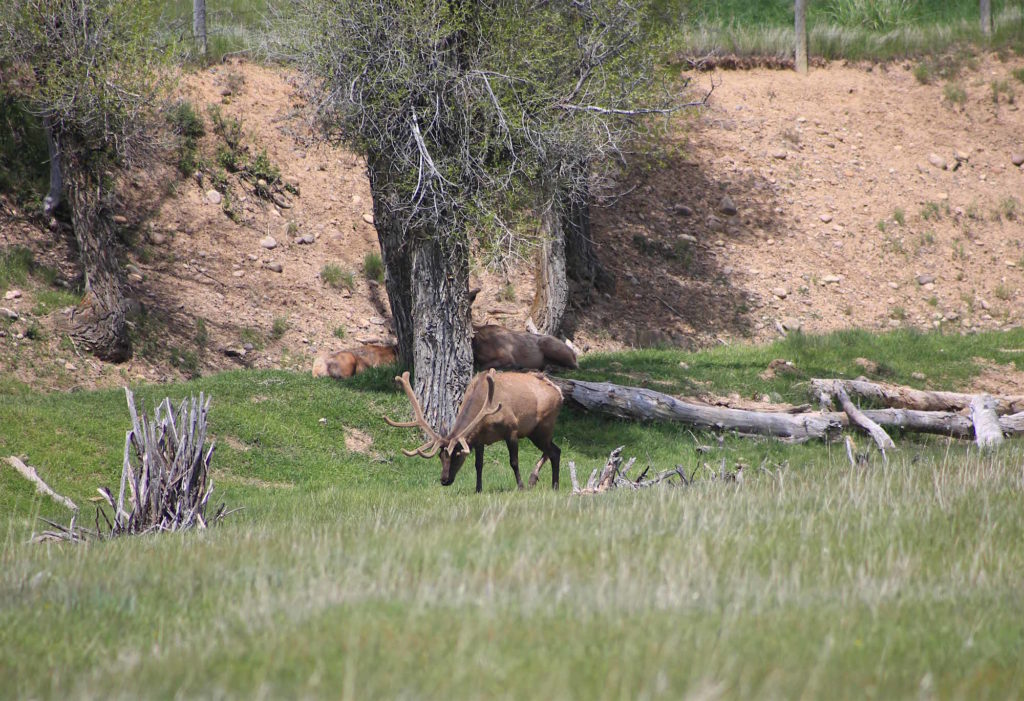 Jade and I were both surprised to find a small group of bison welcoming us into Bear River State Park . In addition to the nearly 300 acres of park land – great for hiking and cross-country skiing – there are two wildlife observation areas at  that allow guests to see a small herd of bison and elk kept on the property.
This is kind of a remarkable state park; it appears much like some larger city parks or mid-sized state parks you see in nearly every city in the US, except this one has both wild animal sightings on the trails and the two wildlife observation areas.  It immediately gave us a taste of what Wyoming had in store, and after a fun hike (where we spotted a groundhog, beaver and dozens of birds) we were off again.
Our next scheduled stop was Fort Bridger, but, with time running short, we drove a scenic loop instead stopping for pictures along the way. (We had time in our schedule on the last day and decided we would stop back here then.) We had to make it to the day's tentpole event – a drive that took us high onto the cliffs looking for herds of wild horses.
Pilot Butte Wild Horse Loop starts right outside of Green River and ends near Rock Springs – perfect since we were spending the night in Rock Springs. Some sites mention the road is partially unpaved, but in reality this loop is entirely unpaved; it's well-traveled which makes driving it in a standard SUV easy enough.  In total the loop took us a little over 2 hours – stopping often for pictures…especially when we saw two groups of wild horses (in addition to a gazelle looking animal we named the North American Barrel Butte – AKA the real name, Pronghorns)
If you have spoken to me at all about my love for finding animals in the wild – then you know how a wild horse sighting has eluded me for years, but not anymore.  We found them after a few brief photo stops, just grazing on a slight rise up from the road.  After savoring them in their natural splendor, we raced out to get a closer look.  The first pack headed off when we got about 150 yards away, but the second pack we found let me get as close as 20 yards.
This entire loop was up on top of a mesa – which is a completely new terrain for me – and impossible to photograph. It's impossible to pin down because the experience is not what is being seen but instead it's the setting in which the view is placed – a mostly flat grassland that's set way up in the sky (like that cloud land in Mario Brothers 3). If you ever get a chance to spend some time on a Mesa top, I highly recommend it.
After our drive, we stopped by Bitter Creek Brewery in Historic Downtown Rock Springs to try one of their microbrews, have some dinner and relax. Established in 1997, Bitter Creek is a family friendly microbrewery offering several beers and delicious burgers and pizzas. Bob had to try, "A Beer Named Bob," for obvious reasons. This summer time dark stout with a robust flavor combination is perfect for winding down after a long day.
We bunkered down in Rock Springs for the night, and prepped for a day at the Flaming Gorge National Recreation Area.
You can follow the rest of our daily accounts here, and find additional content on Travel Mindset in the coming weeks. We're super excited to be here!
Our trip was sponsored by Travel Mindset & Wyoming Tourism.