Rent a Pontoon Boat to Shell Island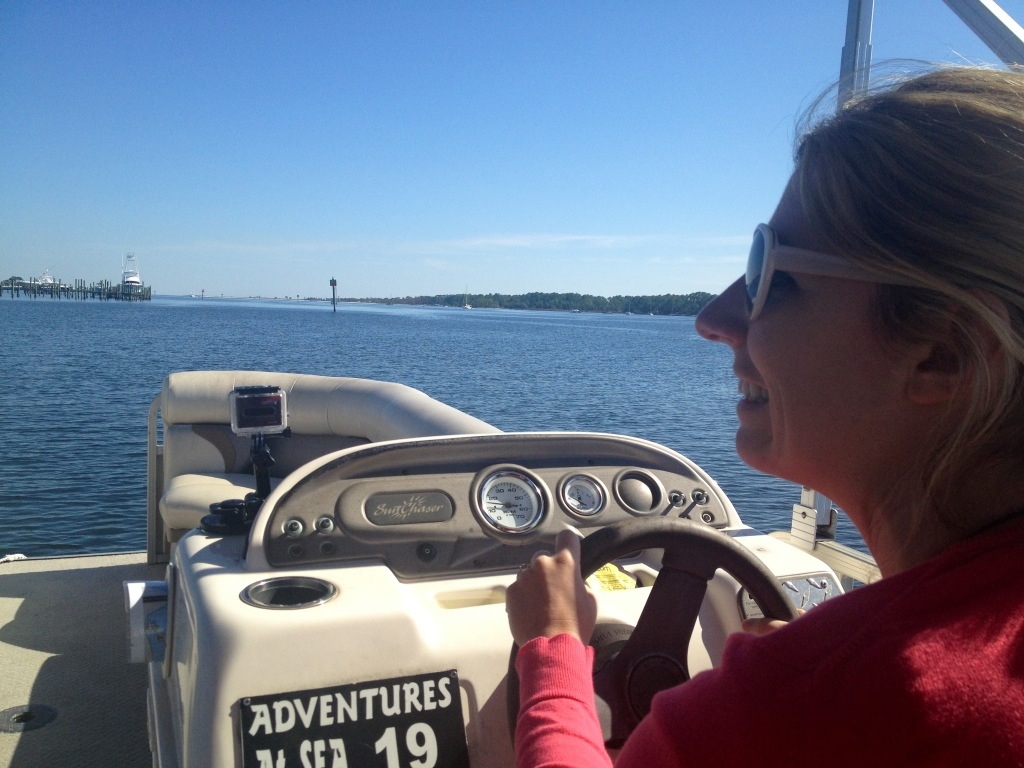 Bob and I had no idea how many little treasures Panama City Beach would have for us. Having gone to college only 2 hours away in Tallahassee, we were actually a tad embarrassed to admit we had never explored the area. Luckily we were given another chance and our weekend on the beach was even more relaxing, adventurous and fun than I could have expected.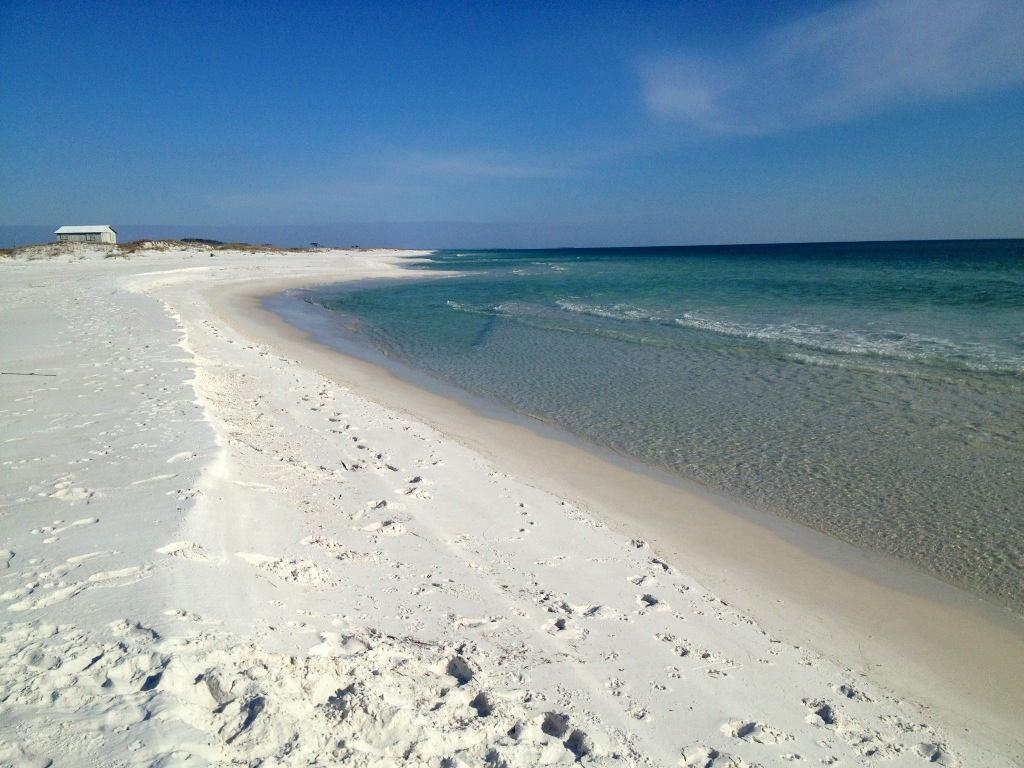 My favorite part, without a doubt, was our Adventures at Sea pontoon boat ride to Shell Island, a small island that is part of St. Andrews State Park. Maybe it was that we traveled during the shoulder season or that it was a little chilly the day we went, but either way the island was empty and we felt completely isolated. We drove our boat to several spots before docking and checking out the island.
The first spot had a ton of shells and as we walked along the shoreline, there were two lines of deer tracks. How many times can you say you walked a desert beach- just you and the deer?!
( Deer and bird tracks on Shell Island)
The second spot was much bigger- the sand dunes speckled the horizon and before you walked across the small island, it appear as if the sand went on forever and ever. Besides Bob, myself and the deer, there were also a lot of birds, as this area is a bird sanctuary. While exploring the island we saw several buildings that looked abandon and windblown. The colors faded and wood chipped- just like out of a movie.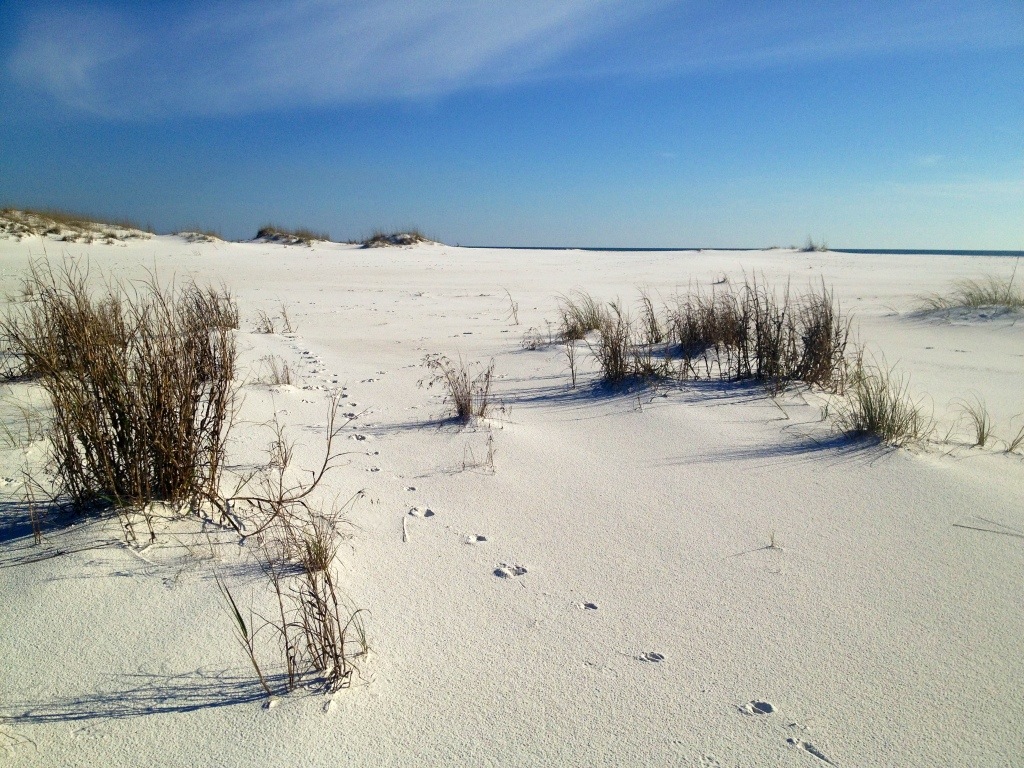 Since we took quite a while to figure out our favorite spot to dock the boat, we didn't have a ton of time to truly explore Shell Island. I feel like this would be an incredible place during the summer, although I'm sure much more people would be there too.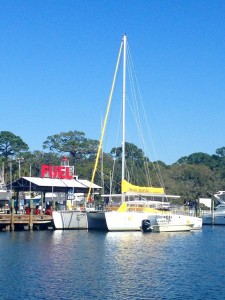 The pontoon ride was easy- we were given quick instructions that were more like "you can't screw this up" rather than real hard, do this, not that, type of thing. I have always liked sailboats and water cruises but I always get seasick. Not with the pontoon boat. Something about driving the boat myself alleviated all sickness. (The wind blowing on the face, helped too.) After four hours, we raced our boat back.
Now that we've been to Panama City Beach I am a huge advocate for the city. You live in Florida- go! You live in a surrounding state- go! You are from Canada and want an easy beach vacation- go! And when you go, rent a pontoon boat for a few hours and explore Shell Island. You will not be disappointed!
Details:
St. Andrews State Park has a boat shuttle that can take you to the island. You can also rent snorkel gear (or bring your own). Prices start at 16 dollars and go up depending on activities you want to do.
Or
Rent a Pontoon Boat for your friends and family. If you have enough people, it will probably even out to be the same as if you all paid to get into the park and then take the shuttle over and it would be much more private.
Tips:
Bring a cooler with all your drinks and food.
Bring tons of sunscreen (even in the winter), towels, snorkel gear, water floats and anything else you might want when you're there.
Go to the furthest point on Shell Island that you want to visit first and make your way back towards the boat rental shop as you explore.
Keep your eyes on the look-out: We saw dolphins and tons of fish while we were on the boat.