Sexy Red Rock Canyon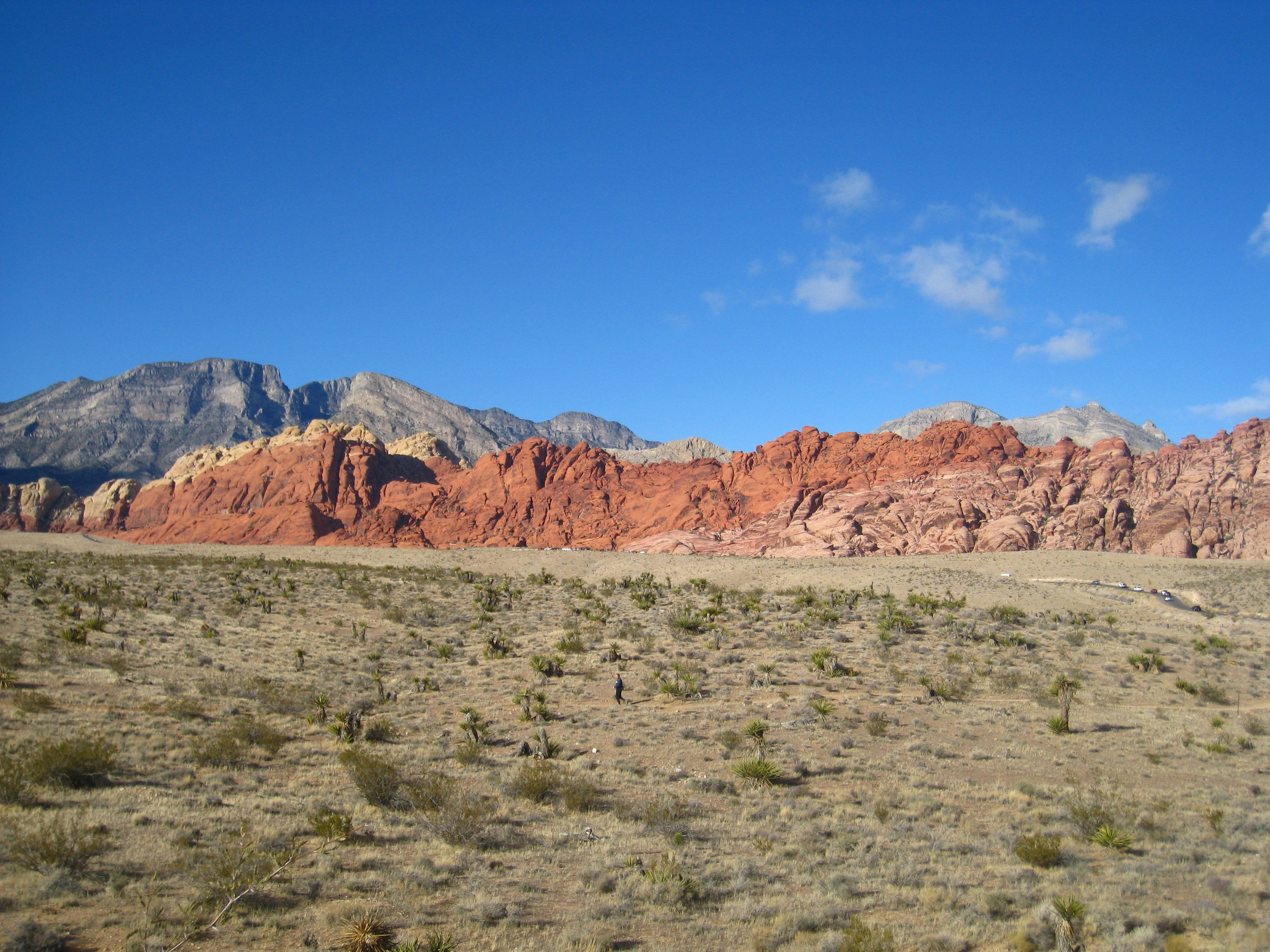 My conscience craves balance; it lets me believe I'm doing 'good' if I offset my more indulgent whims with healthier, wholesome activities.  Don't get me wrong, my conscience plays by its own rules and I've taught it to probably over-compensate for the worth of each dalliance the latter category, but, no matter how it works, as long as I'm in the 'good' I'm great.  Vegas is tricky, my conscience works like a guy balancing a broom on his chin, the slightest thing can bring it all crashing down.  So I'm always searching for things to tip the scales, and allow me greater freedom in the opulent world of drinks-with-neck-straps and boobie-shows.  One thing my conscience has been taught to value is outdoor exercise, in comes a trip out to Red Rock Canyon National Park.
Just 40 minutes outside of Las Vegas, Jade, some friends of ours, and I found not only a very different landscape than anything usually expected in Vegas, but a year-round outdoors adventure that is perfect for all different skill levels that more for makes up for the partying done during the night. I'm not going to lie, Red Rock was teased to me during several earlier trip to Las Vegas, and I was psyched to finally see it myself.  Even with all the hype I had built up around it, this park didn't disappoint.
Tips:
This is an outdoor activity, bring sunscreen
The road through the park is 13 miles long and travels in only one direction, pick your path and figure out where you're going before you pass the Visitor's Center.
Summer = hot, Winter = cold. Dress appropriately, layers recommended.
This is a physical activity.  If you do drink heavily the night before, make sure to bring water.
As we turned off the highway, we were confronted with the dramatic appearance of Red Rock National Park.  Anyone who's seen "127 Hours" or "Into the Wild" is familiar with the landscape of the Southwest desert, shocking rouge and cyan rock faces jutting upwards amongst the tans and dusty yellows of the plains, but the landscape is much more than color.  The textures and geography of regions like this shift from spot to spot, so in the same trip, visitors can climb against the beveled faces of ageless rocks and mosey along a gravel trail headed through a sage brush prairie.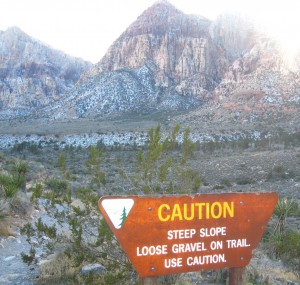 Red Rock Canyon does a great job of presenting visitors with access to the many different areas of the park, and even offering variations on each experience to satisfy a range of fitness levels.  Stopping by the Visitor's Center on the way in, there are plenty of people and maps available to help choose the best options for any trip.  We brought our dogs, so we passed up the sheer cliff faces and bouldering surfaces, choosing instead to try some of the easier paths that lead up to exciting park stops with names like 'the refrigerator' (I mean honestly, what man doesn't want to prove his virility against a place named 'the refrigerator'.)
I'm not going to lie, it was cold in the shadow the mountains, and, while I of course was shirtless and warrior like in the cold, our dogs had a little less to prove and preferred we stay in the warmest areas they could find.  So we found ourselves walking amongst the brush and pine trees on an easy, low incline path.  It seemed to me, the actual path was only loosely laid out, so one is welcome to wander through the wilderness; we saw people standing atop the peaks as well as wondering off into the brush.  While the natural setting was beautiful, the most exciting thing we saw was a deer, calmly grazing just a few meters from the path.
Red Rock Canyon is actually a conservation housing over 200 different animals.  Among the somewhat typical rabbits and squirrels, there are more exotic animals, like deer, or even more exciting, wild asses (I know donkey would have sufficed but really I never get to write wild ass these days). I grew up traveling way out in the woods of Georgia to see larger wild animals, and to find them so relaxed and nearby a city like Vegas was amazing.
All in all, I would highly recommend a trip to Red Rock Canyon National Park to anyone visiting Las Vegas.  With mainly daylight hours and the relative proximity to the Strip, a trip to the desert won't eat too far into drinking and gambling time, and, at least for me, a trip to Red Rock makes partying the night away more acceptable ("I hiked a mountain and saw a deer today.  I deserve top-shelf").
Have you been to Red Rock Canyon? What would be your tips? Did you party-harder after your work-out?