On the Go: "Share A Bill" iPhone App Review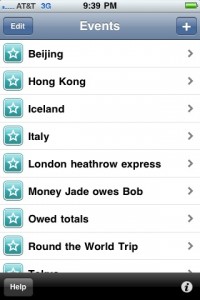 Sharing a bill or splitting up money is always hard when traveling in a group. Heck, it can be difficult just going out to dinner with a large group! Who paid for what, who owes who how much- sorting it all out can get complicated.  Well then, say hello to Share-A-Bill, an iphone app.  We found this to be our most handy travel tool.  We could easily add expenses, change date, and keep a great record of who paid for what.  It also lets you email the final tallies in an easy to read format.
The app seperates everything by day and is easy to edit incase you make a mistake. And everything can be customized to fit your specific needs.
If you click on an individual tab, it goes into more detail about who paid for who (this is really nice when one person pays for only one other person in the group- it adds it to the bill, but seperates it out from the other expenses.)
And last but not least, it lets you know who owes what and to whom.
I would highly suggest this app to anyone going on a long weekend away or a longer RTW trip with a larger group.  We only had three of us, but I can only imagine how helpful it would be for more people. Gone are the days of feeling like you paid more or it didn't even out fairly!