Awesome Oahu : Snorkeling in Lava Tubes & Cliff Jumping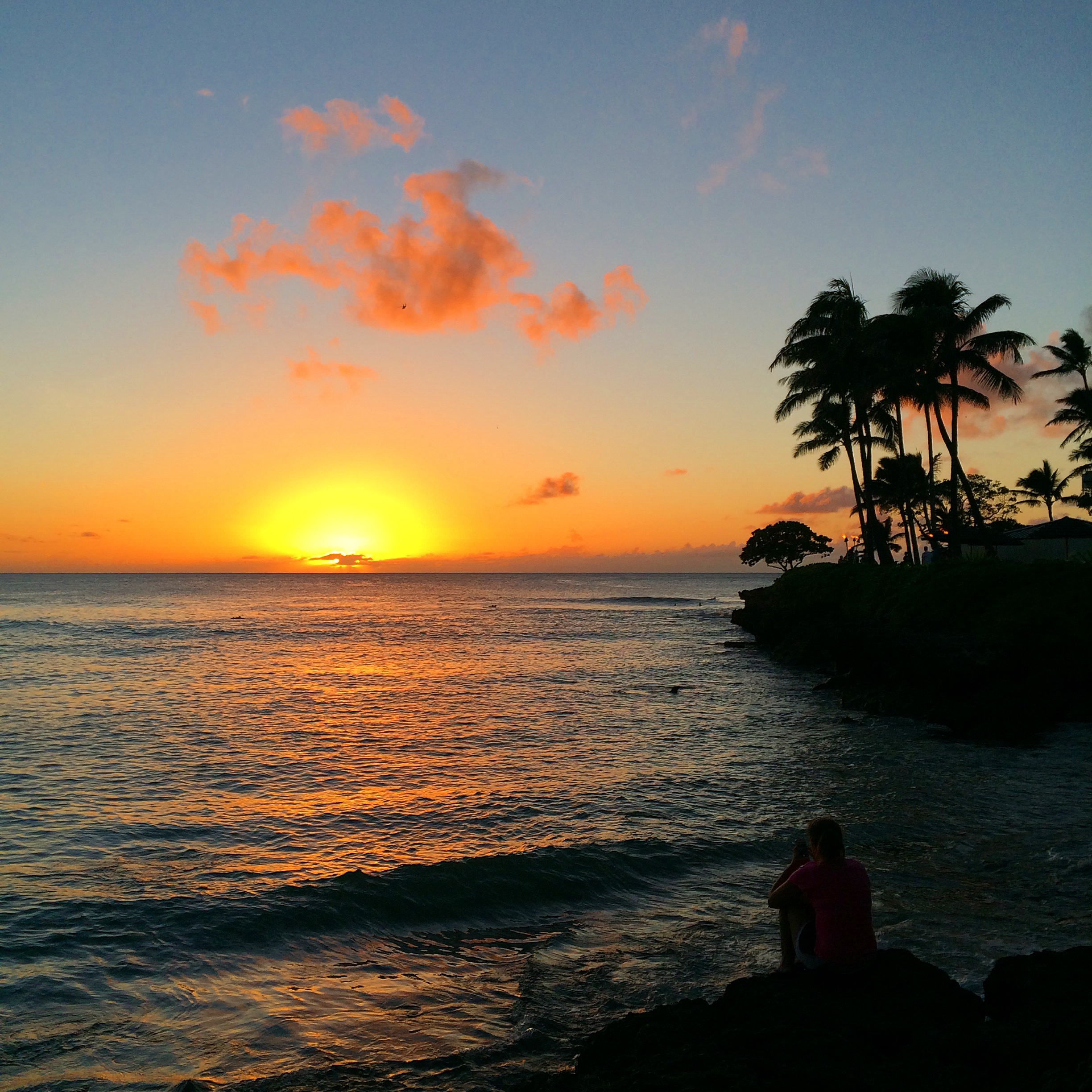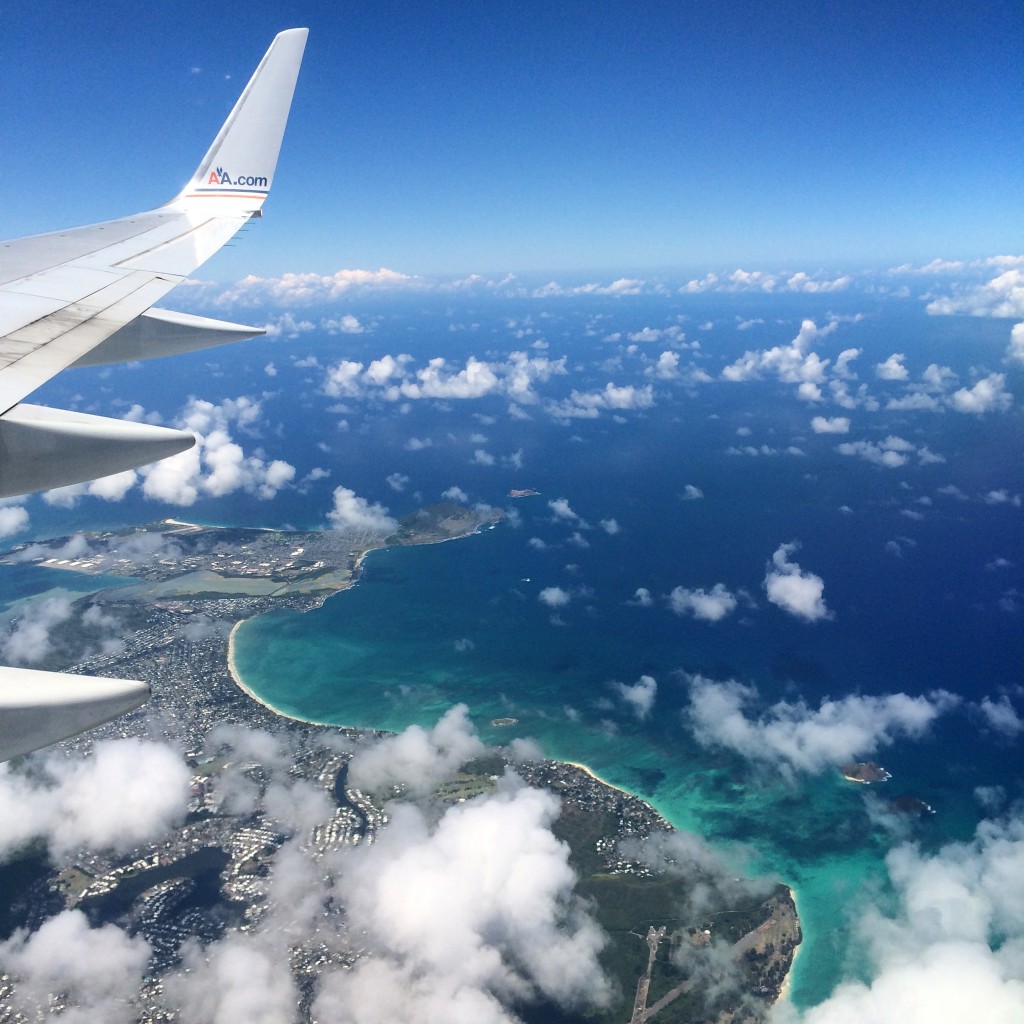 After a five and a half hour flight from LA to Honolulu, we arrived giddy to explore the North Shore. Even though we had both been to Oahu before, neither one of us had really ventured out to the North Shore before. In fact, my last trip to the North Shore was actually only a half day trip that ended at Waimea Bay and driving back to my Waikiki hotel before sunset.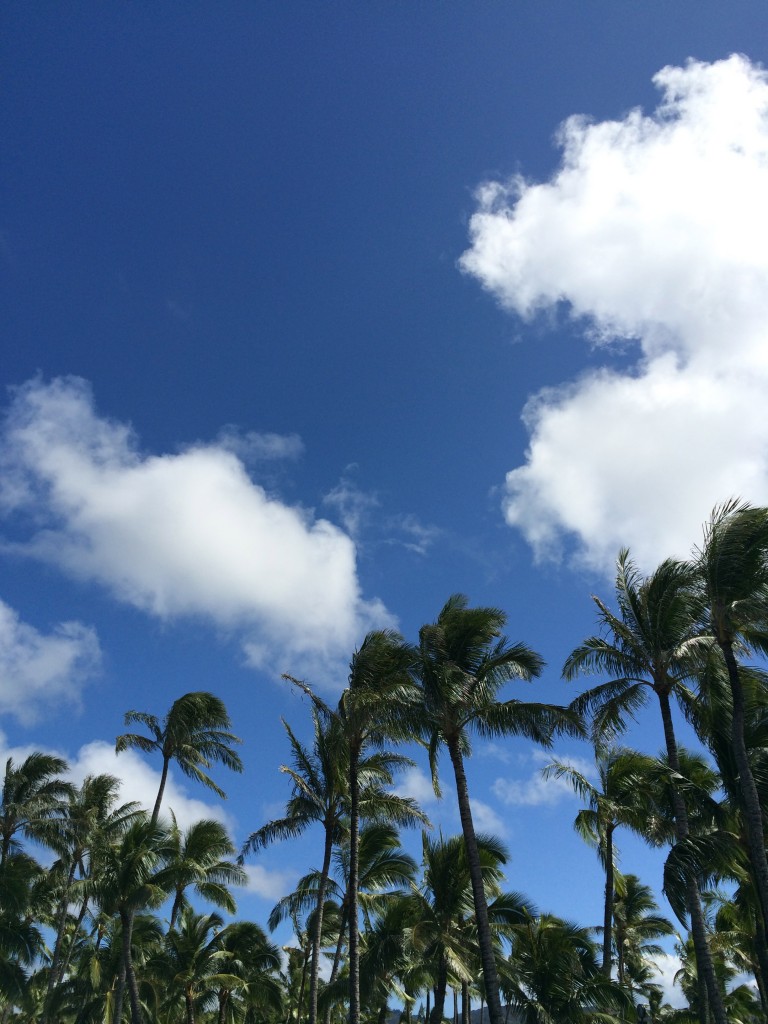 So what was included in our three day North Shore itinerary and bucket list? Well, world famous beaches, cliff jumping, swimming under waterfalls, morning hikes, snorkeling with sea turtles, zip lining and shrimp trucks- you know, every day things…
We hit the highway and headed towards Turtle Bay Resort, the only resort on the North Shore. Checking into our 4th floor room (one with a sunset view overlooking the mountains and bay) we slipped into our bathing suits and got back into the car.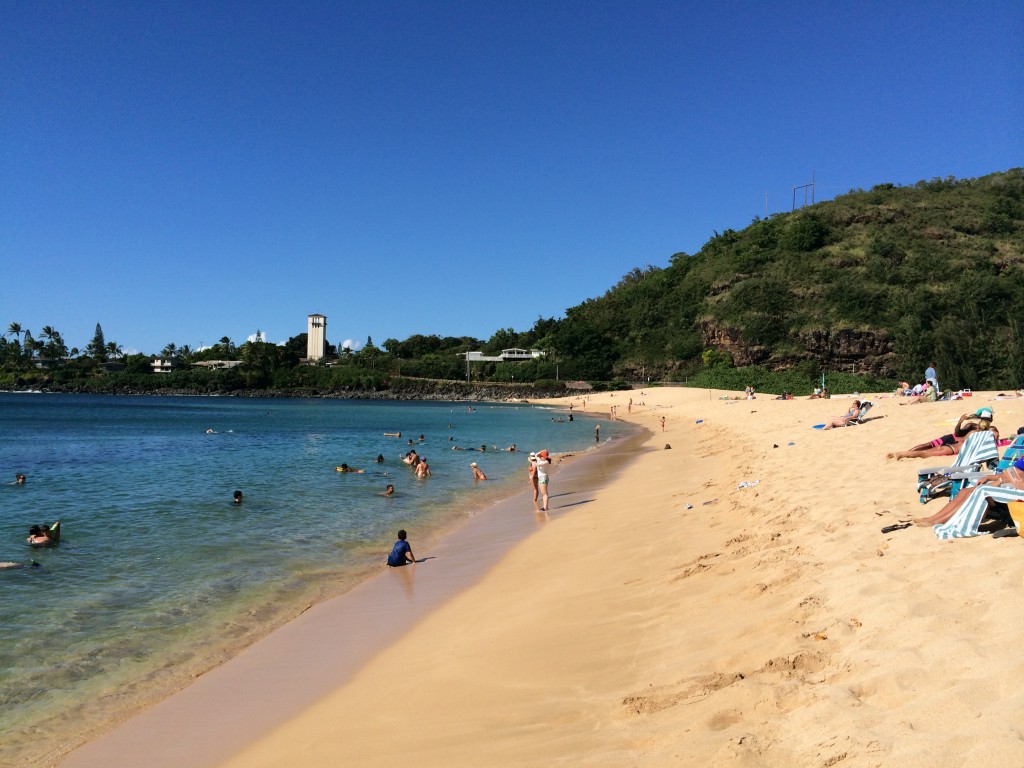 Prepared with our snorkel gear and sunscreen (and a list of must-see stops) we drove back down the two lane road for an afternoon of snorkeling through lava tubes with sea turtles and watching cliff jumpers at Waimea Bay.
Well, I thought we were only watching them. I made the mistake of telling Bob that I couldn't believe anyone would actually do that- how scary it looked and how there was no way I would ever do it. Within seconds the camera was in my hand and I was being told to take a video of him jumping off the rocks. The water is so clear and the afternoon sun hit the rock at just the right angle to be perfect for capturing Bob leap off. Bob climbed up the rocks, which is not illegal, just strongly cautioned and totally at your own risk, and after two other brave jumpers, Bob made his way to the edge and I hit record.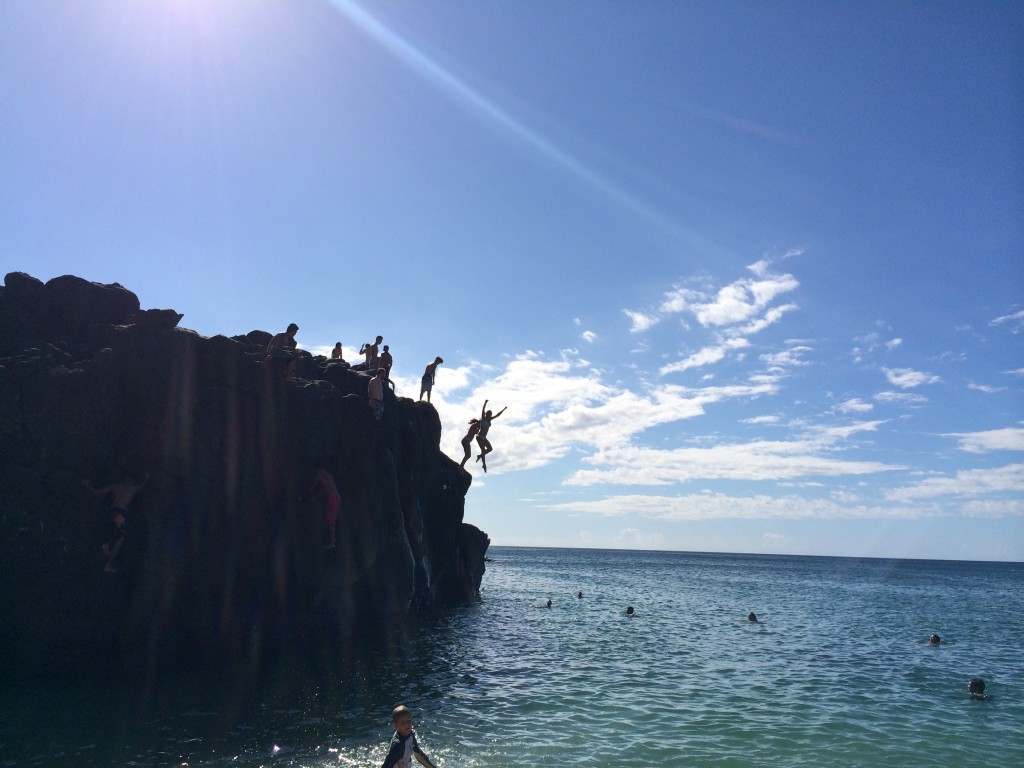 While I might not have been the one about to make the leap, my heart was pounding so loud that it was drowning out the other sounds. Swimming in the water and laying out on the beach was plenty of excitement for me!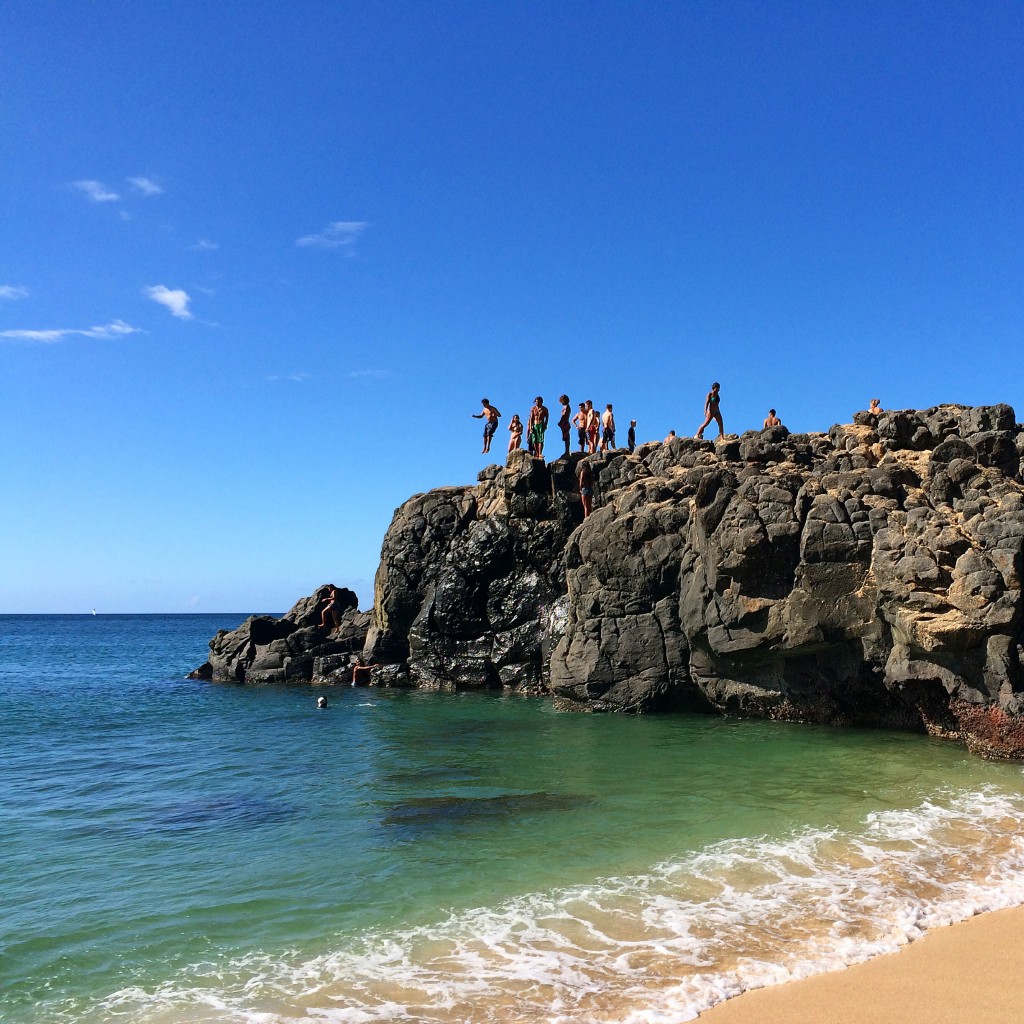 After filling a 16G photo card, we hopped back into the car and park in the dirt path near Shark's Cove. Normally the idea of jumping in water with a name like that wouldn't be on my to-do list, but after reading several posts about Shark's Cove and how the area is known for sea turtles and lava tubes, I decided it was worth it.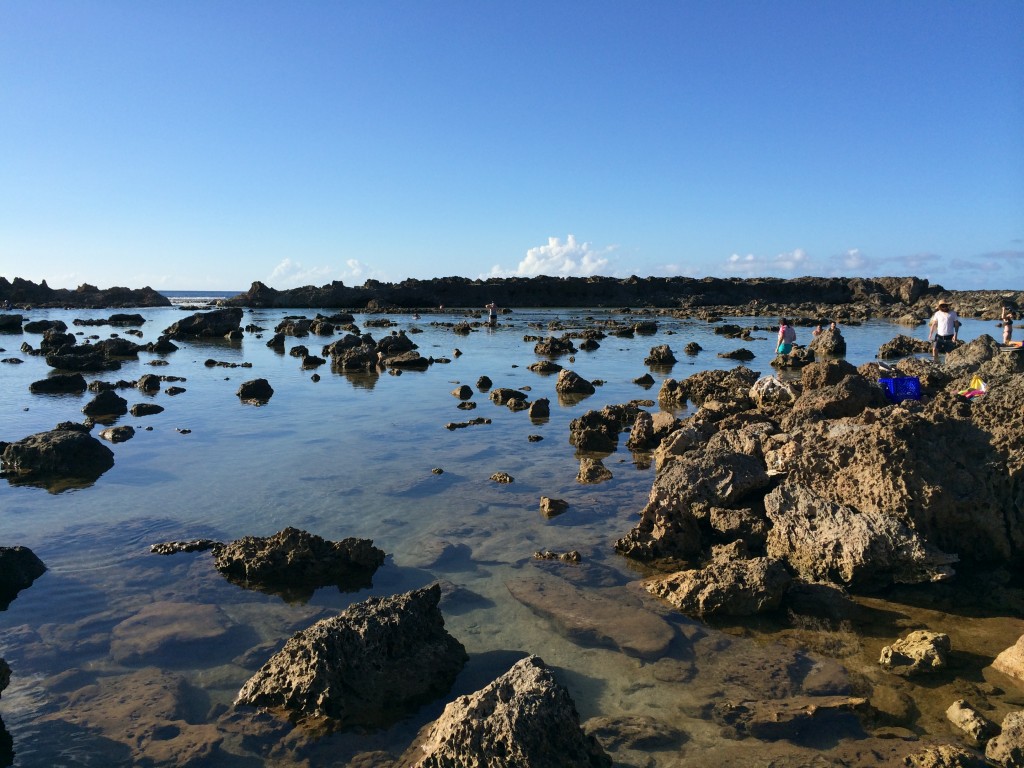 We arrived about 2 hours before sunset, which made the rocky coastline and black lava tubes look otherworldly. Suddenly I didn't feel like I was in Hawaii anymore- it looked much more like Iceland. Luckily the warm water quickly brought you back to Hawaii and the variety of brightly colored fish swam all around us.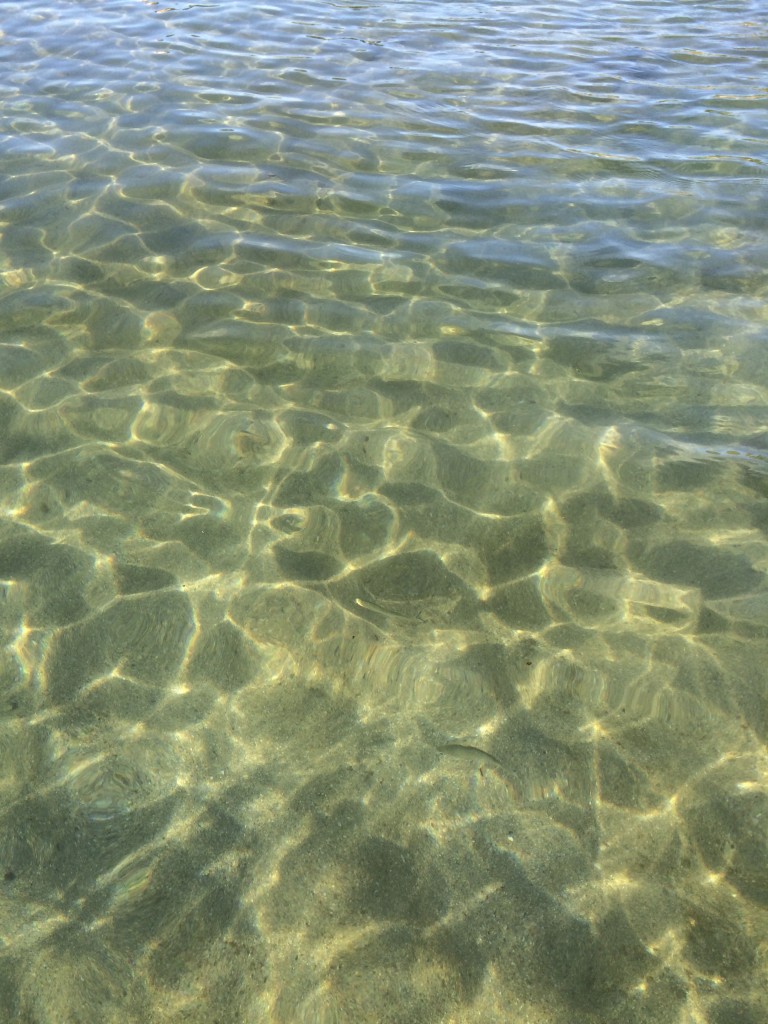 This was the first time I've free snorkeled. (Is that a thing?) Meaning: We weren't with a group and we weren't required to wear a life vest of any kind. It was awesome and kind of scary all at the same. I loved not feeling timed at Shark's Cove or worried that I was getting too far away from a boat. But the lack of supervision also felt a little scary, there was no one watching over us and besides our notes, we didn't really know what to expect. There were probably a dozen or so other people there which eased my mind some and once my head was in the water, all my fears drifted away. The cove was pretty special and different from other snorkeling areas. You had to maneuver around the rocks and tubes and not just let your body move with the current (I forgot for a little bit and was pushed pretty hard into a rock and I have the scar to prove it- don't worry, I makes me look tough and more adventurous than I actually am. read= gives me traveler street cred)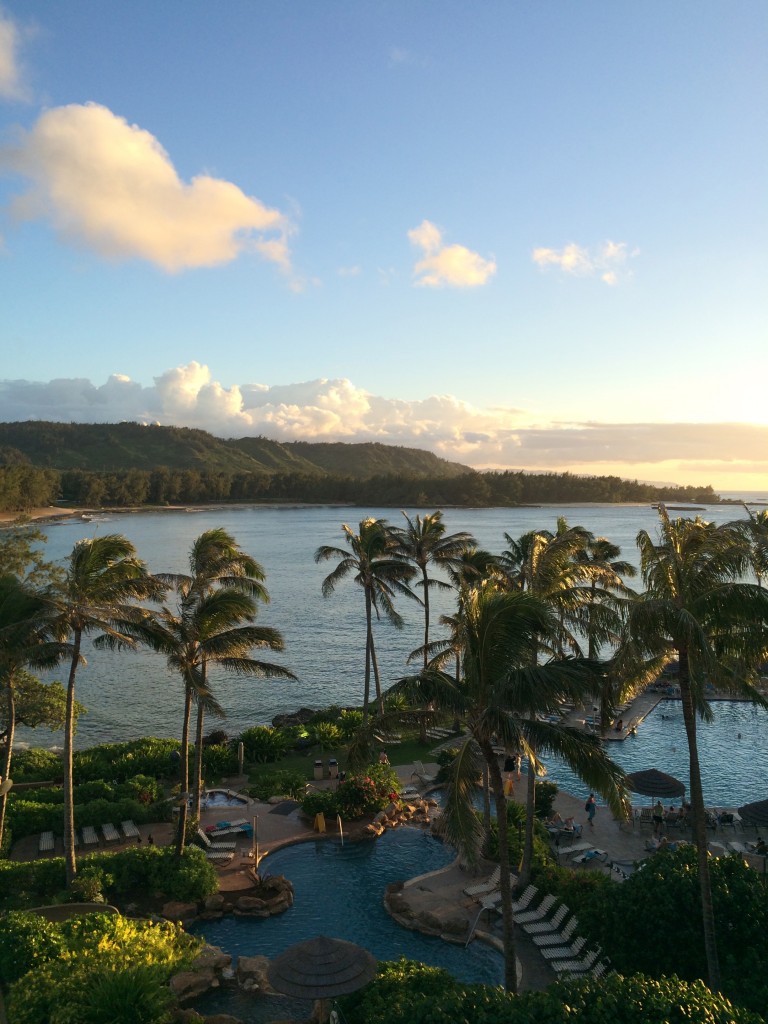 After getting totally water logged, we jumped back in the car and stopped by Ted's Bakery for a slice of Chocolate Haupia Cream Pie, a delicious and thick (get one to share) layered chocolate custard cream and coconut pudding pie. We bought a slice and ate it on the patio in front of the shop before making our way back to Turtle Bay to catch the sunset over the ocean.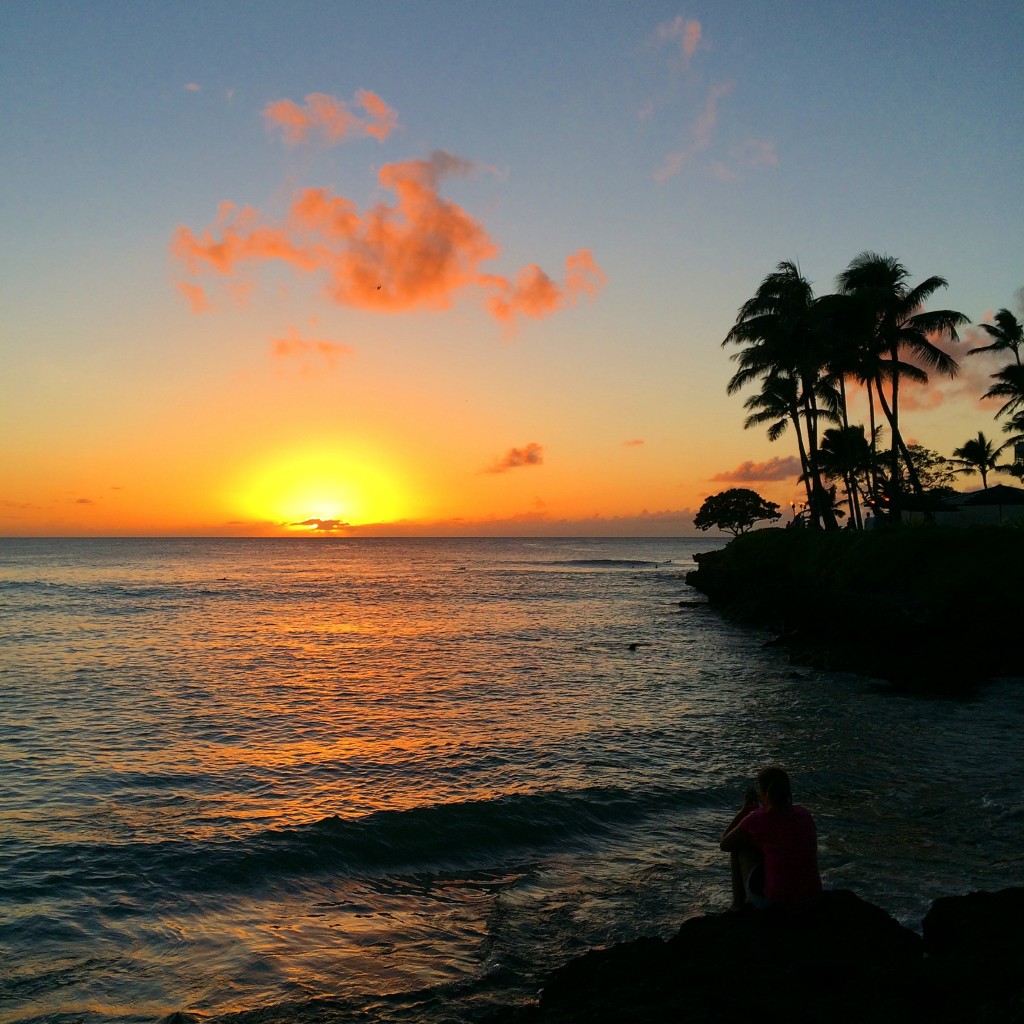 Vagabond3 Tips:
This was a packed first day that some people might want to break up into several days. We just travel fast and need to be doing something every single second. The idea of just lounging on the beach is only satisfying for about 20 minutes for Bob before he gets restless. If you're into slow travel- break this up and really savor each stop.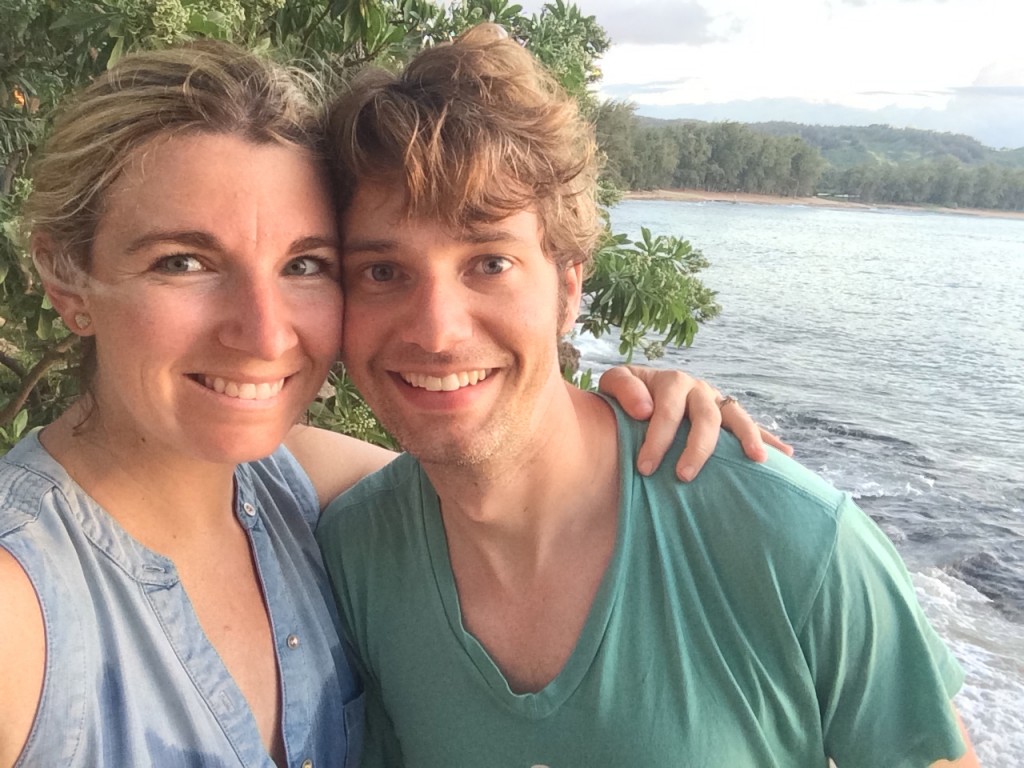 Happy us after exploring Oahu! (crazy hair for both of us!)