Neverland, West Virginia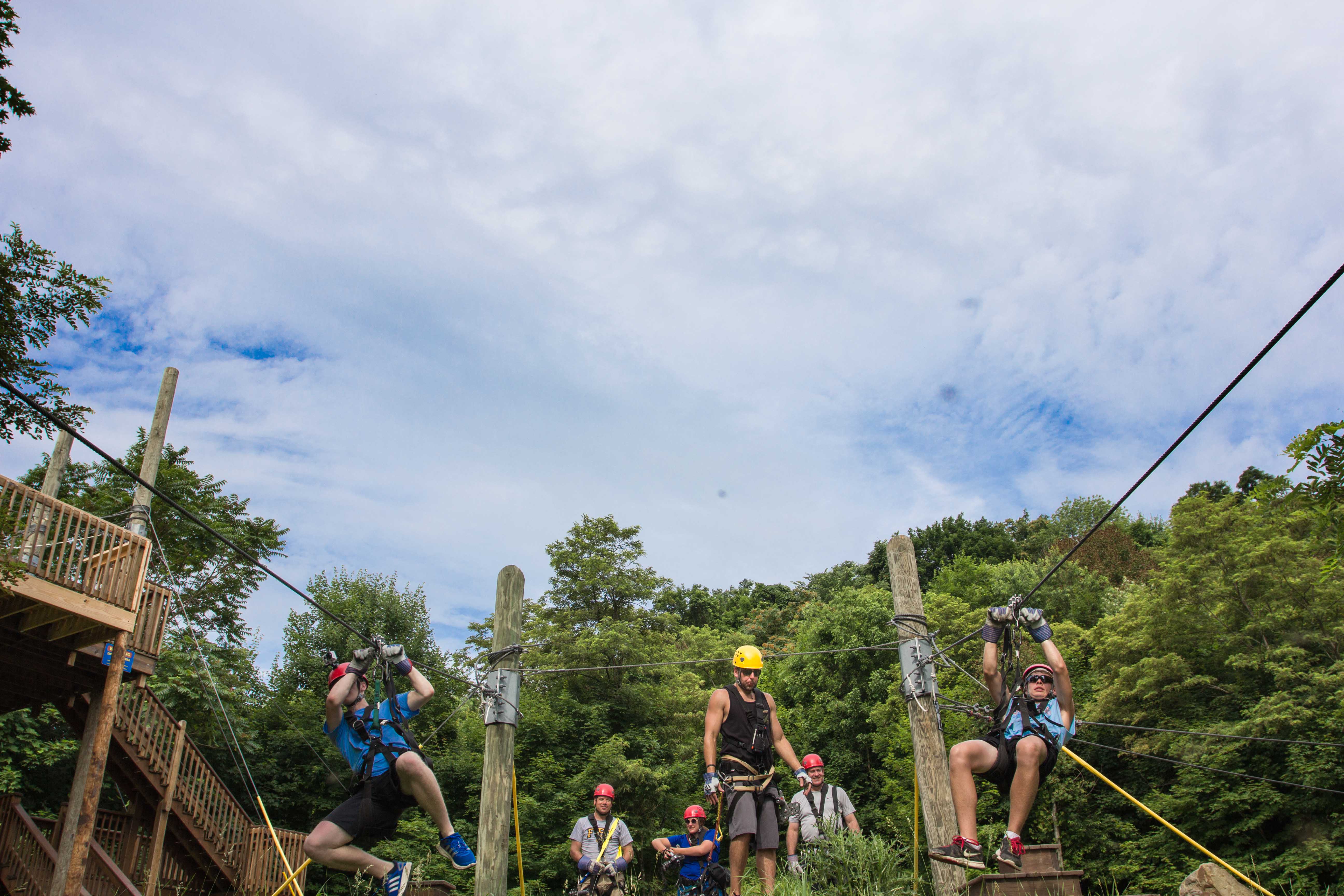 Never Neverland must be like this, a summer camp shell where the forest is turned into an outdoor playground full of possibility and wonder – a place where everything reinforces the sense that Adventures on the Gorge must be the brainchild of someone who refuses to grow up, choosing to chase exploration and adventure.  Visiting, you can feel it in every activity, the infectious excitement of a forest Peter Pan connecting you to the world in crazy and unique ways.
If this is Neverland, built by Pan – that must make us visitors the Lost Boys, here to play in this ultimate forest escape.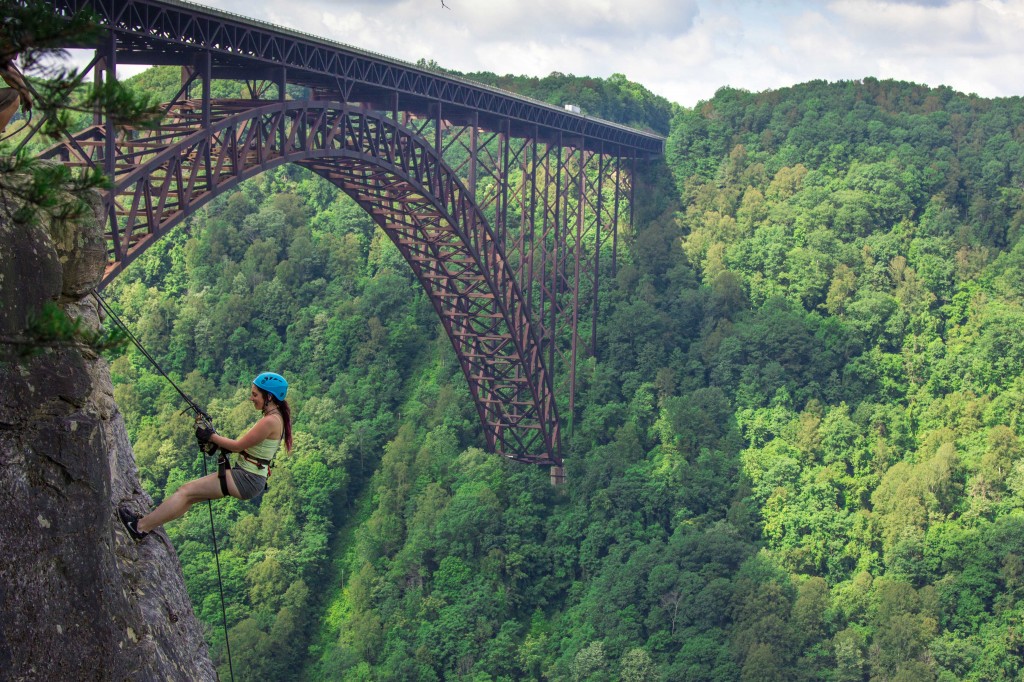 It seems fitting that the 'caw' of a crow and the rustle of leaves in the evening breeze is the soundtrack to my orientation hike around the campus.  I had expected a getway, but with wooden barrels strung-up between trees, wires disappearing off into deeper foliage, and wet swimsuits draped out to dry, I quickly learned that there too much to do here for one weekend, but, honestly, what kind of Pan Land would only have enough for a day or two.  Here's a guide to some of the amazing and essential parts of an Adventures on the Gorge stay because if you can't do it all – you should do the best.
Accommodations
After checking in, the first stage of the experience is a full outdoor emersion.  There are no multi-room hotels cutting into the greenery here. Instead, there is a wide range of rustic accommodations including every option from basic reserved campsites to full blow luxury cabins.  The layout of the cabins and campsites are carefully balanced, so everyone visiting feels surrounded by the woods.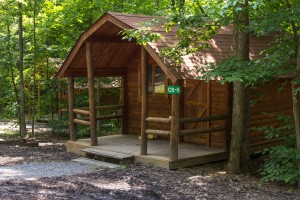 I chose a simple Country Cabin, one in a row that encircles the campground area.  With a jam-packed activity schedule, I only planned on being in my room at night so a luxury pad might be too much but I also wanted a bed to rest my worn out muscles so a campsite might be a bit too little; also, to me, air-conditioning is clutch in the summer.  A huge bonus I discovered was the porch and fire ring which is great for grilling and/or marshmallow roasting.
Tips : These country cabins offer shared bathrooms, so make sure you bring shower shoes and also that you pack some water so you don't have to go on a moonlit walk to satisfy your midnight thirst.
Dining
Like the accommodations, there is a wide range of onsite dining options, and let's get real, while there may not be any invisible frosting cups – there are dishes here that cannot be passed up.
Pizza Bites @ Buffler's BBQ Grill : These were not optional when I sat down with one of the staff interns, they were a must.  What I expected to be small pizza poppers turned out be plate full of 3-bite calzones that were the ideal mix of cheese, soft pizza crust, and pepperoni.  Melt-in-Your-Mouth and delicious, this is a lunch speciality you have to try.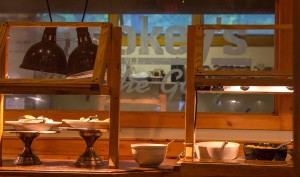 Breakfast Bacon @ Smokey's On The Gorge : While I was first excited to talk about Smokey's carver-station-style Prime Rib, the roast's place as King of Food was overtaken by their breakfast bacon. The perfect mix of salty and spicy, the carmel-red strips taste unpretentiously amazing.  I'm not a crazy bacon fan but I'm no bacon defector either, when I took a bite of the special weekend-only bacon, I knew I was going back for thirds, which was fine since it's served up all-you-can-eat style.
Adventures
Reading the descriptions of each activity wasn't enough to fully prepare for my experiences.  Here's some of my top tips for what might blow your mind about my favorite activities.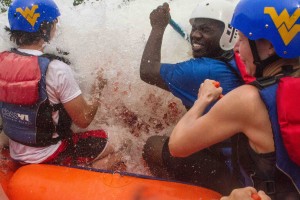 Lower New River Rafting : You will get wet.  This is not at all like most rafting trips, where you are sprayed and splashed only when you shoot a rapid, this is a practice in squeezing the most fun of every inch of the terrain.  While going down the river, your guide may decide to surf your raft, flooding it with water, the group may stop and cliff dive from ten and twenty foot rocks, and some rapids may even be ridden outside the raft – just you and your life-vest, no matter what you do – you will be soaked.  This entire experience is much more all-encompassing than a simple half-day rafting trip, and you should make sure to dress and pack accordingly.
Timbertrek Night Course : "Or" is not in the vocabulary. While most high ropes courses offer guests a choice between difficulty levels, AoTG let's climbers do each one of the three lit courses during a single moonlit adventure.  While I flaunted by skills on the green course, as I came towards the end of the black-diamond course nearly 2 hours later, I distinctly remember praying "Please arms just pull me up enough to get to the final zip".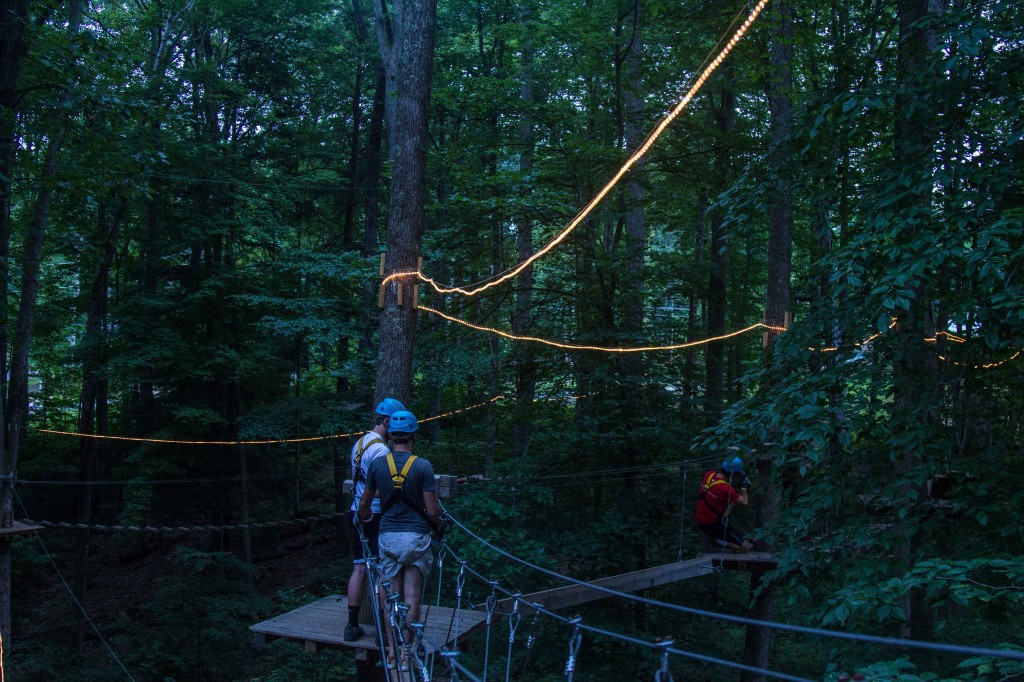 Guided Climbing : This is the most intense half-day climbing experience I have ever been on, with hands-down the most beautiful rappel.  While my tour was half newbie climbers, we still ended the day by each of us snaking our way up a crack to the top of the mountain – typical instructions for the day varied from "ram your foot in there sideways and trust that it will hold", "make a fist and shove it in", and my personal favorite "you've passed the first hard part – that was the easiest hard part".  Guides gauge the group's fitness, and be prepared to have a memorable climb.
Each night as I wandered down the moonlit path to my cabin, I couldn't believe how much Adventures on The Gorge surpassed my expectations.  I was prepared for an outdoor playground, but as each guide seemed to try harder than the last to give our tour the best experience, I kept circling back to my conclusion that AoTG is a land created by someone who cannot help but inspire people to explore the outdoors in the most exciting and thrilling ways. While there may not be a magic ferry flitting around, my visit was undeniably an escape to Never Neverland.