Road Trip Day Two: Crossing things off the bucket list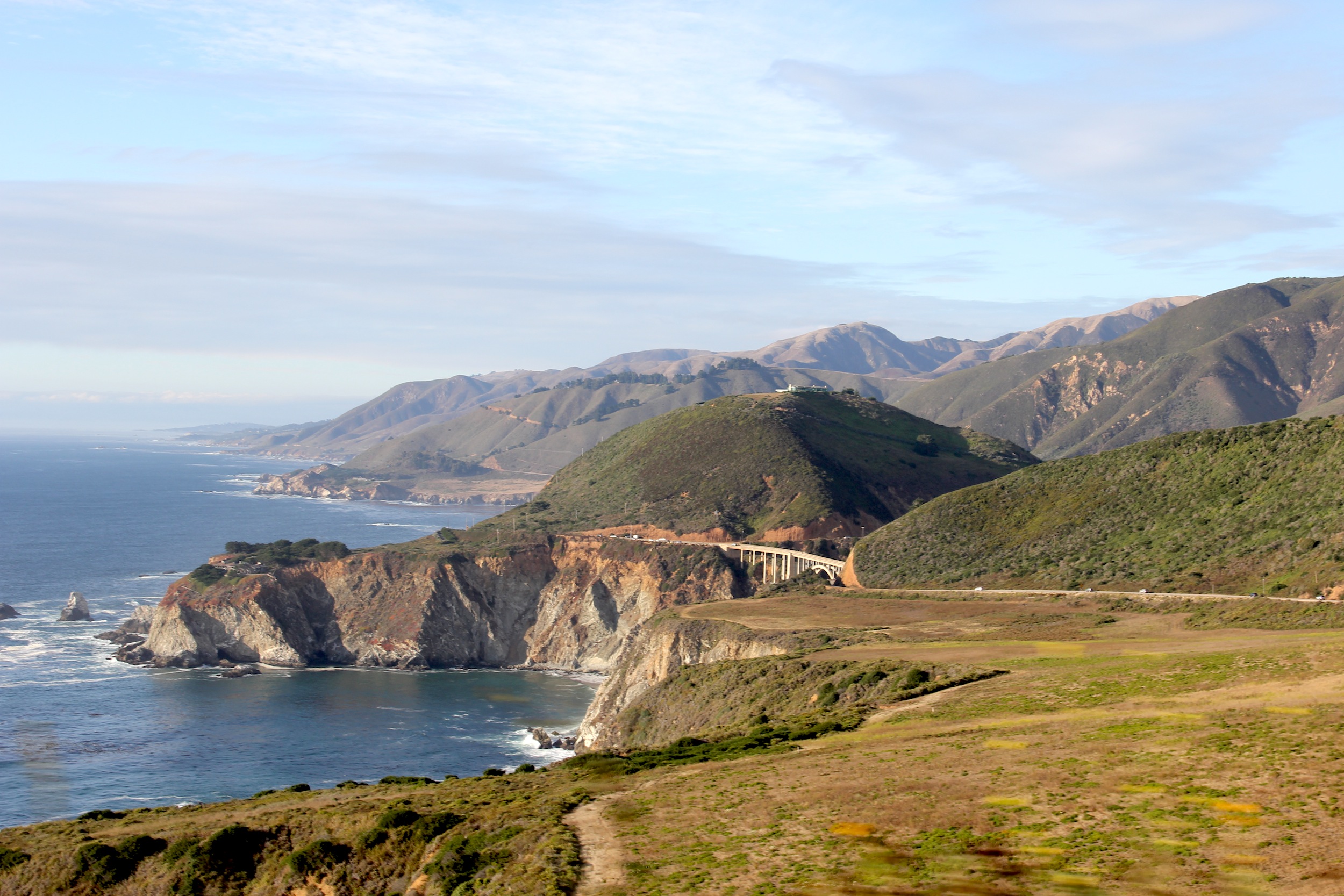 While I don't have a bucket list actually written down, I know there are things I really want to do and see in the world. Driving to Big Sur and exploring historic highway 1 is one of those things. I don't know what number on the list it would be, but it'd be pretty high up there. And, today, we are crossing it off my imaginary list. We are driving to Big Sur.
Can I get a Woo Hoo!!
Yes, I'm pumped. In fact, day two is filled with checking things off my bucket list.
#1- Sleeping on a beach.
Waking up to the sounds of the ocean waves crashing and a flock of sea gulls is usually done by setting my alarm clock to the right channel and then pressing snooze. So, this morning was unlike any prior experience. Yes, I've lived near the ocean my entire life. However, I've never actually woken up to the sound of the real ocean. Real waves were breaking right outside my camper van and real birds were alive and very much awake. Realizing that I can't hit an alarm clock, and that I can peacefully lie in bed with the soft waves rolling in, was heavenly. It actually felt wonderful lying in bed, not having any idea what time it was, and just relaxing. I'm going to say that again, I had just woken up and I was already relaxing. (Unheard of my chaotic world.)
This might be two things crossed off the bucket list- #1- sleep on a beach. #2- relax. Wow– this trip was off to a wonderful start already.
#6- Eat a cookie.
This is a no brainer- cookies are delicious.
Luckily, we took a wrong turn on the way to breakfast and stumbled upon Red Moose Cookie Company. In what we later found out was called Tin City, Red Moose Cookie Company was in a tin building that can best be described as a storage unit. Inside, however, was a giant kitchen and small but efficient store. When we walked in, one other person was coming out with armfuls of cookies. The owner graciously stopped baking to describe every type of cookie, how they make them and which ones were his, his wife's and his daughter's favorites. As he did this, about twenty other people came in, groups of two, families and kids all wanting one thing- cookies. I would say this place is THE reason to drive through Cambria.
#12- Try a make- believe berry.
If I've never heard of something before, then it's probably make-believe. In all seriousness, olallieberry is a mixture of blackberries and raspberries (the pedigree is shown in this flow chart) that tasted sweet but kind of tart and apparently can be put on anything, as we found out by a quick stop in Linn's of Cambria. The muffin was good, nothing fantastic, but since it was recommended by Travel Channel and several other websites, we wanted to give it a fair shake. Would we go again- eh, probably not. As we were leaving Cambria, we noticed several other restaurants that were crowded and would probably head to one of those first.
#27 Watch Elephant Seals wrestle.
This is a very specific one. Any opportunity I have to watch animals live and interact in their natural habitat, I'm in. As we arrived at the Elephant Seal Rookery, we could hear several seals barking and calling out to each other, and I knew that Bob and I were going to love this place. The seals are always around this area, with their high season being around February 14th, when the males return from sea and search for a mate. Even though we didn't see the large males, we did see a ton of teenagers hanging out and wrestling with each other. It was quite the show!
#9 Drive through Big Sur.
This is a gorgeous drive that lives up to the hype. On one side of the car is the bluest, green, teal ocean and on the other side is grassy mountains covered with grazing cows; an unlikely pairing, but they exist harmoniously. As you drive up the coast, we stopped at McWay Falls, Julia Pfeiffer State Park, Bixby Bridge, Nepenthe, Henry Miller Library and Big Sur Bakery. We crammed a lot of Big Sur into one afternoon and evening and it was AWESOME.
Oh, and we saw a double rainbow. Let's just say that is #98 on the bucket list!
All in all, day two was one of the best days of this year. My senses were on full overload as we laid our heads down to sleep, trying to recall everything we saw. And before I can think about our schedule for day three, I'm already fast asleep under the stars, reliving all my bucket list victories.
This trip was sponsored in part by Vintage Surfari Wagons.  If there's one thing we've learned from this trip so far, it's that taking a camper van on the road is a totally unique experience.  We're getting closer to nature than we thought possible with nearly every creature comfort from home.