Explore Malibu with Gourmet LA Food Tours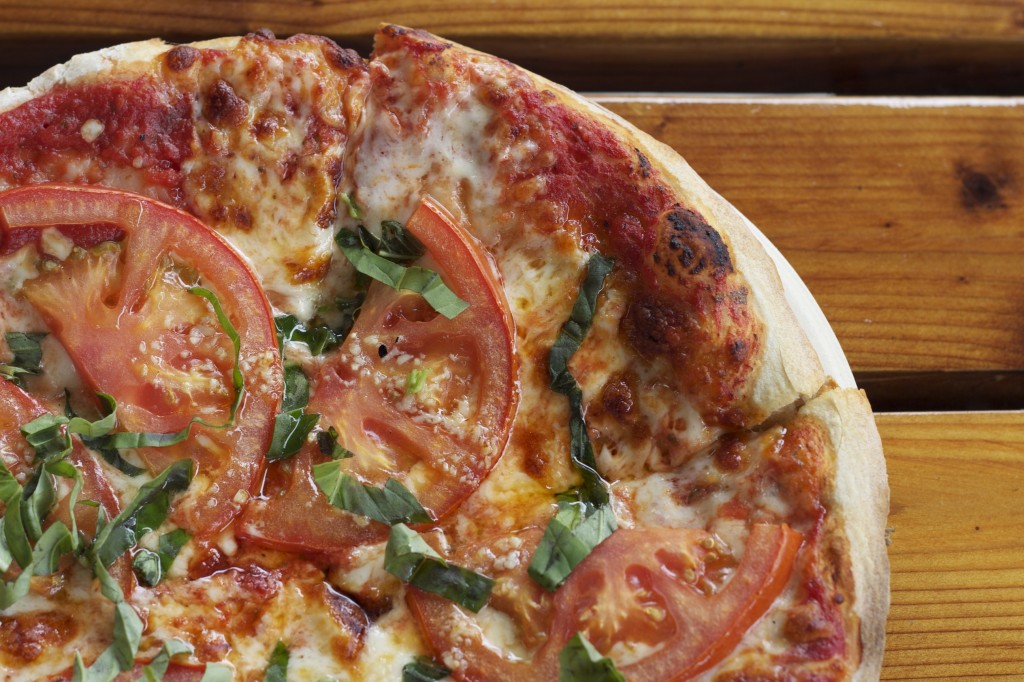 Gourmet LA Food Tour is the perfect combination of a historical walking tour while tasting some of the best food in the city. It's exactly what Malibu was missing and a way for tourists and long time LA residents to discover more about what makes the area so special.
Mary and Diane, owners and founders of Gourmet LA Food Tours, contacted me about their food tour of Malibu and I was intrigued.  Malibu is one of my favorite spots to show my friends visiting Los Angeles. Besides the possible celebrity sightings, which any out -of -towner loves, the famous beaches, iconic pier, hiking trails, and food are all reasons to make the drive up the PCH. But we often leave without digging deeper into the history and culture of what makes Malibu so luxurious and charming. Now, thanks to Gourmet LA Food Tours, there's another reason that satisfies your mind and your stomach!
…………………………………………………………………………………………………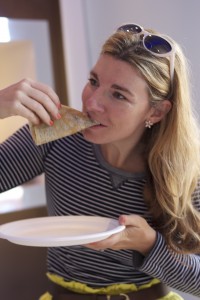 We met Mary and Diane, along with four other tour goers mid-morning during the week. It was still early enough where the marine layer hadn't totally blown off yet, and the mountains and sunshine were just starting to peek out from the fog.
Meeting near the new Legacy Park, we got a quick explanation that this park is located near 5 different habitats, the only area of its kind in California. Connecting Southern California's only coastal prairie habitat with the ocean, lagoon, creek, and bluffs, the ecopark is designed to protect and reduce pollution in the area. I dig that!
Moving on, we entered the Malibu Lumber Yard, a beautiful outdoor oasis, complete with three free-standing aquariums filled with marine life from the Pacific Ocean. This retail and dining center used reclaimed wood from the old lumber yard to continue the eco-friendly design throughout the area.
Stopping for our first two tastings of the morning, we nibbled on a delicious blueberry muffin before heading over to ChocolateBox cafe, known for their interesting variety of rich hot chocolates. We each had a nutella crepe (can I just say that nutella crepes should be consumed at least once a day?!) and a speciality hot chocolate.  The flavors were mint, orange, ginger, green tea, chili pepper, jasmine and cinnamon, and while I thought mine was a spicy orange, it turned out to be chili pepper! It was really unique and perfect for warming us up from the cool morning we were having.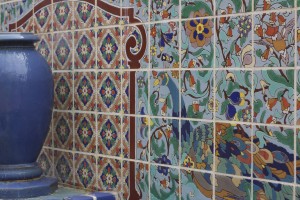 Taking a break from eating, we crossed the street towards the ocean to the Adamson House. Known for stunning tile work, beautiful outdoor fountains, and intricate iron work, the house looked like something out of Italy. Now open to the public, we took a tour around the outside of the house, watching the surfers take off on glassy waves at Surfrider beach and wishing we all lived in the Adamson House!  
We also learned that Malibu originally got its name from the Chumash Indians "Humaliwo" which means the surf sounds loudly. 
Our third stop was at Howdy's Taqueria for a splash of watermelon juice and tasty organic spinach and poblano pepper quesadillas. The spinach quesadilla was my favorite- filled with the perfect amount of cheese and spinach and a hint of garlic. SO GOOD!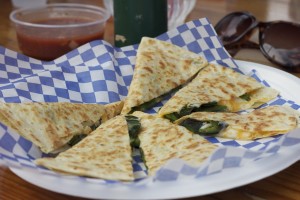 Switching from Mexican to Italian, we stopped by Tra di Noi to sample their margarita pizza and Marco Polo salad. While Tra di Noi offers sit down dining, I'd suggest grabbing the salad and the pizza from the take out window, bringing a big blanket and setting up a picnic on the beach to watch the surfers. Talk about the perfect afternoon!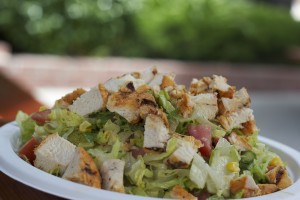 Time for a little something sweet with K Chocolatier (the second chocolate stop of the day- these ladies know the way to my heart!). We sampled a couple chocolate truffles that had a small shot of rum of rum and tequila inside! While you wouldn't get drunk off just one, these would be perfect for after dinner.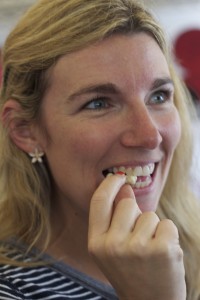 Continuing through the lumber yard, we found ourselves on the outdoor patio at Taverna Tony's traveling to Greece to try their special house dip made with avocados, olive oil and caviar. IT WAS SO GOOD. I'm pretty sure I could eat these creamy dip on anything, every single day!
After stopping through several shops, we made our way to Malibu Kitchen and Country Martet for a light caprese salad with fennel and waterchest nuts. After all the heavy food, I was happy this was so light and easy. While we were there a few people eating mentioned that we should try their pulled pork sandwich and then the owner came out and told us we had to try the meatloaf! I can't wait to go back.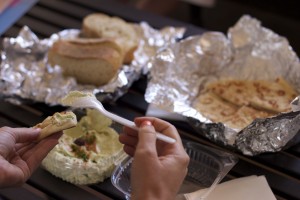 The last stop of the day we tried the monthly special gelato from GROM. Perfectly sweet and refreshing and probably the only other thing I could have eaten that day. Luckily, I wore my eslastic skirt- nothing constricting on a food tour- duh!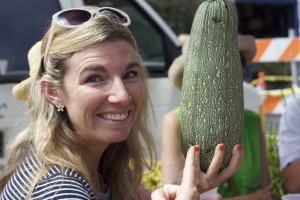 After three hours of stuffing our faces and exploring Malibu unlike any time before, we walked back to our car reliving the experience and talking about our favorite foods. Funny enough, while our taste buds sure did like the tour, we really enjoyed learning more about Malibu's history. Walking tours are nothing new for tourists exploring an unfamiliar city, but turn the tour on the resident. I'm sure there are a lot of Los Angeles residents who don't know the history behind the Malibu Lumber Yard or that have never visited the famed Adamson House. This walking food tour combines the best of the best, and really allows the treasures of Malibu shine.