Kolonia: 8 Reasons You Will Love to Hate The Capital City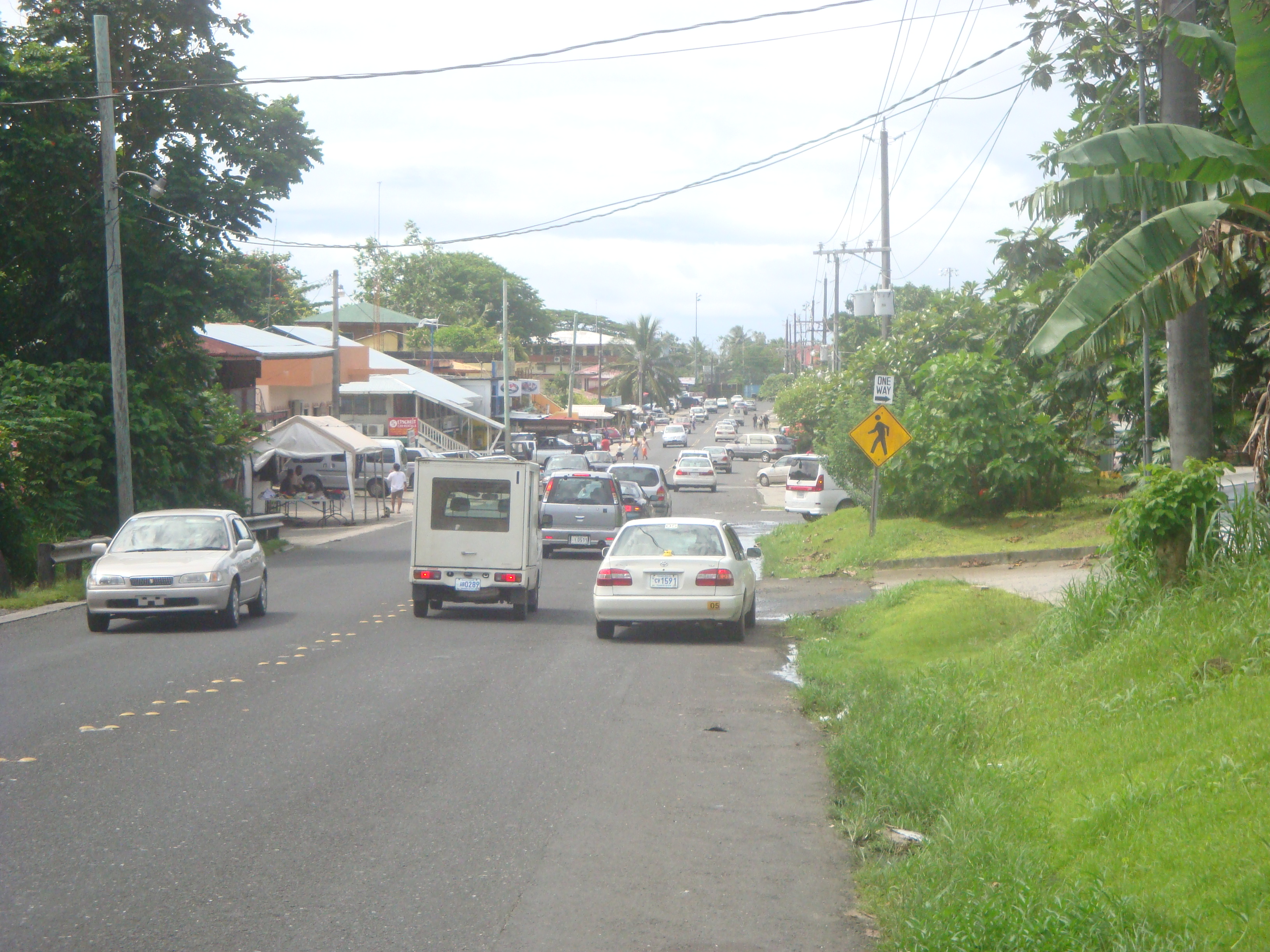 View down Kasalehlie Street toward waterfront
Kolonia. It'll lure you in with the promise of air-conditioned breeze and internet so fast you can Skype your mother, but don't let the fluorescent lightening blind you. Exhaust-filled and algae-slick, Kolonia is not a place to love. Or is it?  Sure, Pohnpei's most crowded town doesn't have looks (and yes, an hour sliding around these slimy, sticky streets will have you saying words you really wish the English-savvy passersby didn't understand), but nonetheless, this seaside city is home to some of the most densely-packed rapidly-modernizing culture in all of the Pacific.
If you're lucky, you'll like Kolonia. I can guarantee you'll loath it—at some point, at least. But with all the goods and services for the whole island concentrated in one square mile, the one thing you can't do is avoid this gritty little capital city. With that in mind, here are the top eight reasons you will love to hate Koloniatown:
1.  You need gas. Located in the heart of Kasalehlie Street (the main street through the middle of town), the gas station is a great starting-out place for those getting to know Kolonia.  It's a central meeting point, an easy spot to catch a taxi, and there are tables inside where you can sit and rest.
LOVE IT:  Air conditioning, Kasalehlie Press newspapers, dollar slushies, dollar-fifty soft serve
HATE IT:  Thank god the ice cream's cheap because at $5.20 a gallon the gas is going to break your bank
2.  You need a ride. Taxi services abound in the capital city, and new companies emerge almost daily.  The streets are teeming with numbered cars just waiting to give you a ride.
LOVE IT:  $1 per person cab fare from anywhere in Kolonia to anywhere else in Kolonia; generally friendly (if sometimes slightly inebriated) drivers; excellent island tunes blaring from the radio
HATE IT:  "Menwai (foreigner) tax"; cars in various states of disrepair; life flashing before your eyes as the driver opens his door to spit beetlenut juice while going 60 miles per hour.*
*I once saw this executed simultaneously by both the driver and the front side passenger in such perfect harmony that no one in the front half of the car could see the road ahead.

3.  You need food. Local food is nutritious and delicious, but preparing it takes time (think: hours) and procuring it as a non-Pohnpeian can be nearly impossible.  So unless you've set up a sweet food-share situation with a Pohnpeian family, you're going to be eating some pretty familiar dishes in Pohnpei.  Fortunately for you, Kolonia is rich with grocery stores, snack shops, and all the restaurants you could hope for.
LOVE IT:  $6.50 for all the Japanese food and tuna sashimi you can eat at Sei's buffet; Karat bananas; breadfruit chips; fresh coconut milk
HATE IT:  Bugs; feces; the staleness imparted by shipping; SPAM; eating your weight in Western-family brand canned goods
4.  You need electricity. Everyone else in Pohnpei will be using their cell phone / laptop / personal electronic devices, so you'll want to, too.  Head on over to the PUC (Pohnpei Utilities Company) just a couple of doors down from the gas station and get yourself some power—cash power, that is.
LOVE IT:  The island, unlike many other developing countries, actually has electricity.
HATE IT:  Cash power.  Definition:  Pre-pay electricity.  By the unit.  In Kolonia.  You can top up outside of town, but it'll cost ya.
*On a related note, due to mismanagement and a humidity level that makes Florida look balmy, the electricity on Pohnpei is, um, "intermittent"—no matter how much you just paid to turn it back on.
5.  You need money. There are two banks in Pohnpei, The Bank of Guam and the Bank of the F.S.M.  Both are in Kolonia.  As are all the ATMs.  If you need cash, you're heading north. 
LOVE IT:  The Bank of Guam—accurate statements, professional staff, and a brand new building by the U.S. Embassy.
HATE IT:  Days when the banks are more like where the money was than where the money is; having to call ahead to reserve large bills*
*Yes, for real.  Pohnpeians like to cash their paychecks, so the large bills go pretty much as soon as the bank gets ahold of them.  (Take it from me, a 3-inch wad of twenties looks suspicious on an airplane.)
6.  You need to call home. As far as your friends and family are concerned, you've just dropped off the face of the earth.  They're going to want a phone call to let them know you're okay.  With three solid internet options within easy walking distance from the gas station (Telecom, Computer Island, and the Pohnpei Public Library), you can be online in no time.
LOVE IT:  2 cents a minute from Kolonia to your American home state via Skype.
HATE IT:  36 cents a minute from your American home state to Kolonia , also via Skype.
7.  You need assorted hardware / office supplies / home improvement tips. ACE is the place with the helpful hardware man—even in Pohnpei.  And this ain't no Wall-Mart knock-off, either.  Three ACE stores in one block make up essentially all of the foreign business on the island and, combined with the movie theater, the new Bank of Guam building, and the U.S. Embassy, give this corner of Kolonia a distinctly imported feel.
LOVE IT:  It's a remote tropical island, and chances are, you're not MacGyver.  A few supplies might come in handy.
HATE IT:  Menwai stores come with menwai prices.
8.  You're sick. Okay, big bummer, but not that surprising.  There are, however, some things you should know.  Pohnpei hasn't had stunning success with its education system, so very few (alright, alright—zero) students have returned to the island as doctors.  Let's just say that you need to be careful before you jump in line at the hospital. 
LOVE IT:  Dr. Brian Isaac at the Pohnpei Family Health Clinic—trained, certified, and takes insurance
HATE IT:  Medical costs.  Alternatively, the local hospitals might kill you, but they're guaranteed to do it cheap.  The choice is yours.
So, Kolonia. Love it or hate it, you can't help but know it well.  There's no use resisting, so grab a tasty Mountain Breeze, slap on a local skirt, and get your pedestrian cruise on.  You'll be glad you did.  Maybe.
var _CI = _CI || {};
(function() {
_CI.counter = (_CI.counter) ? _CI.counter + 1 : 1;
document.write('
');
var script = document.createElement('script'); script.type = 'text/javascript';
script.src = 'http://widget.crowdignite.com/widgets/1312?_ci_wid=_CI_widget_'+_CI.counter;
script.async = true; document.getElementsByTagName('body')[0].appendChild(script);
})();