Hookey and Happy Endings, #TBEX Day 2
With only three and a half days in Vancouver, we had to pick and choose what we were going to be able to do, and today we sacrificed part of what brought us to the city in the first place. We skipped out on the morning session of TBEX to take a bike ride around Stanley Park and see a few sites that other bloggers had been talking about. As I mentioned before, the TBEX/Vancouver City Pass that all bloggers received for attending the conference made exploring the city super easy. I know there are a lot of negative feelings about certain aspects of TBEX '11, but, attending the conference was completely worth it with the city pass. Even though we have already explored several other attractions that were free with the pass, the activities we planned for today nearly recouped the price of our conference ticket.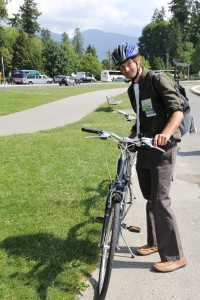 Anyway, we rented bikes today at Spokes bike shop. Personally, I wanted to rent the tandem bike, but Jade was a little worried about our overall balance. Deciding to try and fit a dual ride in afterwards, time permitting, we rented two mountain bikes and headed into Stanley Park, named after the same Governor General of Canada who donated the Stanley Cup. This park is hard to miss, it's a massive green space at the tip of downtown which houses, the aquarium, a totem pole exhibit. All around the park is the sea wall. A paved path that cuts at the edge of the park between the trees and the beach. It was an even easy ride for us, and the abundance of other bikers, runners, and walkers let us know that the citizens of Vancouver find this just as stunning as the visitors. Being on a pretty heavily traveled waterway, I expected the sea to be dirty and filled with litter, but instead we found it to be thriving with life. Some of my favorite sightings were, a flock of geese and their chicks (geese babies?) and a raccoon that was crawling along the rocks gathering up starfish.
We looped around the track and hopped on the Aquabus crossing to Granville Island. On the first day in Vancouver while we were busy doing adventure tours, several of our friends had gone on a culinary tour of the island and came back raving about Lee's Doughnuts, let's just say that their reviews forced us to check these treats out our ourselves. After scouring the entire market, we found Lee's Doughnuts subtly tucked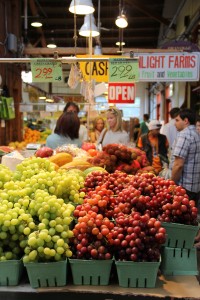 by a doorway. I was expecting a line of people, there was no line. Jade and I ordered two doughnuts and several doughnut holes, so we could sample a bit of everything, and they might all still be sitting in the bag where we left them. We had no Canadian dollars, and Lee's Doughnuts doesn't take cards…ugh. Distraught, we grabbed some Fish & Chips (not from Go Fish though, which I am now not entirely sure exists) and then crossed back to downtown.
The hardest decision we had to make all day was how much of the conference was acceptable to skip. After all, one of the sessions that hung in the balance was the one I was most looking forward, lead by our friend Jen from The Vacation Gals. However, we decided to skip just a bit more and head to the Vancouver Aquarium. Overall, it was smaller than I imagined it would be, and maybe it was just the weekend traffic, but it was overrun by kids. Still Jade got to see her Beluga Whales and I got to see a dolphin. This was our first trip to an aquarium since seeing "The Cove", and I can honestly say that I didn't look at it the same as I had before.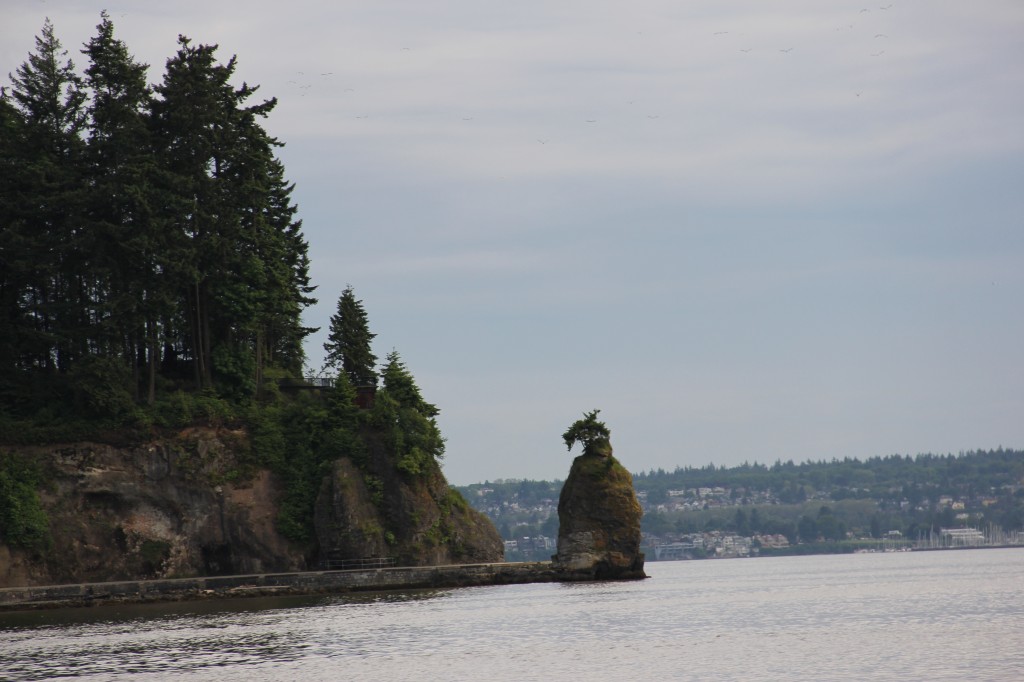 By the time we headed back to TBEX, there was only a couple of sessions left before the bon voyage, literally bon voyage. The final party of the weekend was a harbor cruise, sponsored by AM Resorts! There was a bit of a dark cloud hanging over the trip, it was invite/RSVP only. Some time during the day, I had been told that the invite had been extended to everyone, but, after I told a dozen people, I was corrected. If you are one of those people, I apologize. However, I think everyone that showed up did get on.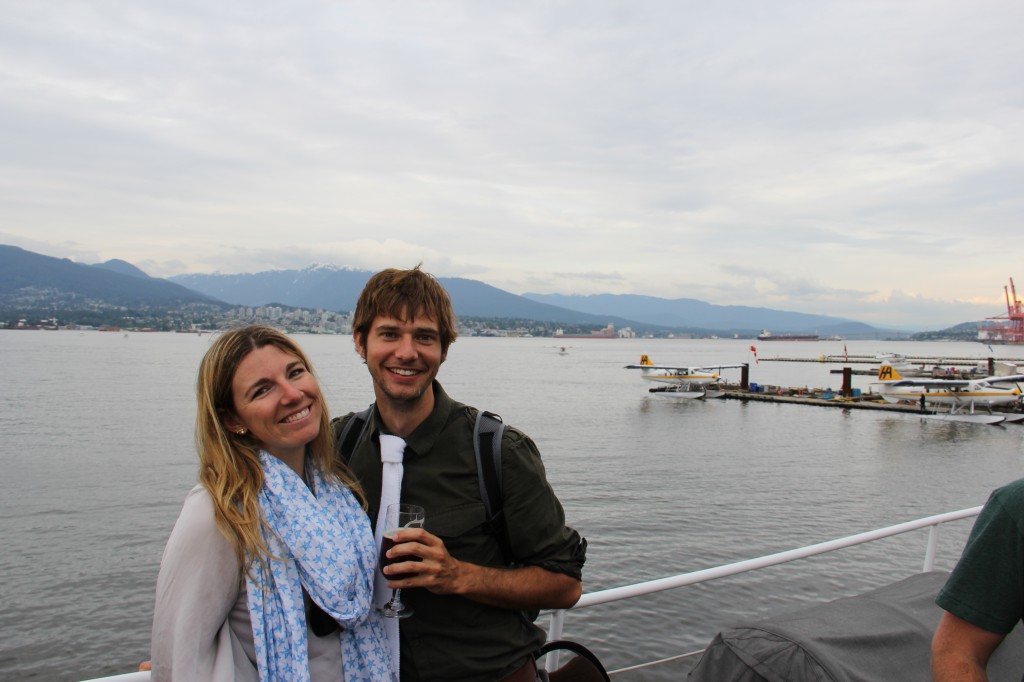 The cruise took off from the docks near the convention center and looped around the outside of Stanley Park, right along where we had biked earlier that day. Up tempo jazz music meant I forced Jade to dance with me, and, again, free drinks. The highlight of the trip for me though was seeing the sea wall (bike path) from this floating vantage point. While we had been biking on it, it seemed wide and safe, but looking at it from here, it looked small and dangerous.
The last, final, finale of our TBEX was a Mexican Meet-Up Jade had organized. Some people from the cruise followed us over, and it was a nice group of about ten people…at first. Then the rest of the crowd showed up. I think at it's max, we had fifty people filling the small restaurant. We had no idea it was going to garner such a huge response. Thank you to everyone that came!
Overall TBEX '11 provided us with great ways to see a city that we had wanted to visit for quite some time, but it also was a great place to meet other bloggers. Next year TBEX is moving to Vail, with some announced improvements over this year's conference. We're pretty excited, even if just to see what the Denver City Pass looks like.