Guest Post: Getting Hostel in Downtown L.A.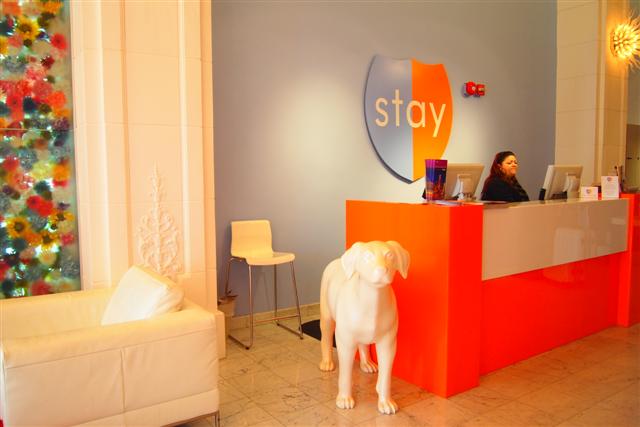 Los Angeles is synonymous with some of the most glamorous hotels in the world: Chateau Marmont, The W, The London, The Standard and more.  Not exactly the least expensive hotels for a weekend getaway for this young vagabond.  As a traveler who was visiting the city for two days, I wanted a place I could stay that was central, safe and reasonably priced. This decision was made quickly so I will confide I didn't do a lot of comparison shopping. That said, I was surprised when Jade and Bob were curious about the hostel scene in LA.  The wonderful Sheryll from The Wanderlust Project (@wnderlustprojct) recommended Stay, a relatively new hostel/hotel hybrid. What their website doesn't reveal is that they are  located within the confines of the Cecil hotel next door (or steps away from Skid Row). That said, Sheryll's recommendation triggered an article I read in  Budget Travel about value accommodations in LA and on short time, I wanted to give it a try.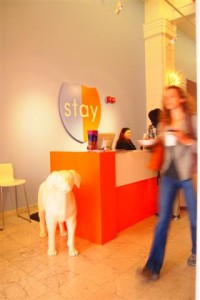 Stay is exactly as it looks on the website: super clean and modern looking; sparkling clean to the point that you wonder when the Mr. Clean guy is going to pop out from the corner and give you his trademark grin.  But were appearances deceiving?  After taking the elevator from the Cecil lobby, I felt like I was transported a University dorm, a sea of numbered white doors, grey walls and weathered carpet.
The dorm rooms, as the lobby, were exactly as presented on the website: modern decor featuring bright orange printed sheet sets amongst a modern grey wall, and a funky chair in the shape of a hand nearby the TV (most hostels don't have a TV in the room, so that was a cool touch).  I liked that there was an open area sink in the room as well as the bathroom, but let's just say that the size of the bathroom could have rivalled those in rooms in New York.  So what's the catch that you don' t see? The smell. This very apparent smell of stale smoke, a smell reminiscent of old ladies named Martha and Pearl chain smoking at the local Bingo hall.  It dissipated after the first day or so, but I was not impressed.  The other annoying thing was the very loud sound that the toilet flusher makes. I'm not trying to be a snob,  but when you're coming in from a night out and everyone is sleeping, it's annoying for those who are trying to sleep and awkward for the one coming in trying not to wake everyone up.  Save for the uncomfortable ladders on the bunk, the beds were extremely comfortable and inviting.  For the $40/night charge, it was good value for the money, especially in LA (again, land of opulent, expensive hotels). Let's just say my cab ride to Beverly Hills from DTLA was $40 for comparative analysis.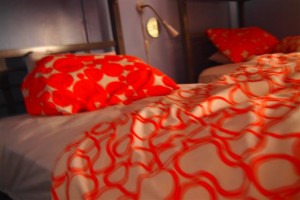 I quickly met  Michelle, a lovely Brit who was preparing for her Contiki tour departure the next day. She had just come from living in New Zealand and on an American jaunt before planing a big trip to Europe. I was surprised she wanted to hear every single country I had been to (I've been to 13 different European countries) and we had a great conversation comparing and contrasting our travels.  One thing I'm always curious about when traveling are where visitors are from. At Stay, there were a large majority of English who were making their way through America from West to East. There were also many Asians coming from either Hong Kong or Japan.  That said, the lobby and lounge areas are very small nor was there a pub crawl which made it minimal for socializing. Much socializing was done either in the hostel room or at the computer area (note: that my Wi-Fi did not work for my lap top) and there were about four MACs available for roaming.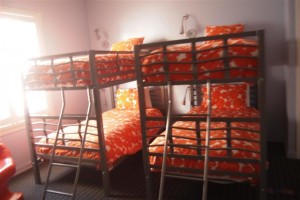 As opposed to the USA hostel (guest post review), which is a bit more bare bones and more centrally located on the Sunset strip (hence party hardy), I was glad to end up DTLA, an area on the verge of being a destination.  Though I was reluctant to navigate solo at first, Stay was in close distance to some cool art galleries and some of the hottest bars in the city. A mini-guide to the night life and fun in DTLA, if you will: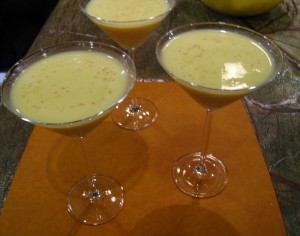 The Varnish and Cole's – literally around the corner on 6th street, there was quite the long line up to get into this speak easy. A quick look on Yelp revealed that if I went into Cole's next door, that I could get in via the secret entrance. Turns out Cole's was quite the hot spot too with quality drinks. I ended up going back the next day because this was the only bar open on a Sunday and was able to chat up the staff who invited me out later on. They make very good prohibition-era drinks.  Good, solid service and fun, young LA crowd.
The Edison – not exactly the easiest place to find, it's on 2nd street in a dark alleyway and note: not open for Happy Hour or at all on Sunday. Looks like a best kept secret. After checking their site, I was right. It was a reconverted power plant and has been modernized with elements of the 20s and 30s. Love it and am bummed I didn't make it out here (again, it was that LA intimidation factor of doing nightlife solo).
The Library Bar –  recommended to me via Jade and Bob, but again couldn't get in on the Sunday before 7 pm (had to leave for an overnight flight, unfortunately).  They have a pretty decent, affordable menu (and had me at "Burrata sandwich). Great specials and I'm sure happy hours.  A preview from their site: "free movies, $2 popcorn and drink specials." Me likey.
The Standard Hotel Rooftop Bar – The rooftop is bright and fun. If you want arty, you'll get it here, especially with the topiary of animals.   If you're a scenester, you'll  love it (and will pay for it in alcohol).  They also have a pool, so it's great for a dip in the summer when the weather is a bit warmer.
Pitfire Pizza – as nothing was really open on the Sunday, I came here last minute and was pleasantly surprised. The pizza is popular but they have great daily specials on their pasta and decently priced wine. It's kind of cafeteria style. You order first and pay, then will be served your dish.
The Smell – I actually just found this via Google Maps. An art and music space for all ages, this seems like a great place to check out new indie bands and with a minimal cover of $5.
Overall, I think I would stay at Stay again, now knowing what' s in the area and around. I'll just have to find a driver if I want to get back to West Hollywood and wouldn't stay there for more than 2 nights if I wanted to explore other areas of LA (like Santa Monica and West Hollywood).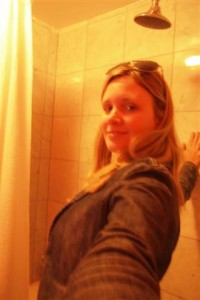 Natalie: Freelance Writer, Blogger, Explorer. Likes pretty things (and food). Twitter @Nearafar
Vagabond3: We met Natalie as she passed through LA, on the final leg of a California tour.  After a local beer and some fish tacos, we were instant friends. We are getting together again this summer for TBEX Vancouver and then again in Sedona. Make sure to follow her on Twitter for all her travel updates!