Friday Favorites: Best Blogs & Jet-Setting Deals
Friday Favorites!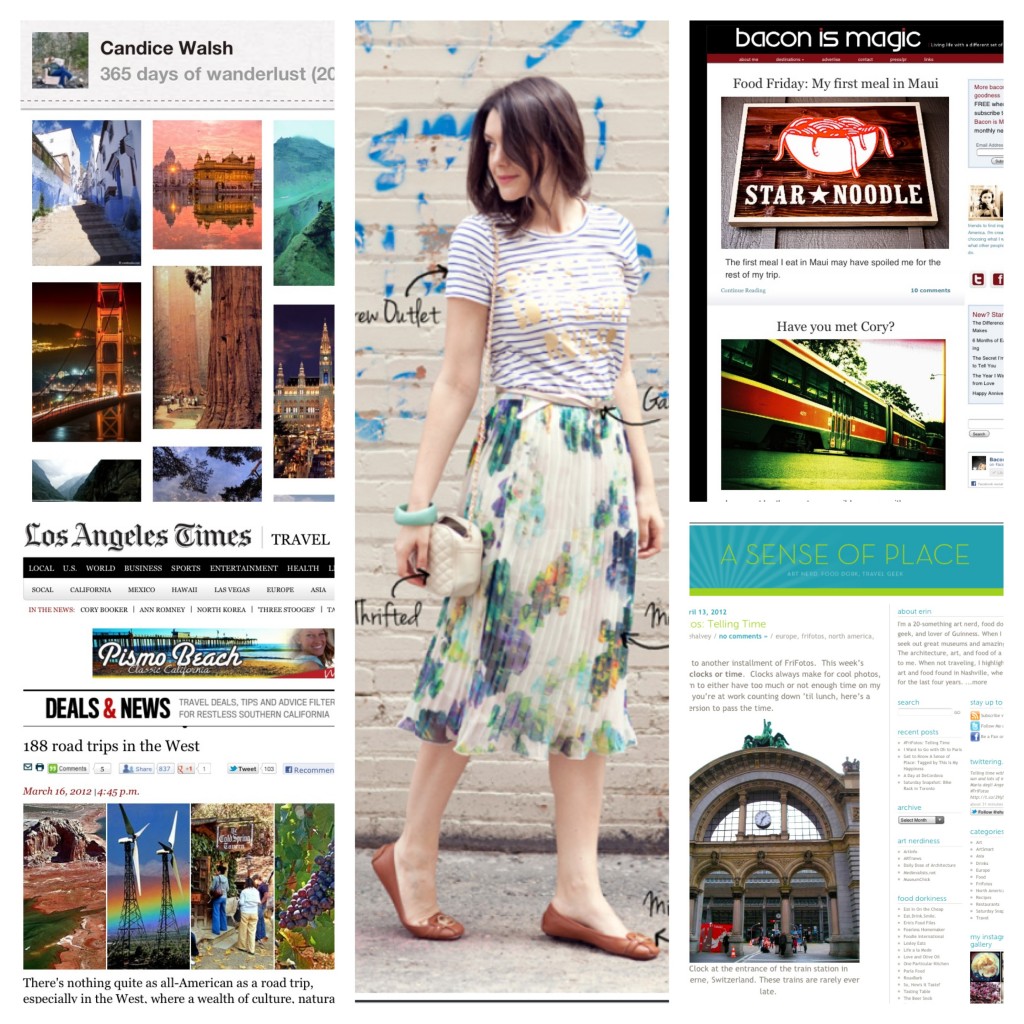 Woo Hoo, It's Friday! I don't know about you, but this week has been long for me! And, while I'm excited for the weekend, it's rainy in LA, so I'll probably spend some much needed time sitting in front of the computer getting work done!  Also on the agenda- see a horror film tonight (it is Friday the 13th after all!), pool party on Sunday (hopefully it stops raining) and wedding dress shopping! (Ekk- I'm going to my first appointment and bringing some friends along. Nervous and excited!)
About Friday Favorites: One thing that I've wanted to do for a while now was highlight some of my favorite blogs, bloggers and awesome trips that I find online and bring them to you. Some you might have already heard of, others might be newbies, either way I hope you enjoy and if you have a post or see a blog that inspires you- please send it my way!
Friday Favorites for April 13, 2012 
Favorite Photo Post: Star Noodle from Bacon is Magic won over my heart this week. Photos and food, FTW! I'm getting more and more excited about our Maui trip in December and this place is calling my name!
Favorite New Road Trip: 188 Road Trips in the WestHoly crap! This article by the LA Times actually has a road trip calculator that lets you input the miles of your selected trip to tell you about how much you'll spend on gas. Genius! Plus, they have highlighted some awesome trips leaving out of LA. Can't wait to do some of these.
Favorite Travel Blogger: Erin Halvey from A Sense of Place. Even though I've technically known this blogger for awhile, I still wanted to highlight her. She is always really active on Twitter and Instagram (her food photos are so yummy) and recently tagged us in a "getting to know you" blogger profile that I can't wait to fill out. Check out her #FriFotos post and follow her on Instagram!
Favorite Travel Deal: Do you get emails from TravelZoo? If not- subscribe right now! They have incredible deals for local events and far away destinations. This week I'm loving the Whale Watching Excursion for 2 (with drinks) for $29 bucks for around Los Angeles. And since we are always looking for the next out of the country trip- this 3 night Belize escape for 2 (with breakfast and spa) is tempting us for only $399!
Favorite Travel Outfit: love everything about this outfit from Kendi Everyday. The simple tee with a super pretty skirt (that is long enough not to insult anyone if you happen to step into a cathedral and won't fly up on a windy day) with casual flats for walking around a city all day & night! This is what I look for in chic travel clothes, cause I don't want to look like a backpacking hobo (even if all those clothes happen to fit into a cute backpack!).
Favorite Pinterest Board to Follow: Love 365 Days of Wanderlust by Candice Walsh. I really love the idea of creating or pinning a photo a day that makes me want to travel. I think that no matter your mood or current situation, planning for a future trip always gets you excited.
Favorite Blog Posts from us, incase you missed them-
Are all hotels created equal? My look at three completely awesome and totally different hotels in Palm Springs that will  redefine your experience and expectations of what your hotel should provide.
Oldie but Goodie: Snorkeling Las Marietas from our stay in Puerto Vallarta, plus a video!
Happy Friday! Did you have an awesome post you want to share this week- let me know about it!