Friday Favorites: Best Travel Blogs and Jet-Setting Deals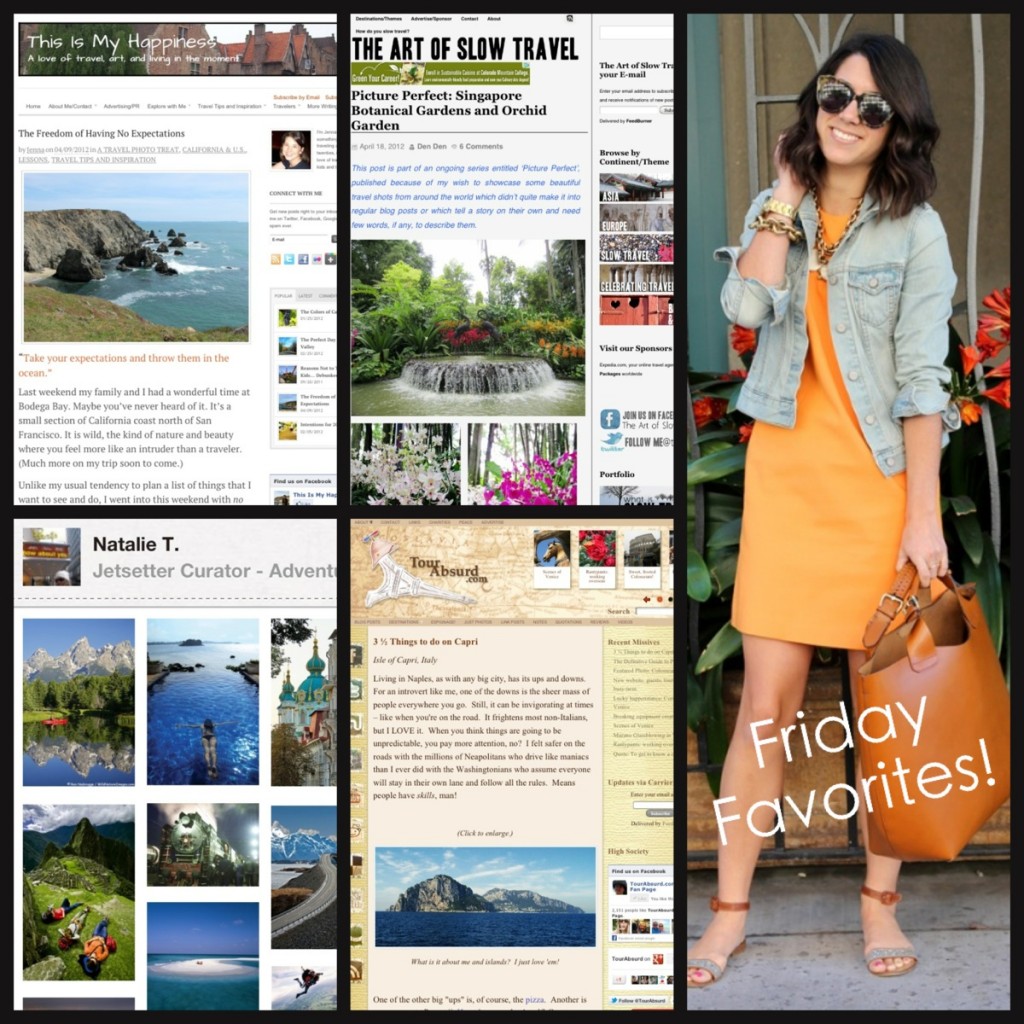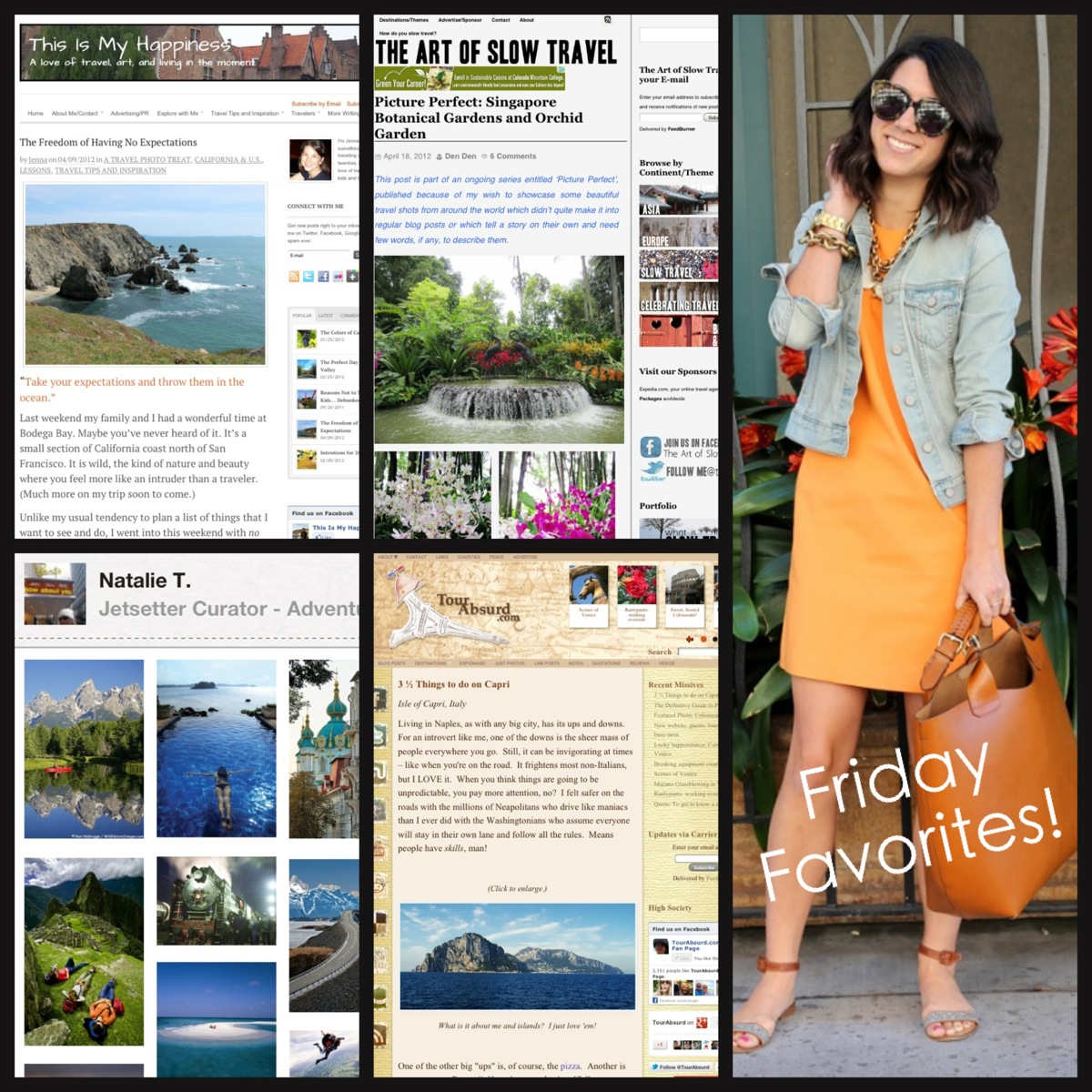 Happy Friday! Hope you all had another great week. Bob and I are excited about a lazy weekend in Los Angeles because this summer is heating up! I am getting so pumped about all our summer plans and trips coming up and spending time with our families on the east coast- are you planning a summer vacation?
About Friday Favorites: One thing that I've wanted to do for a while now was highlight some of my favorite blogs, bloggers and awesome trips that I find online and bring them to you. Some you might have already heard of, others might be newbies, either way I hope you enjoy and if you have a post or see a blog that inspires you- please send it my way!
Friday Favorites for April 27, 2012
Favorite Photo Post: Denise from The Art of Slow Travel captured some awesome shots of the Singapore Botanical Gardens and Orchid Gardens in her photo post this week. Love the bright colors, beautiful flowers and quirky signs.
Favorite New Road Trip: Bodega Bay, north of San Francisco, by Jenna from This is my Happiness. Besides the beautiful California coastline, Jenna set out to have no set itinerary and no expectations and ultimately had an amazing time. I really like the idea of throwing all expectations out the window- not planning and just going. Jenna called that Freedom- and I agree.
Favorite Travel Blogger: Katrina from TourAbsurd is my favorite travel blogger of the week. I had the pleasure of getting to know her and her very sweet husband, Dario, IRL during my Costa Brava trip. Besides being awesome in person, she is a very generous and supportive traveler and blogger. Make sure to check her out on Twitter and Facebook, too!
Favorite Travel Deal: I just signed up for DesignHotels.com's new travel deals. They have beautifully designed hotels (get it?! haha) and packages at great prices for hotels all over the world. My favorite this week is the San Giorgio Mykonos in Greece.  From their site: "Melding the carefree finesse of the '60s bohemian life with a down-to-earth "gypset" approach, at San Giorgio, everything is about ease and enjoyment." Um, doesn't that sound kind of amazing? Sign me up!
Favorite Travel Outfit: This Time Tomorrow's Krystal is rocking this awesome simple (albeit awesome orange color) shift dress with a jean jacket, cute sandals and sturdy bag. The perfect outfit for walking around San Francisco or even London in the summer. Follow Krystal's lead by putting together simple basics to create a perfect travel outfit!
Favorite Pinterest Board to Follow: Natalie T's JetSetter Curator board has adventure and wanderlust galore! I can guarantee searching for cheap flights after looking at her board!
And, a few favorite blog posts from us, incase you missed them!
The Life of a Zoo Gorilla– Bob and I took an adventure to the LA Zoo this week- witnessing this awesome interaction between all the gorillas.
Did you hear that TBEX Europe is going to be in Girona?! I'm super pumped since I just returned from an incredible trip to Girona. A few weeks ago I shared my favorites for a great weekend away- bookmark it if you plan on heading to TBEX Europe! Barcelona to Girona– Perfect Holiday Weekend
Did you stumble across any awesome trips or places this week? Have an awesome road trip I need to know about? Let me know in the comments and I'll feature it next week!