5 Travel Bloggers Find #Love while traveling #Expediafindyours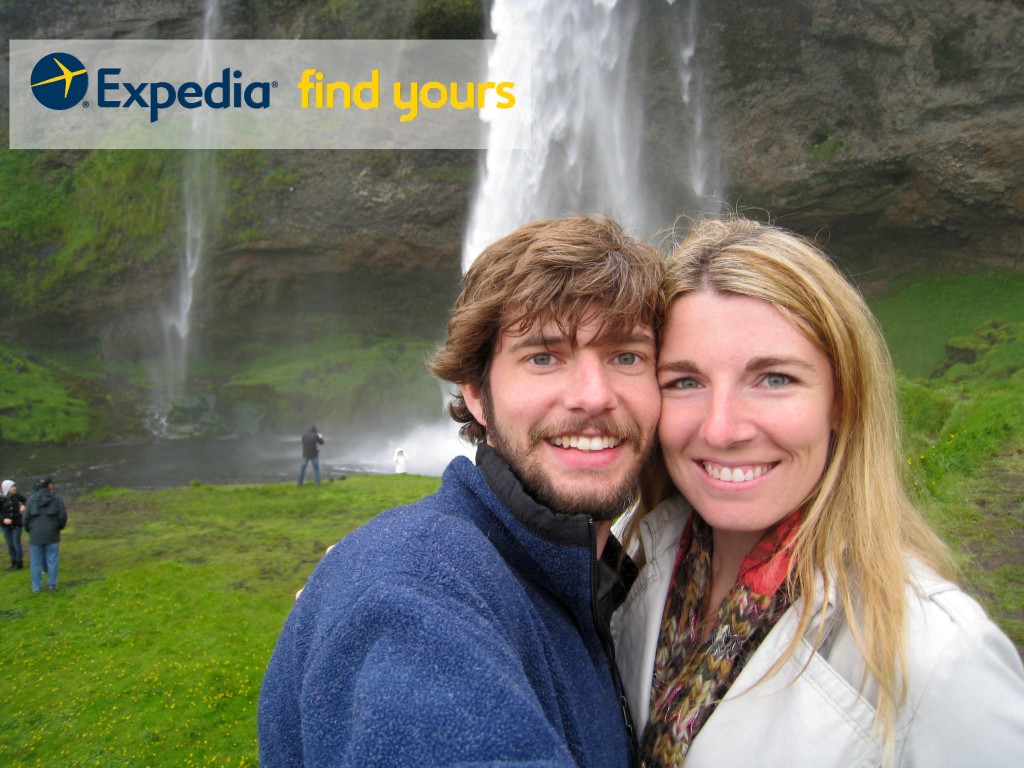 Last week I shared with you how I fell in love with travel. This week I wanted to share some incredible stories of other travel bloggers finding love while traveling.
One great thing about travel, and why so many people pack their bags every day, is that there are endless possibilities for exploration, discovery and love. And usually when you least expect it and may not even want it- love smacks you in the face and says look at me! All of a sudden, you've found the one. These stories will make your heart smile and make you fall in love with traveling all over again. Enjoy!
Kristin Luna, Camels and Chocolate, found love in Europe!
After I graduated college in Knoxville in 2005, I moved to New York City for a job in the magazine industry. A few months of 'grown-up life' and it was clear to me I wasn't ready to be tied down just yet. So I enrolled in a one year post-graduate journalism course in Holland and moved over with the intention of writing my way around Europe (and dating my way around the continent, too, if we're being honest!). Well as luck would have it, I met my now-husband on day two of my overseas sojourn. He was a fellow American–one of only four of us in a class of 19–and we hit it off right away.

That first Christmas, instead of returning to the US, we planned a month-long trip through Austria, Hungary and Romania. The spring portion of our course focused heavily on international and political reporting, so we found ourselves traversing Germany, Denmark, Belgium, Spain, Portugal and beyond together. It was that initial year of flitting around Europe that really cemented our relationship–I could never be with someone long-term with whom I wasn't a compatible travel partner–and since then, we have been to more than 30 countries together. I moved to California for him in 2008, we got married in 2010, and in 2012 he moved back to the Nashville area for me. But even though we're the rare digital nomads with an actual 'home base,' we're still on the road more often than not!
Laurence and Vera, Finding the Universe, found love down under!
Travel is, in many ways, the opposite of love. Travel is centred on the self, whereas love is focused outwards. Apart from self love of course. But that's a different story. My experience is that finding room for love when on the road requires effort & luck.

I met Vera at a festival when I was around two thirds of the way through my trip round Australia. We got to know each other over four excruciatingly painful days, as she put my dreadlocks in. This isn't as much fun as it might sound, even if you get to lie between the legs of a beautiful tall blonde.

As fate would have it, after first meeting, our paths across Australia seriously diverged. Australia being a big place, this could have been a major obstacle. I headed off to Tasmania as Vera hung out in Victoria. A sea separated us! Clearly, if something was going to happen, the dice were going to have to fall in my favour.

Which, I'm delighted to report, they did. Over the next few months, we were able to steal time together when our paths crossed, staying up late and talking in unlikely locations, from bus stops in Brisbane to doorways in Launceston. We watched sunrises, and relished the moments we were able to be together, always mindful that our travel plans were going to pull us apart again.

Finally we decided to give hanging out together an actual go, threw our travel plans aside, and settled in Australia's Byron Bay for a couple of months.

What better way to fan the flames of relationship that in a town named for Lord Byron? And, I'm delighted to say, it worked out. From Australia, we swung through Germany, the UK, and then to New Zealand for a year. Now we're based out of France, and roaming the world together. Vera even helps out with the blog, and still manages my hair! What more could a guy want?
Ali and Andy, Ctlr-Alt-Travel, found love through travel tweeting!
It started with a tweet.

I was having trouble with my travel blog and sent a tweet for help into the universe. Andy, another travel blogger, responded and helped me out via Skype a few days later. It could've ended there, but we started reading each other's blogs, chatting on Twitter, and swapping the occasional email. A few weeks later, after I had been asking him about his move to Germany, we decided to Skype again.

I'm not sure how far into the future either of us was thinking at the time, but we quickly realized we wanted to talk to each other as much as possible. Entire weekends were spent sitting in our apartments 4600 miles apart talking and getting to know each other. You see, even though we're both Americans, I lived in Atlanta and Andy in Freiburg, Germany. Anytime I mentioned this great distance, Andy responded, "it's just a detail." For two people so passionate about travel, it made sense.

After four months of getting to know each other through Skype and emails, we finally met in person on a cold November day in Prague. We only had three days together, but it was enough to show us how important we were to each other. A few weeks later I flew to Germany to spend New Year's Eve with Andy, and at that point we knew we wanted to spend our lives together. Although in keeping with how our relationship started, we got engaged on Skype a few weeks after New Years.

After only 10 months, about three weeks of that in person, we got married and a month later I moved to Germany.  It started with a tweet. What came back to me turned out to be the man I was meant to spend my life with.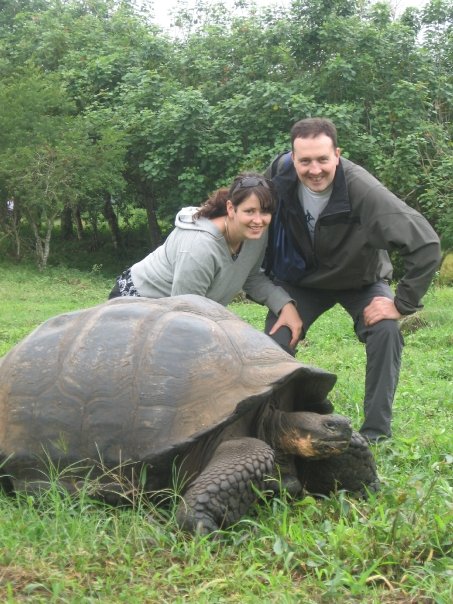 Laurel, Monkeys and Mountains,  found love while whale shark diving!
I went shark diving in Cocos, located 600km off the coast of Costa Rica to see the legendary schooling hammerhead sharks.  It's one of only a few places in the world where the sharks congregate, sometimes in the hundreds.    I came home with a husband.  Well, OK, not exactly, but I met the man on the ten day dive trip who would later become my husband.

After a full day of diving we would spend nights on the dive boat drinking wine and star gazing at a sky that was not dimmed by city lights.  It's the kind of stuff you see in movies.

I was hesitant to start a 8000km long distance romance – I lived in Canada, he lived in Germany, but did it anyway.  I had finally met someone who shared my love of travel and diving and that could make me laugh (yes Germans can be funny!).  We started planning our next shark diving adventure while still on the first one.

What followed was two years of long distance punctuated with dive trips to the Galapagos, the Red Sea and Egypt and of course visits to Germany for me and visits to Canada to him.  I taught him how to snowshoe in Canada.  He showed me the coffee and cake ritual in Germany.  To this day, we still do both.

Two years after we met, I moved to Germany to be with him.  We got married and  our adventure continues with lots of travel and diving of course!
Marie and Alex, Euro Trip Tips, found love instantly in Montreal.
Alex and I met 6 years ago at a concert in a dark, overcrowded Montreal dive bar. Circumstances may not have been romantic or ideal, but despite the creepy feel of the place, I knew instantly – he was the one.

After barely 9 months together, we were already making plans for the future. And not the "Let's go to the movies on Saturday" kind-of-plans. More like… "Let's move to London for a year". We had never boarded a plane, let alone travelled outside Canada, but there we were, moving abroad! Go big or go home. It was an incredibly difficult process, but the efforts were truly worth it – I'll never forget our life there, away from everything we knew, in our little corner of the world. Especially after he took me by surprise, and proposed in Hyde Park on a lovely October afternoon.

That's when we realized that we truly are soul mates, especially when it comes to travel. When I go overboard with the itinerary, he reminds me that 6 hours of sleep is not an acceptable plan. When I suggest going to the pub to save money, he takes me to a cute bistro instead. And when I cry out of exhaustion, he doesn't ask questions – he hugs me.

Alex has recently been relocated to France for his job. And even though getting married was obviously a long term project, we hadn't planned on doing it right away. But France being France, there was no going around it – we got hitched after a simple ceremony at the city hall on July 28th, on a cold, rainy day. It was perfect.

6 years later, we switched Montreal dive bars for an international life, but regardless of where we are, every time I look at him… I still know he's the one.
Now, it's your turn.
Share your story on Twitter for a chance to win a trip to Aruba or $250 dollars of Expedia Vouchers. Have you fell in love while traveling? Maybe you fell in love with a person or a city or a food (heck, you know we fell in love with tacos)? All you have to do is tweet a photo of love and include the hashtags #love and #expediafindyours and you're entered! Contest ends July 31st, so get your fingers tweeting! Can't wait to hear your story!