Eat Here: Cheeky's Palm Springs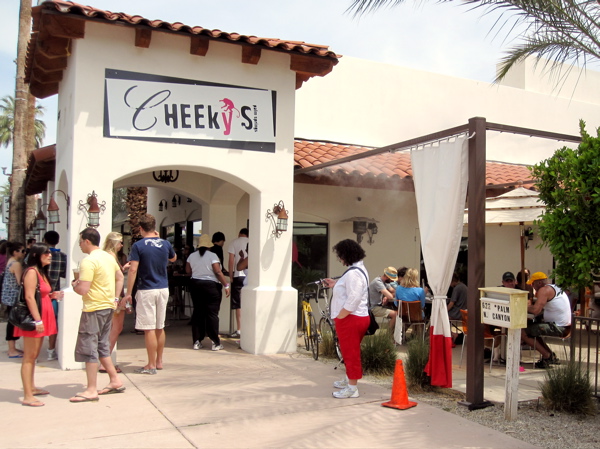 Eat Here: Cheeky's Palm Springs!
On our way out of Palm Springs, we made a quick stop at Cheeky's to sample their much bragged about brunch. The line was pretty long and we needed to get on the road to continue our Expedia Road Trip through SoCal so we ordered to-go and munched on our loot in the car. The cinnabun came highly recommended and did not disappoint. Fair warning: you could easily split one. While we did not know that, we each ordered one and I was totally stuffed afterwards. I will admit, unlike other cinnamon flavored scones or pastries, this one was sweet, but not too sweet. There is the perfect amount of cinnamon sugar that doesn't over power and make you pucker your lips. After tasting this for myself, I could see why so many reviews mentioned this tasty delicacy.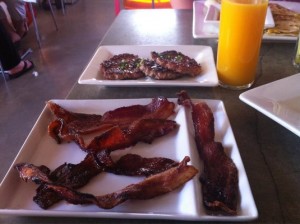 What: If you are looking for a hoppin' place that has the taste and feel of Los Angeles, with the look and outside patio of Palm Springs, you can't miss brunch at Cheeky's Restaurant. There is always a line- so if you don't like to wait my best advice is to arrive early or eat a little piece of fruit before you show up so you aren't famished and annoyed. The food is worth it!
Why: Bacon Flight. Yup, you read that right, a bacon flight. A plate of 4 different types of bacon including applewood, jalapeno, brown sugar, pepper, and apple cinnamon. You can die happy now.
Also: The menu changes weekly to use local, seasonal and organic foods as much as possible- making this a spot you'll want to return to again and again to try the new menu items.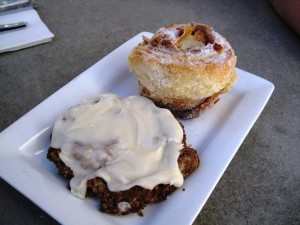 Don't leave before you've had: The Cinnabun- which taste more like a giant, flaky sugar cookie than the famous sticky mall cart dessert. After you've eaten one of these, you'll never remember that there was any other cinnabun- ever.
When: Wednesday through Monday, 8am-2pm.
Sample Menu and Prices: 
Hangover special: grilled cheese w/bacon, fried eggs on top, icey cold coke $10
Creamy polenta with fresh corn, poached egg and first of season asparagus $9
Custard Cheesy Scrambled Eggs, Maple sage sausage (or 3 slices bacon) & Deb`s Cheddar Scone $9
Fried Chicken Sandwich with bacon, slaw, fried onions, homemade ranch $11
Fresh grilled cod tacos with cabbage slaw, spicy aioli, tomato $9
What is your favorite breakfast food? Are you a sweet (like pancakes and french toast) or savory (like crispy bacon and eggs) person?