Don't Panic: Iceland's South Coast by Car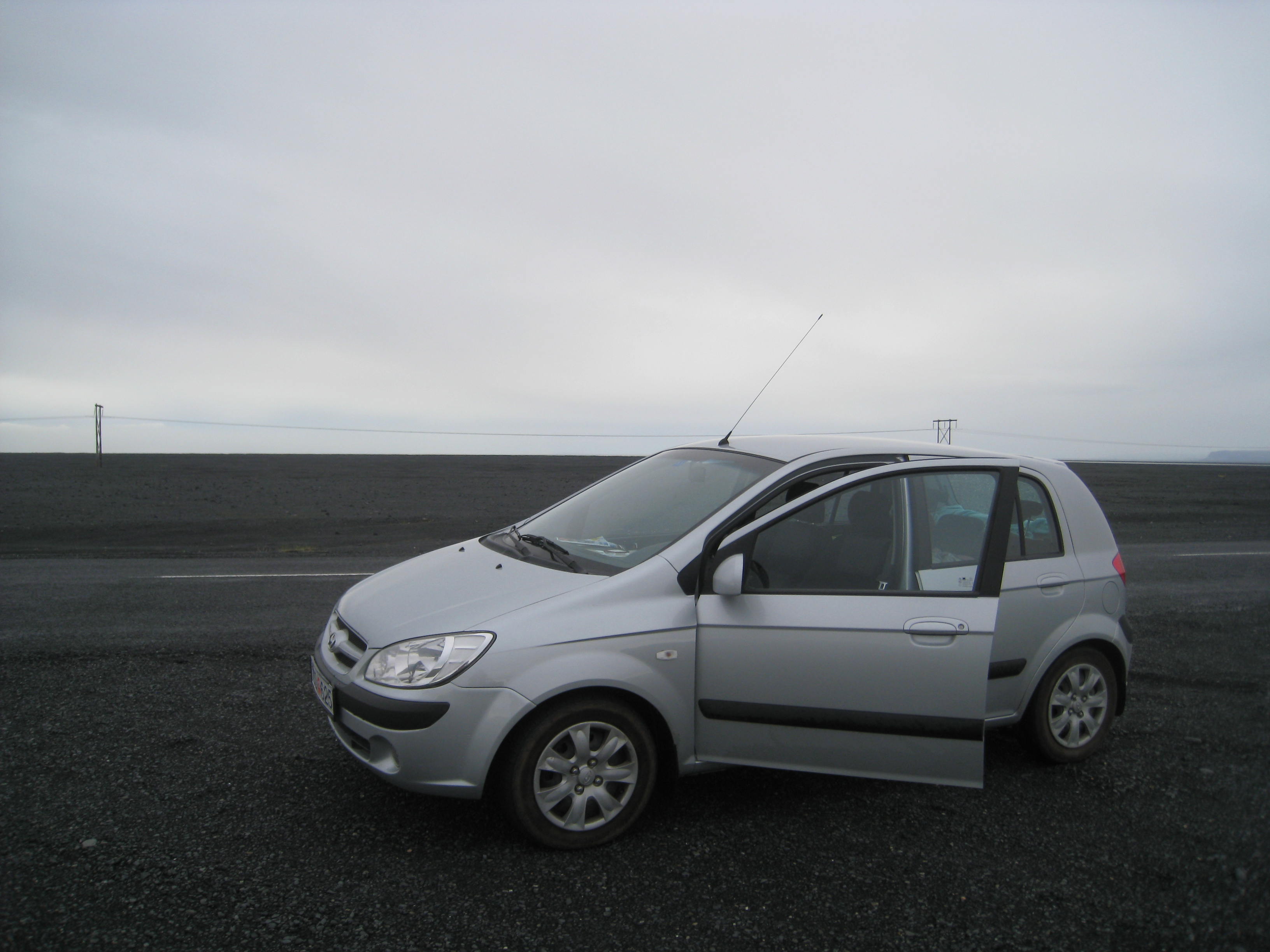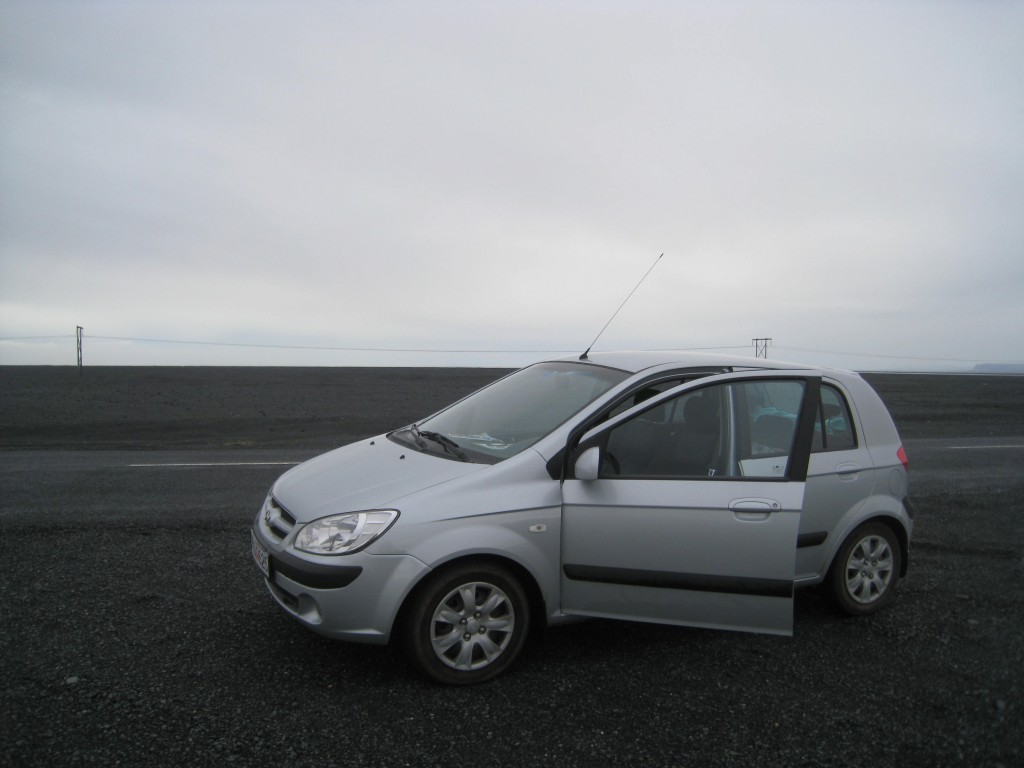 Think of Iceland as Willy Wonka's Factory if Willy Wonka were a botanist; the country has one of the most unique, ever-changing landscapes in the world.  The major attractions (The Golden Circle, Jökulsárlón, etc.) can be seen from any of a number of tours which are fairly easy to find and reasonably priced.  However, what these tours miss are the opportunity to stop along the way when you see some incredible sight, like a road-side waterfall.  After some thinking, we decided to rent a car and tackle the South Coast of Iceland by ourselves.
I'm going to outline what we did so you can do it for yourself, but this is by no means a rigid series of directions.  This post shows exactly how we drove the South Coast of Iceland and if the directions are followed, you too can have the trip we had.  However, I would instead try and use this post as a skeleton, and design your trip around its frame.
I'm going to break this post down into two parts.  Part 1 will cover the Planning and Prep and Part 2 will cover our Route.
Part 1: Prep
The drive itself is very simple, in fact the hardest part of the whole drive is getting onto Route 1 from Reykjavik, but, there is so much to see and such a large amount of land to cover, at least some time must be spent figuring out the logistics of what sites to see, renting a car, and how to get where you're going.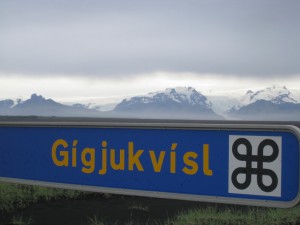 The Sites: Before we decided driving would be a better choice for us than taking a tour, we had to figure out exactly what we wanted to see.  As there are tons of tours leaving out of Reykjavik to all of the major sites in Iceland, booking a tour is a very easy way to see Iceland.  I would suggest doing some research (really only a little bit of research will show you pretty much all the sites of Iceland) and then jot down what all you want to see.  Compare what your desired sites are with available tours- remembering that while the tours may be inexpensive, if you have to take two or three tours to see all that you want to see, driving might be the better option.
While the main sites we picked were the Golden Circle (Thingvellir National Park, Geysir, and Gulfoss) and Jökulsárlón, seeing the countryside was our main desire, and we thought it best if we rented a car.
The Car: There are two main factors to consider when renting a car in Iceland: What is the experience you desire? And, how long your trip will take?
Certain cars for certain things: Sedan or 4×4?  You're not going to get any extra points for going 'green' when selecting your transportation.  4×4′s allow drivers access to the more treturous and mountain roads, while sedans are considerably cheaper.  It is our understanding that there is an increase in the number of roads impassible by sedan in the winter, however, all the main attractions and the Ring Road are open and accessible year-round.  We chose to save money and rented a sedan from a local car rental company.  During the summer, the roads were fine, however, there were a number of mountain roads that we were unable to drive on, due to part of the lease agreement.  None of this hindered our ability to see all the sites we wanted and many more.  If you are wanting to 'go everywhere', there are plenty of local 4×4 outfitters, and the rate is typically much more expensive than car rental.  Since we didn't travel by 4×4, that won't be covered here.
Counting Down the Days: Mainly only a worry for people on a budget (as I always seem to be), figuring out the length of your trip ahead of booking the car can sometimes shave of a day or two from the rental.  Renting cars in Iceland is not cheap, so to save money, look into ways to group chunks of your trip together and rent the car for a shorter amount of time.  For instance, after listing all my must-see's, I figured I could take a shuttle to Reykjavik from the airport, saving nearly half a days rental, and then take a shuttle back to the airport by way of the Blue Lagoon (in a paired Blue Lagoon/Airport Bus tour), saving a full days rental.  Also, compare airport pick-up/drop-off prices against in-town pick-up/drop-off.  We rented our car from Car Rentals SS, and had them drop it off and pick it up both at our Hostel for less than the cost of airport pick-up.
Rental Tips- We inadvertently booked our rental shortly after a volcanic eruption, and saved huge.  So, we would suggest taking advantage of natural disasters and book accordingly.  Also, I often found local car rental agencies to be cheaper than the international companies (i.e. Hertz), do your homework, but don't rule out the smaller companies.  And, as always, make sure you get unlimited kilometers.
The Course: Driving in Iceland is relatively simple, the roads are few (most driving is done on Route 1) and the sights are very well demarcated.  However, as we turned down a dirt road that appeared to be a short-cut on our map, we realized there are a few things everyone should know before driving on their own.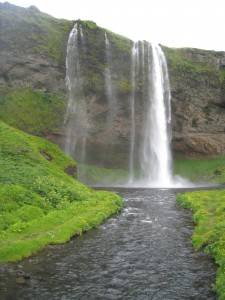 Not all Roads are Paved: That's just a fact.  Route 1 is totally paved, but besides there isn't really a way to tell what's paved and what's not.  Don't worry about the wear on the car, if you drive appropriately, the car will be fine.  If you have concerns, discuss this with your rental agent, but we drove all over the place and had no problems what-so-ever.
Map of Choice: Knowing that we were planning on driving, we stopped at the Visitor's Center in the International Airport for advice and a map.  While the visitor's center didn't have an official road map which covered all of Iceland at once, they had several tourist maps of various sections of the country.  Used together, we were easily able to chart and follow our entire trip with these sectional maps.  Also, being that these maps were designed for tourists, each one had additional sights unique to its area plotted out, which a full Iceland map might lack.
Tip: If you would like to have a full map, they are available for purchase at gas stations.
Sight Spotting: All of the sites in Iceland are demarcated with the same four cornered, clover marking.  This means that if you are looking for Gullfoss, it will be pointed out with the symbol, and also if you are driving and there is a historical church that you might not know about coming up, it will noted with the same symbol.
Few Loose Strings: You're in Iceland, you know where you want to go, you've got a map, and you're about to head out to the Ring Road.  Excellent!  There are just a few last minute things to consider.
Food: Much of Iceland's south coast is fields and mountains, great for the eyes, not for the stomach.  Don't fret.  N1, the gas station chain of Iceland, has formed a partnership with Yum! foods, which means most of the gas stations feature food from Taco Bell or Subway.  If you're looking for more healthy food, nearly all of the major tourist sites have cafes nearby.  Another option is to stop by the grocery store, either before leaving Reykjavik or in any of the larger towns along the way, like Vik.
Tip: If you are staying at a hostel for the night, ask ahead of time if they have food available, if they don't, stock up before you arrive.  We stayed at an awesome hostel in Hvoll, and ended up paying over $80 for food at a nearby hotel.  (The food was awesome though, so it might be worth the cost).
Check-in: Double check your hostel or hotel's check in policy and make sure that you arrive before the cut off time, or they may give your room away.  We didn't have any problem with our hostels, but according to more savvy Iceland travelers, there has been a significant increase in tourism over the past decade and beds can sometimes be hard to come by.
Warm Things: We traveled though Iceland on a nice autumn day in the middle of summer, by which I mean it was July and cold.  While we weren't freezing to death, winter can get much colder.  Make sure to pack warm jackets and sweaters, just in case something were to happen to your car.
Lights: Your rental agent will probably remind you of this, but headlights must be on all the time in Iceland.
Gas:  I just have to say this, if your tank is low, fill it up.  Iceland isn't like most countries (where the price fluxuates from stop to stop) and its a long walk to anywhere if you run out of gas.
Part 2: Execution
Route: I'm going to list out our route, but this in no way should be considered the only way to see southern Iceland.  As I mentioned before, the sites are very well laid out and the majority of the driving is done on the Ring Road, so I urge you to deviate and see as much of the countryside as you can.
Reykjavik – Golden Circle – Jökulsárlón
The road out of Reykjavik is Seabraut (it's the road that runs down by the water where the boat statue is).  Head South.
Take Seabraut to Miklabraut/Vesturlandsvegur.  This is the first four leaf clover intersection.  You want to head East/Left, so you will pass under the overpass and loop around to be on course.  I've listed it as Miklabraut/Vesturlandsvegur because we were told to look out for Miklabraut and never saw a sign for it.  I believe Miklabraut is the name of the road if you head West on it.  Either way, if you see one of the two names that is your turn.  To be honest, this is the most difficult part of the entire drive.
This becomes the 1.  You'll be on it for a little bit, and then you will turn onto the 36.
Take a RIGHT onto Thingvallavegur/36, this will take you into Thingvellir
As you drive through Thingvellir National Park, sights, hikes, and scenery are demarcated with a symbol
If you stay on the 36, it will take you up and around the Northern point of the lake
On the other side you have a choice, Take the 36 down the East side of the lake and turn LEFT/East on to the 35 – or – Take the 365 (Gjabakkavegur) across.  We took the 365, it looked shorter.
Route 365 is not entirely paved, but the scenery is awesome!
Route 365 dumps you out at Route 37, take a LEFT (North/East), and this will take you directly to Geysir.
After Geysir, continue heading the way you were, Route 37 will become route 35, and you'll hit Gullfoss.
Here's where you have a choice: You can retrace your route back out -or- you can cruise through some small towns and pastures the way we did (this way is also not always paved).
If you go Our way: From Gullfoss take the 35 back the way you came and take a LEFT/South onto route 30.
Turn LEFT/West onto Route 358
Route 358 becomes Route 35 near Vatnsleysa.  Continue on Route 35.
Your next turn in a LEFT/South onto Route 31, the turn is right before a river crossing.
Route 31 passes though Laugaras, over a river, and continues South to intersect with Route 30.
Route 30 will take you all the way down to Route 1.
Take a LEFT/East on Route 1, and that's pretty much it for the trip.
Route 1 will take you all the way out to Jökulsárlón and back.
Though it seems forever away, there is no way to miss Jökulsárlón.  There is a bridge crossing right before the turn off, and from the road you can see both the duck-boats and the glacial bay.
Worth the Time to Stop:  Though we had no idea about these sites before we took our trip, as we drove they were clearly pointed out to us.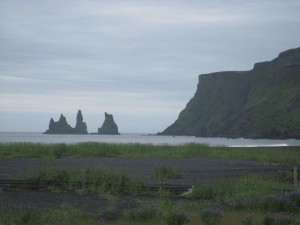 Reynisdrangar – Rock pillars out in the sea near Vik.  This is a great stop because you can walk on the beach, and, though I'm not sure why, rock pillars standing out in the ocean look cool.  There is a road nearby that allows 4×4′s to drive up to the top of the mountain and look down, but, if you rented a sedan, you're out of luck.  Don't worry there's another mountain you can drive!
Dyrholaey – A rock arch bridging into the ocean.  If you've seen The Arch on the Great Ocean Road, this is bigger, but, besides that, there are two reasons to stop here that have nothing to do with the arch.  First, this is a place where sedan's can drive up the side of the mountain! Second, this is the only place I've ever been in the world where my survival totally depended on how well I policed myself.  What I mean to say is, there are no guardrails on the top of the mountain, you can totally try and walk out across the arch (which we saw some people do- successfully) or lean right over the edge of the mountain to look down at the beach.
Skeidararsandur – The twisted remains of a steel bridge that was torn to pieces during a glacial flood that followed a volcanic eruption in 1996.  This is just a quick stop on the side of theroad near Jakulsarloon, but gives you a good idea of the amount of ice located in the nearby glacier.  This stop is also a great place to see more of the 'moon scenery'; gray barren rock landscapes.
Waterfalls – There are literally tons of waterfalls along the Route 1 heading across Southern Iceland.  Though it is probably going to be too cold to swim in their ponds, they are totally worth a stop.
In a nutshell, that is how to drive across the Southern Coast of Iceland.  We did it in two days, leaving early in the morning on the first day, sleeping overnight in Hvoll, heading out to Jökulsárlón the following morning before driving all the way back.  There is literally a million things to do along the way; hikes, Glacial walks, churches, historical sites.  Use this as a guide to help you build your own best possible trip, and e-mail us if you have any questions, need advice, or did something totally radical and want to brag.