DIY: Iceland's Blue Lagoon Mud Mask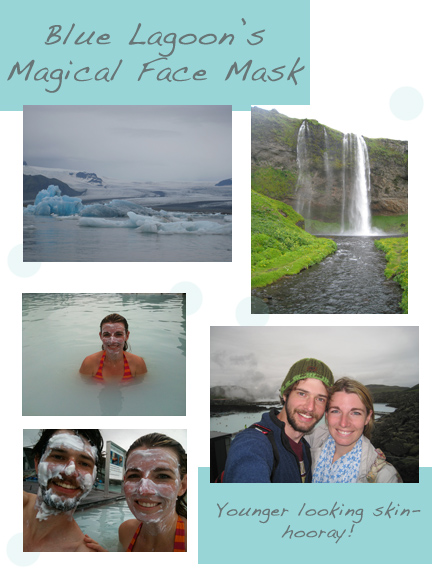 After four days in Iceland, I was pretty stoked to arrive at the Blue Lagoon for a relaxing massage, mud bath and geothermal soak. Even though it was freezing outside, the warm waters immediately perked me up and I felt all my worries and stress just melt away.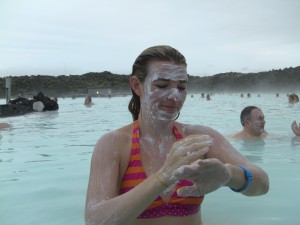 After a long time of just enjoying the warm water and lounging in the thermal hot steam room, I was ready to try the silica mud that everyone had been talking about. It was super white, and after applying it all over my face, arms and shoulders, it dried pretty much immediately. I'm sure the heat of the water it was in compared to the cold air outside helped with the fast drying, but you are supposed to leave it on at least five minutes, so I did. I felt a little silly until I realized most other people in the pool were also covered in the white mud and didn't seem to think anything about it. In fact, I overheard a few ladies from London say that this was their third time to the Blue Lagoon- that year, they loved the stuff that much.
After taking it off, I understand why. My skin didn't just feel smoother- I looked younger. I'm not kidding. My skin was radiant (even Bob thought so), and softer than I have ever felt I before. Now I understood why everyone was slathered with the stuff- it was a miracle cream!
Problem- I can't go to Iceland three times a year like those British ladies, but I want my skin to look just as refreshed and soft.
Simple everyday solution: Make your own.
With the Blue Lagoon's mask- it's signature ingredient is the Silica mud, which is all natural and hypoallergenic. So when making a mask of your own, try to use only all natural ingredients.
DIY Face Mask (good for all skin types, but especially dry or sun damaged):
Mix up the avocado until creamy. Add in the honey. Apply to face and neck and let sit for 15 minutes. Rinse off with a cool washcloth. (Have more avocado left over- try it on your hair with this deep conditioner or make guacamole… delicious!)
Have you been to Iceland's Blue Lagoon? What did you think about the miracle mud? (Also- how was your hair after your soak? I couldn't comb mine for 4 days- it was so dry!)