Day 3 Alberta Road Trip: Kid Augustine Holds Her First Dinosaur Bone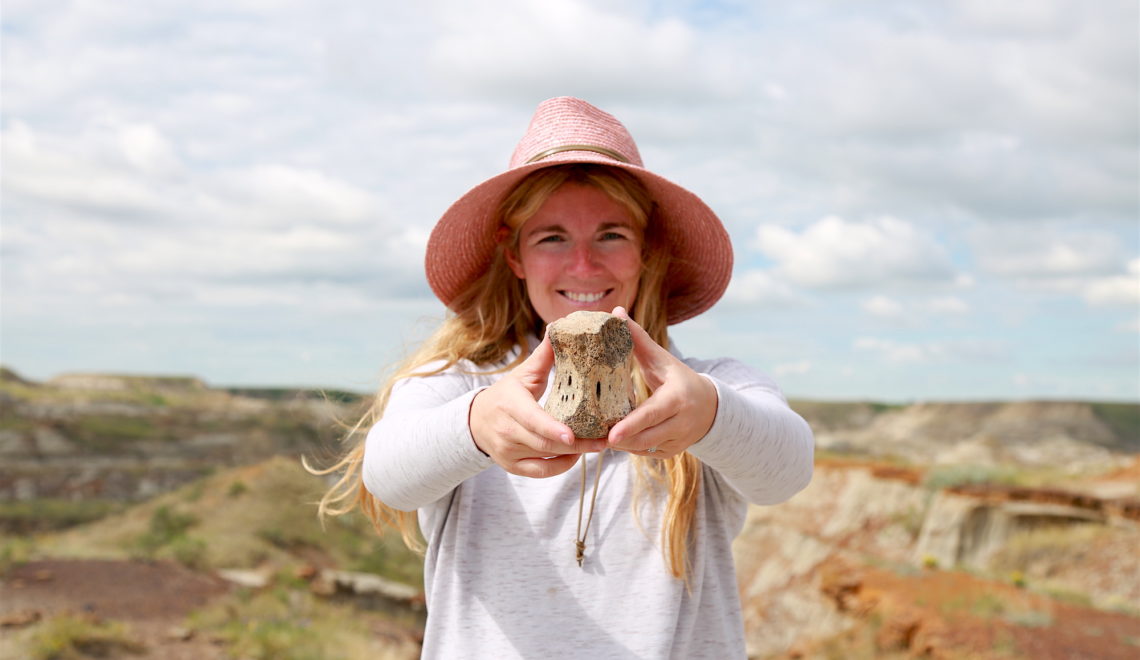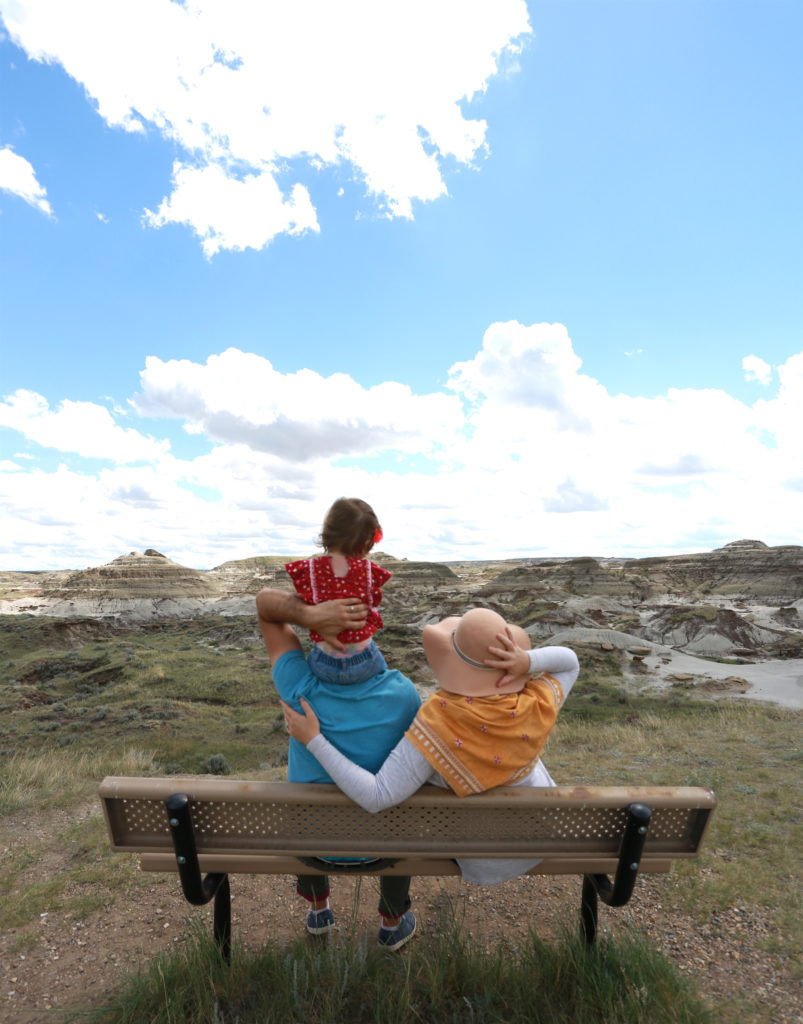 Day three of our Canada By Design road trip around Southern Alberta started with a very early morning drive. Kid A slept through most of it as we wiggled south east down country roads from Drumheller to Dinosaur Provincial Park. The park has no physical address so we did get lost for about 10 miles, but nothing a quick u-turn couldn't solve. I had read about the park online and from our Canada by Design booklet and was stoked to discover that this park had active digs and we might be able to see what they discovered. Who knows, maybe we would be there when they discovered a new dinosaur!
Need to start from the beginning? Read day one first!
The goal of the day: hold a dinosaur fossil.
But let's back up a little, shall we?! Ever since I was a little girl I've been obsessed with dinosaurs. Blame it on Land Before Time as a wee little thing and then Jurassic Park as an early teenager, I'm completely fascinated by these prehistoric giants. And even though they roamed the earth millions of years ago, I've never felt closer to them as an actual living, breathing, moving being until we visited Dinosaur Provincial Park a few weeks ago.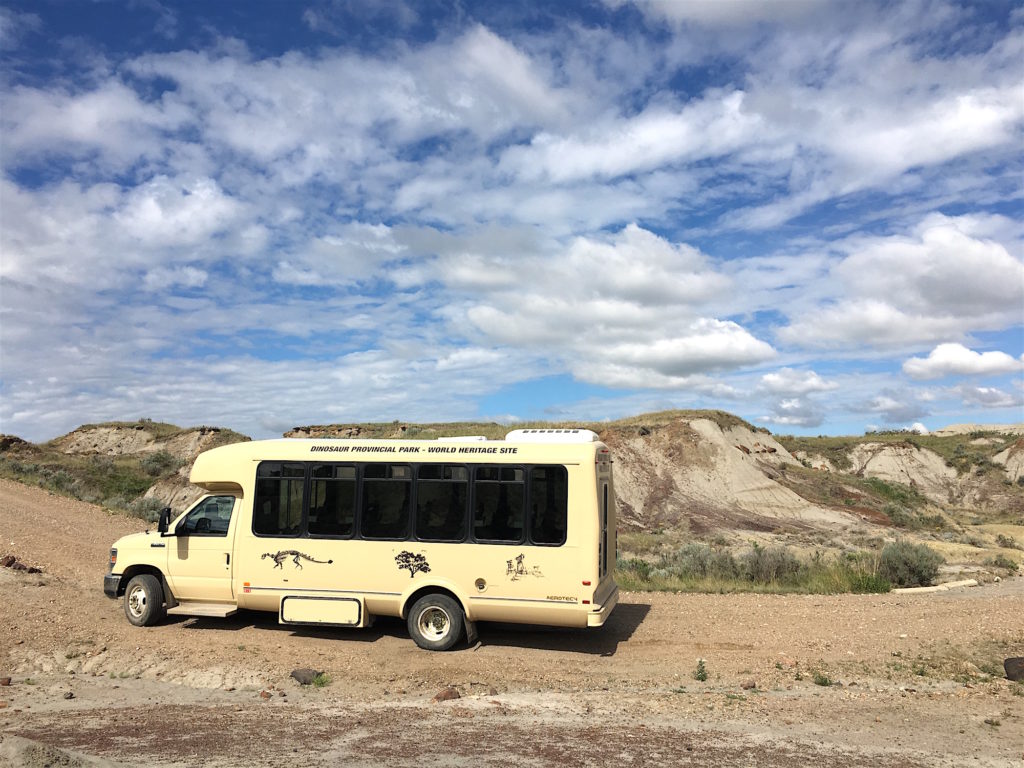 We arrived at the park just in time for the first explorer's bus tour. This 90-minute tour makes 4 stops in an otherwise off-limits to guests areas- some of which are active dig sites that where new fossils are being discovered every day. The stops gave us a deeper understanding into why this spot has so many dinosaur bones (it's the richest deposit of dinosaur bones in the entire world, and named an UNESCO World Heritage Site after a few hundred discoveries). But a highlight was definitely the guide- her excitement for teaching us about the area was electric and she even made things super fun for Augustine (the youngest of the tour attendees by about 8 years).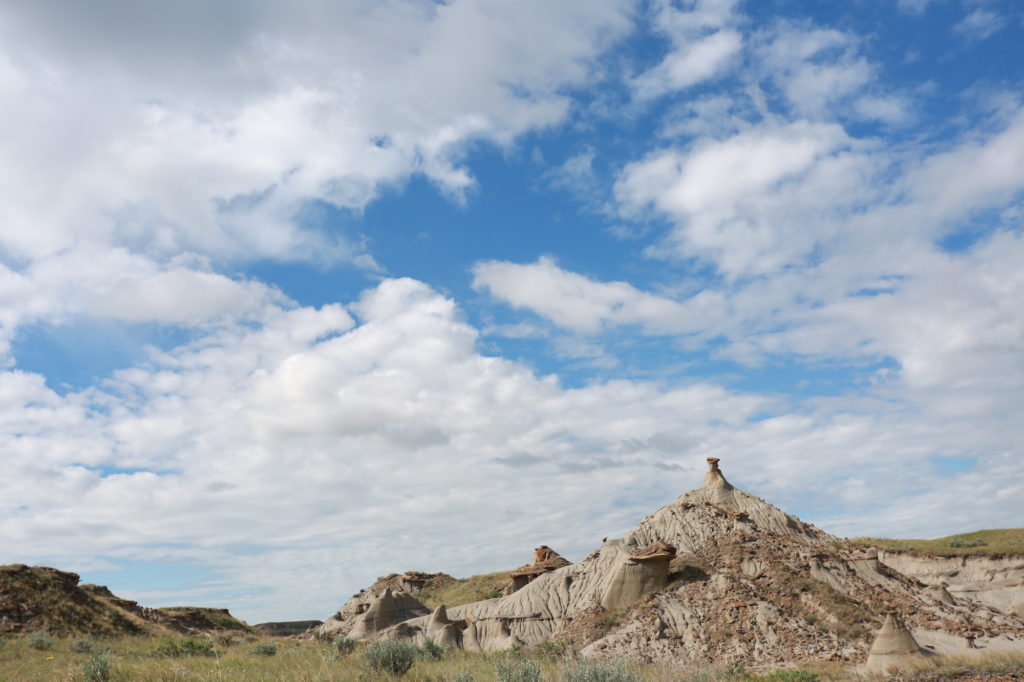 One of the stops allows you to touch and hold a dinosaur's tooth and a jaw bone and even Augustine was allowed to touch it. This was quite possibly one of the coolest experiences of my life and even though Augustine probably won't remember all the details, it will go down as the day she held a dinosaur bone- super cool bragging rights that will probably have to be scrapbooked. Ha!
*Travel Tip: book these tours in advance as they do tend to sell out. If you book a road trip via Canada by Design, don't worry, they take care of all the bookings for you.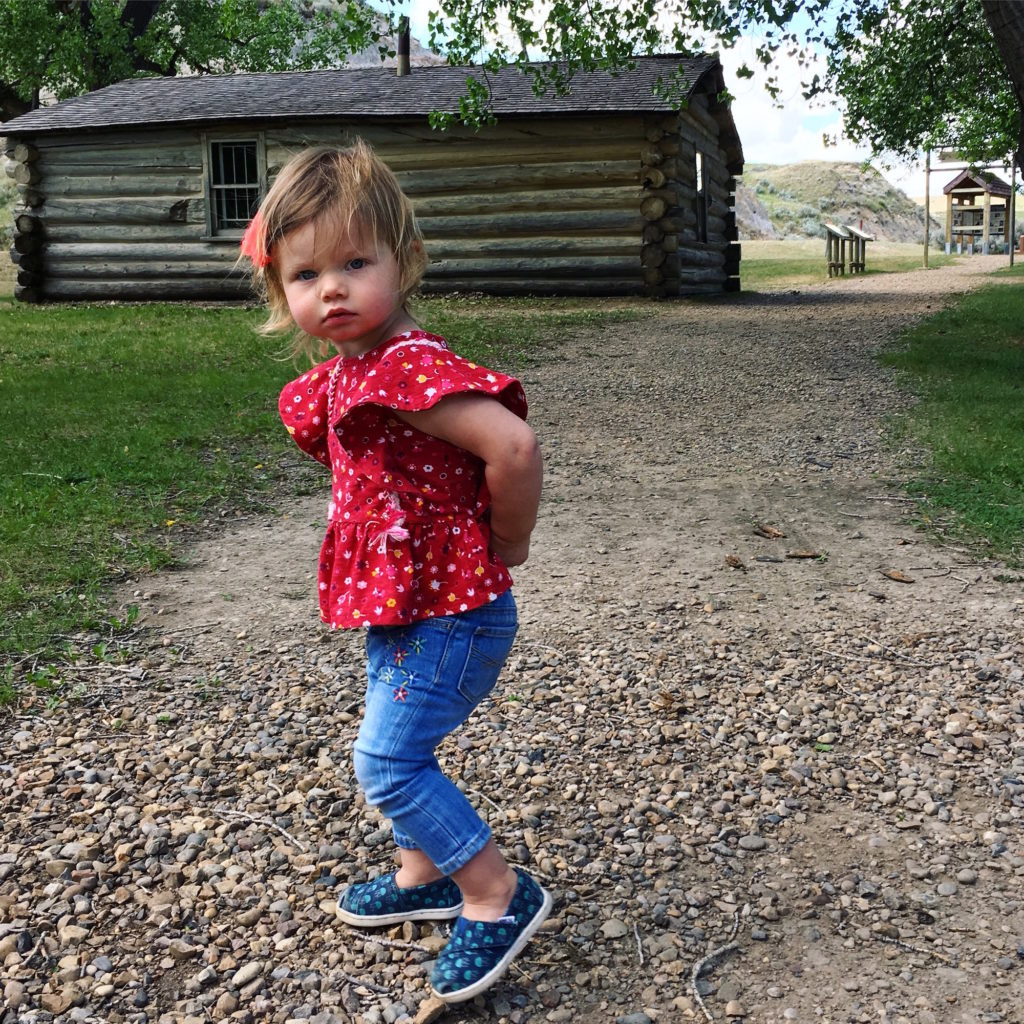 After the bus tour, we drove around the scenic loop to one of the shorter hikes. Augustine loved picking up all the rocks and carefully placing them back down again while Bob practiced shooting 360-degree photos. It was the perfect day- the weather wasn't too hot or too cold, the sun was shining but we found shade, everything was just easy and fun. We brought a small picnic and let Augustine play on the dinosaur themed park near the camping spots before packing back up in the car and heading to the next spot on our itinerary, Elkwater.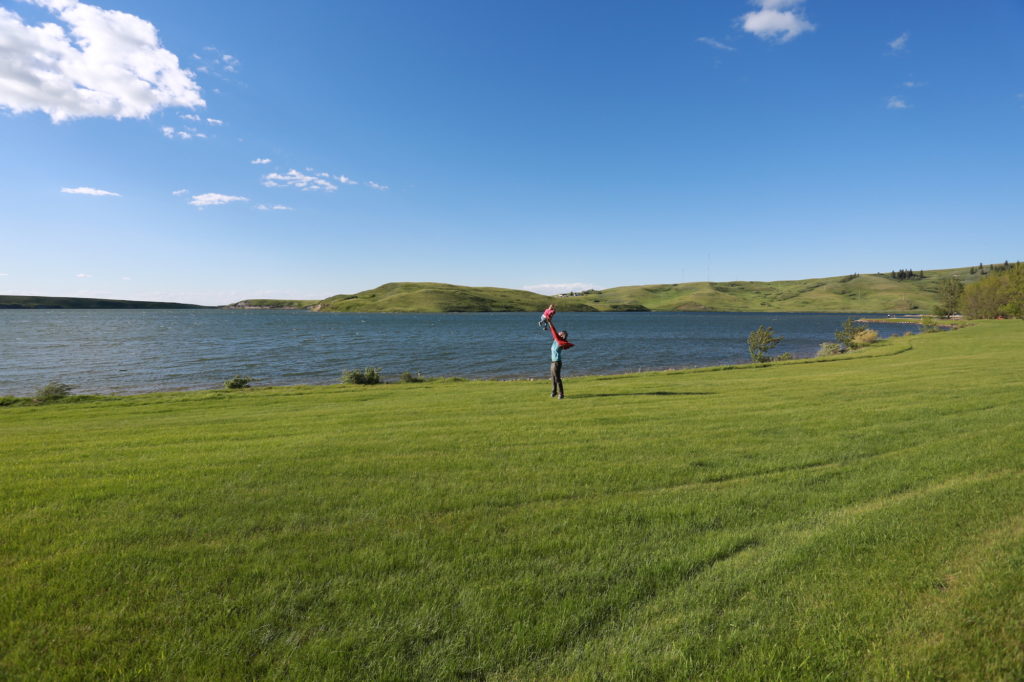 The drive from Dinosaur Provincial Park to Elkwater took us through Medicine Man (where we stopped for a BBQ lunch), passed the Badlands and into farm land. As the scenery changed, so did the colors in our rearview mirror. The Badlands were sand colored, with varying hues of reds, oranges and dusty beige. The farmland was bright green and yellow, with the boldest blue skies and puffiest white clouds. This afternoon, as the sun shined so bright on the grassy fields, we stopped and let Augustine run around in thigh high grass and wheat before finishing the final 20 minutes of the drive towards Elkwater Lake Lodge.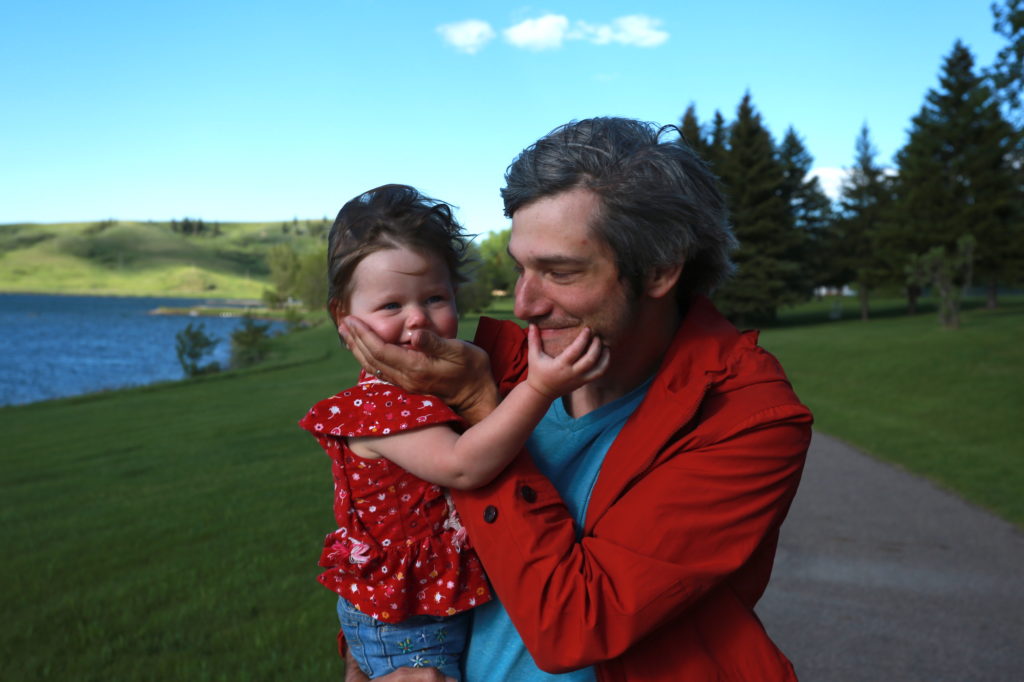 After checking into the hotel, we walked the lake shore path towards the park's visitor center, where we played on another playground – Augustine is now loving the swings – and stopped for dinner at Camp Cookhouse. Bob and I sampled a few local craft beers and Augustine devoured the mac.
The walk back to the hotel was really lovely, as the sun was just about the set over the lake and the cool evening breeze set in. We talked about shooting Milky Way long exposures but decided to wait until the next night since we woke up so early. It was a long day but one filled with so much joy. I love these two adventurers of mine.
Stay tuned for day 4!