Day 3/30: Paramount Studios
For the first week of the 30 for 30 challenge, I'll be re-discovering famous Hollywood landmarks. Even though the challenge is about creating different outfits, this is still a travel blog!
On day 3, Bob and I went for a tour of Paramount Studios. The only remaining active studio in the Hollywood city limits, Paramount is responsible for Cecil B. Demille movies, blockbusters like Titanic and is the studio where Glee is filmed! Upon arriving at the famous gates, you are ushered in and walked around by one of Paramount's Pages. Our friend actually worked as one before starting to work as a P.A. on different shows around town. They really know everything about Paramount- any question about the history, they can answer!
Outfit details: Trench (Laundry), striped shirt (Gap), pants (JCrew), bracelet (lucky brand), sunglasses (fossil), shoes (jeffery campbell).
I wore the same striped shirt on day 1, and really liked how the stripes played off the *super* bright orange pants. The trench coat and heels made me feel pretty cool and like I should be walking around Paramount as an executive or something!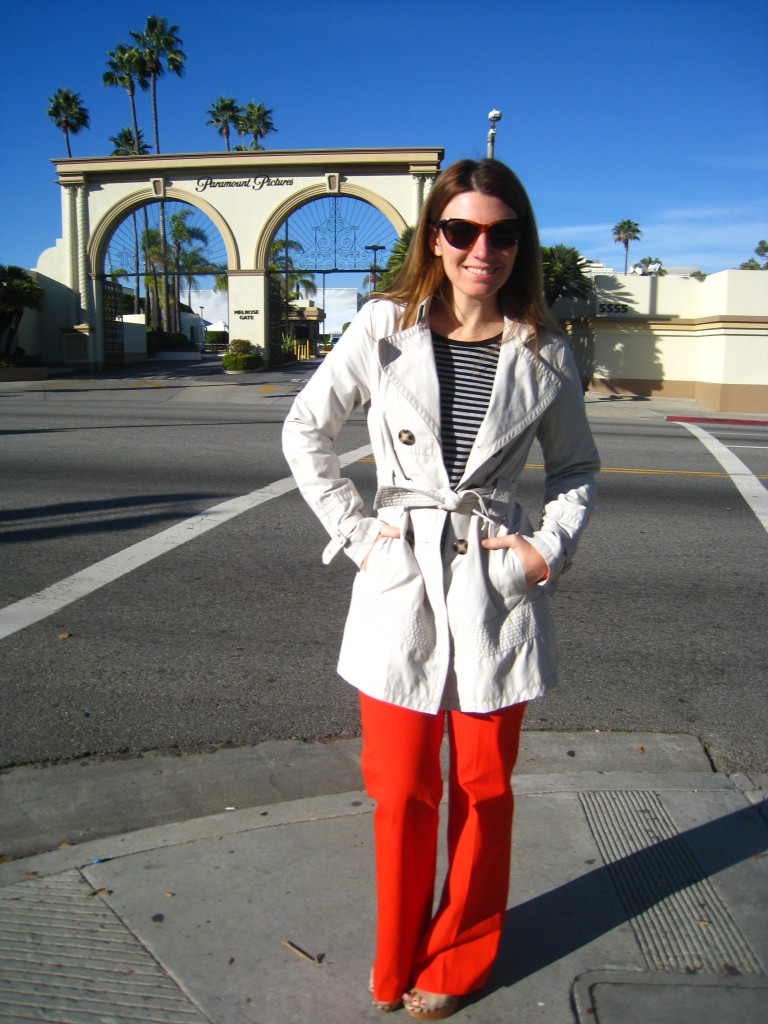 Did you know:
One of the FAQs on their website is "I'd like to be in a movie, who do I contact"!
In 1999, a merger joined MTV and Paramount.
It is America's oldest existing film studio.
The famous mountain and stars logo was first seen in 1975.
 If I were going to suggest another tour for visitors of the Los Angeles area,  I'd highly suggest Warner Bros. Tour because it's really interactive, with a lot of sound stages currently being used and changes of a celebrity sighting are really high!
Have you ever been to Paramount or taken a tour of a movie studio?