California Weekends: Day 2 Food & Drinks at LA Prime and Bona Vista Lounge
August 1, 2013
by Jade Broadus
Part 2 of our California Weekends Adventure in Downtown Los Angeles. If you missed part 1, you can read all about the insane Dodger seats, fireworks, bacon maple donuts and Bob's crazy tan lines on his feet here.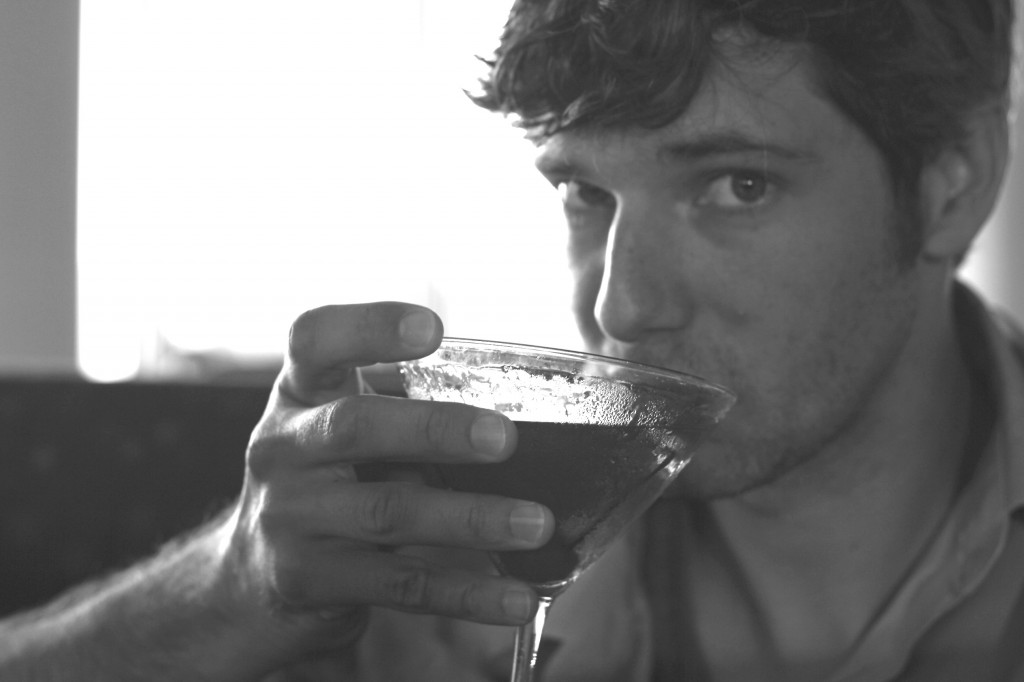 At the suggestion of a Westin Bonaventure hotel employee, we made reservations for drinks and dinner at two of Westin's prime establishments inside the hotel. The first was the Bona Vista Lounge, a revolving cocktail bar at the top of the hotel.
At first glance, you might not know that the restaurant is moving and actually, when I looked up reviews on Yelp, they all mentioned the lack of movement too. But when I mentioned that to Bob, he said something that made a lot of sense. "What did you think, we were going to be on the tea cups ride at Disney?"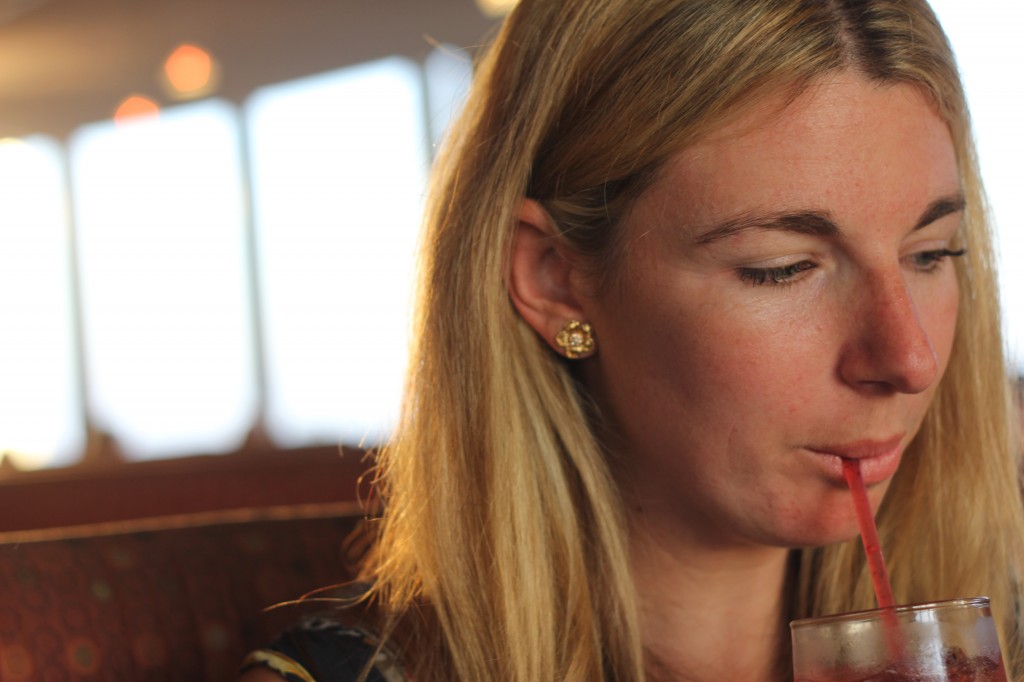 If you know me at all, you know that being trapped on the tea cups ride would be my absolute nightmare. I get motion sick just looking at the ride and the idea of getting a nice Gin and Tonic or one of the Bona Vista's speciality cocktails while on Twilt a Whirl, just didn't seem that exciting any more.
But, you could notice the movement if you looked at the buildings around us. With the perfect view of Hollywood and Santa Monica, this was probably the first time I've seen this view with my own eyes and not from a movie or TV show about LA.
We ordered a couple of drinks off their speciality menu of the month. Trying to mix things up a bit, the Bona Vista offers traditional drinks and speciality cocktails each month. This month, we were trying a skull vodka (I even have the little skull head to prove it!). I ordered a mixed berry lemonade that is served with a shot of skull vodka and Bob ordered a Brandy martini. Mine was delicious. Bob's was, well, I think it was good. Before I could ask him if he liked it, he had slurped the whole thing down. I'm guessing it wasn't so bad- ha!
After drinks we went one flight down to LA Prime. We relaxed into a big round booth (round booths are my favorite!) and listened carefully as Jeffery, the head Chef, told us about the menu that night. Asking tons of questions about the beef, where it comes from, is it organic (Chicago and California, and yes), Jeffery decided to prepare a Chef's menu for us, meaning we didn't have to pick any one thing off the menu, he surprised us with a few of his favorite dishes.
Let's get one thing straight- I love this. I wish every time I ate somewhere they just decided what the best thing in the restaurant was and served it to me. It's not like I hate making decisions, but I hate ordering the wrong dish. I always get buyers remorse when I look at other dishes floating by me at restaurants. I'm known to frequently stop waiters and ask them what they're carrying and how I can get my hands, and tastebuds, on some of that.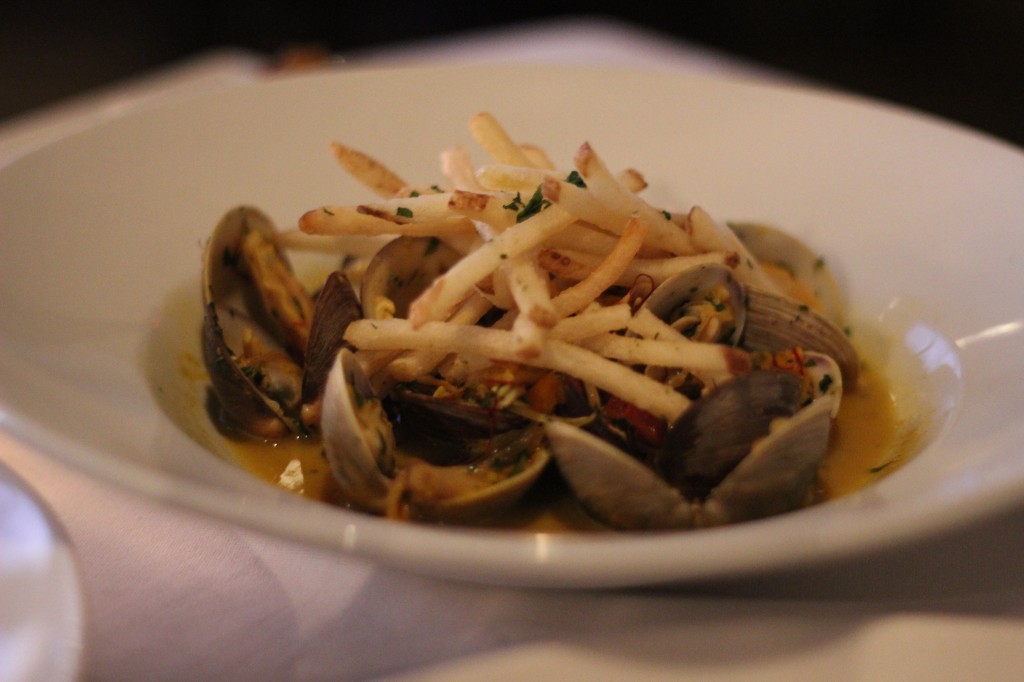 We started with a few apps. Tuna tartare with guacamole and fried plantain chips, a peach and mozzerella salad, and calms with shoestring fries on top started us off. I loved the mix of the calm juice and the fries- dip those things in- yummy!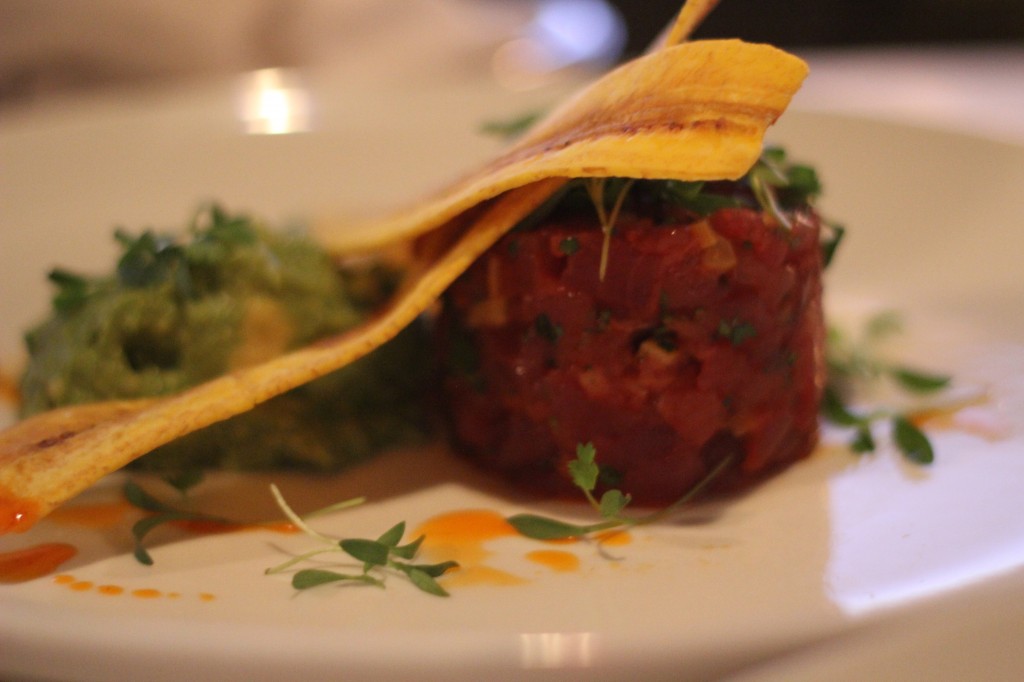 For sides we had brussels sprouts grilled with garlic and baked mac and cheese (so good). Let's just say one thing right now: two people can not eat this much food. Or at least, shouldn't. But, we did. We might not have finished every single bite, but we tried our hardest. Usually there is one dish that is just so so, meaning you pick at that one but don't feel bad because you've already eaten everything else. This wasn't the case with LA Prime and our Chef menu. EVERY THING WAS SO GOOD. We had to force ourselves to put our forks down. Even afterwards, Bob still picked up a few mac and cheese noodle with his fingers!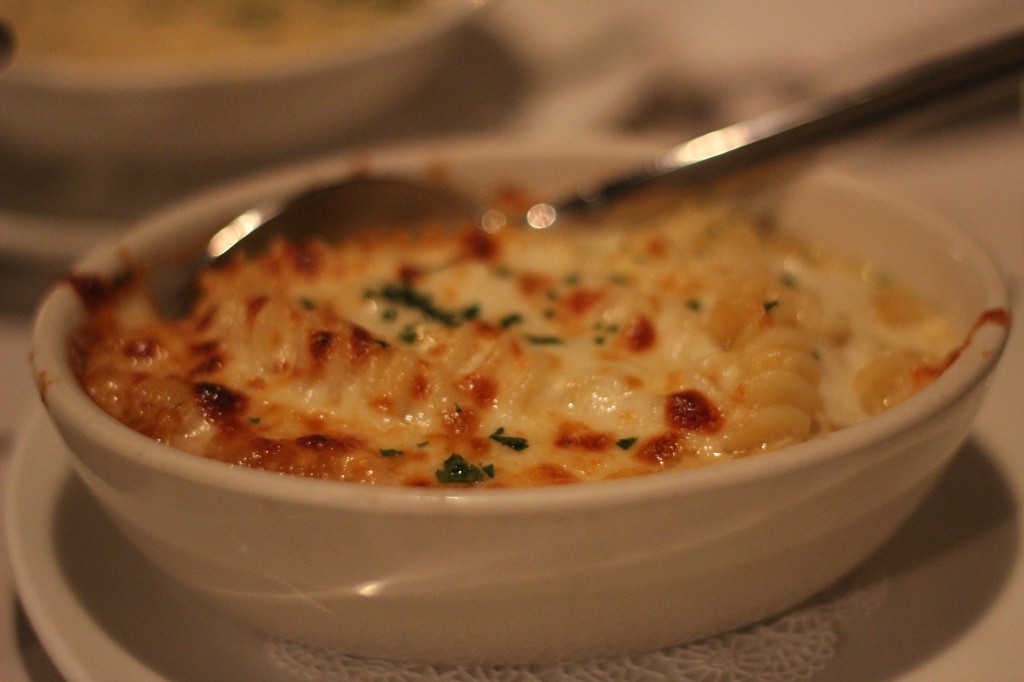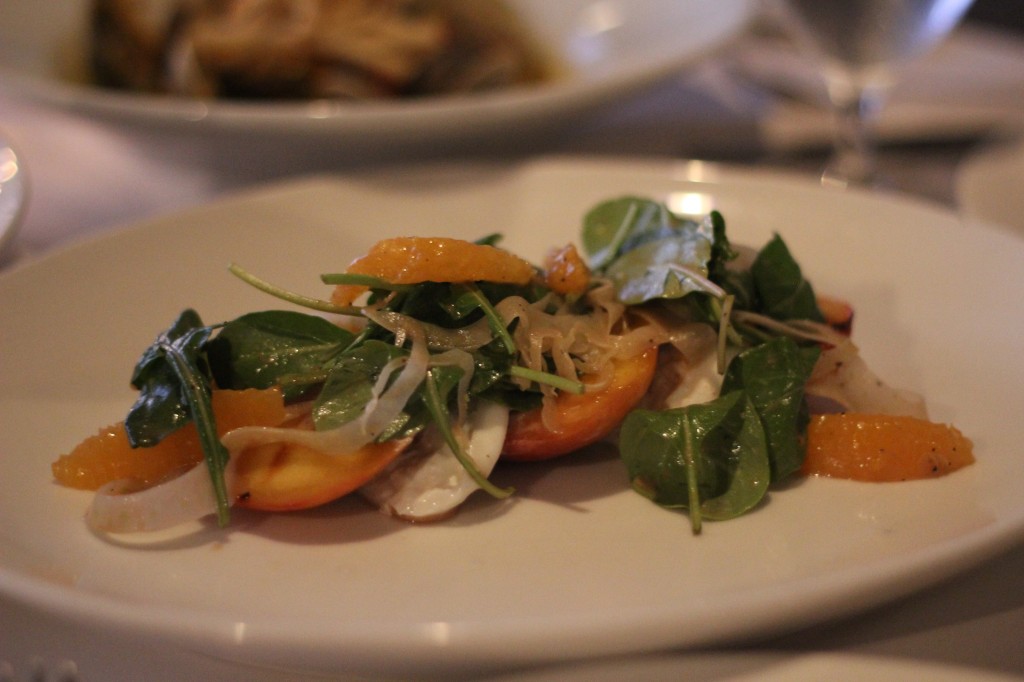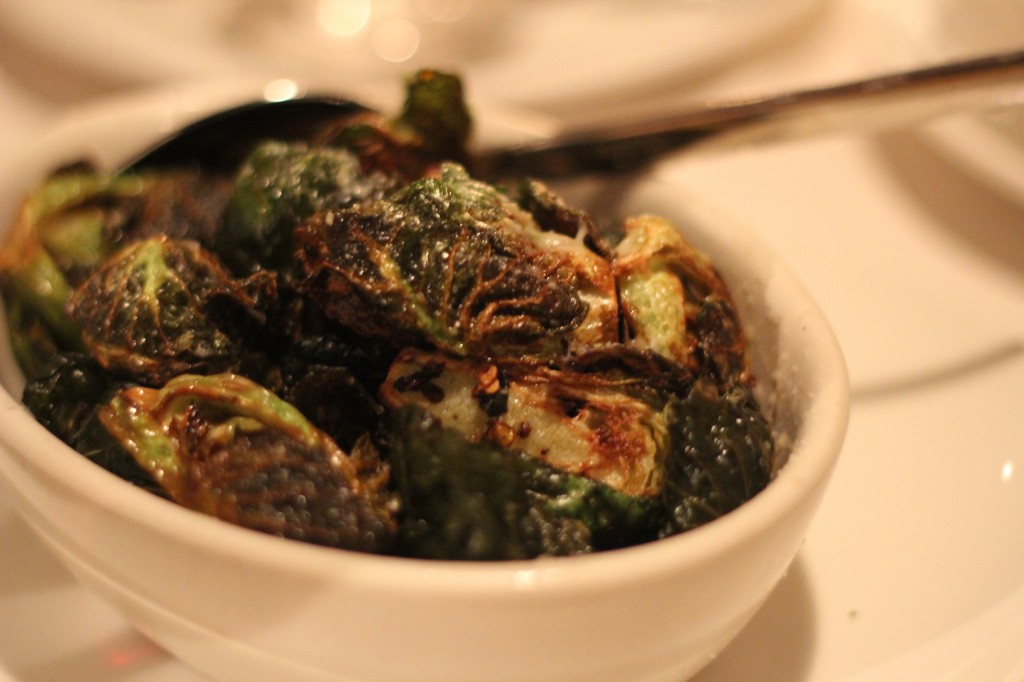 Now to the main dishes. We were served a bone-in delmonico ribeye and fresh fish with a hollandise sauce and bacon. One word, three letters. YUM.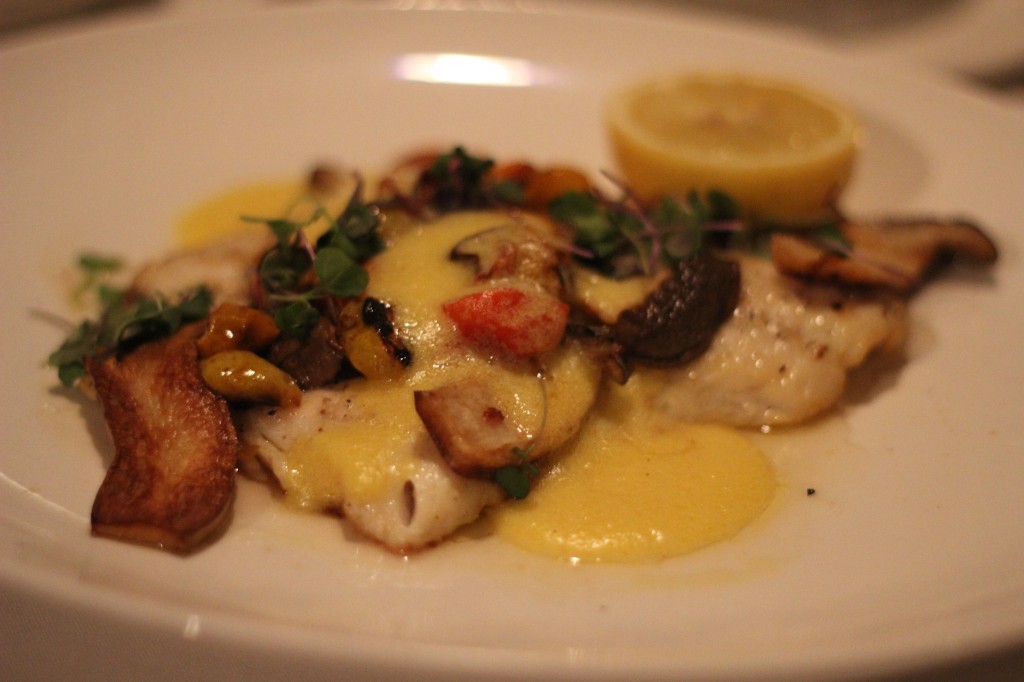 Now that you know the food was delicious, let's talk about the atmosphere. This is a luxury experience, for sure. From the moment you walk in, you feel pampered and taken care of. The staff presents the food and wine like any 5 star restaurant should do. This was a meal that is expensive- but the taste is worth it.
(you know how some restaurants are just overpriced to be pricy and expensive and seem special, but they really aren't? Yeah, Hollywood is full of them. But this felt a little different. The quality of ingredients is special- they have really researched local food sources, finding ingredients that work with the season and the farmers in Southern California. I really respect that and want that type of care taken with the food I eat. When I buy organic or local vegetables it usually comes at a cost to me, and I'm okay with that when the flavor is better and I know I'm doing my part to help the environment and our local economy.)
After such an indulging meal, it was so nice that we only had the take the elevator down a few floors before we were back in our hotel room. Again leaving the blinds open so we could fall asleep under the city lights and stars in LA, we were so thankful for such an incredible evening.
Stay tuned for part 3: Sunday Fun Day in DTLA
——–
If you want to book your own California Weekend, check out Starwood's Road Trip planner to help you plan it!
————
*Disclosure: We were guests of Westin Bonaventure. While they did sponsor this post, they did not tell me what to write about, take photos of or share. It was easy to write a positive review after such an amazing weekend. Thank you for supporting our sponsors.