The Best Hot Dogs in the World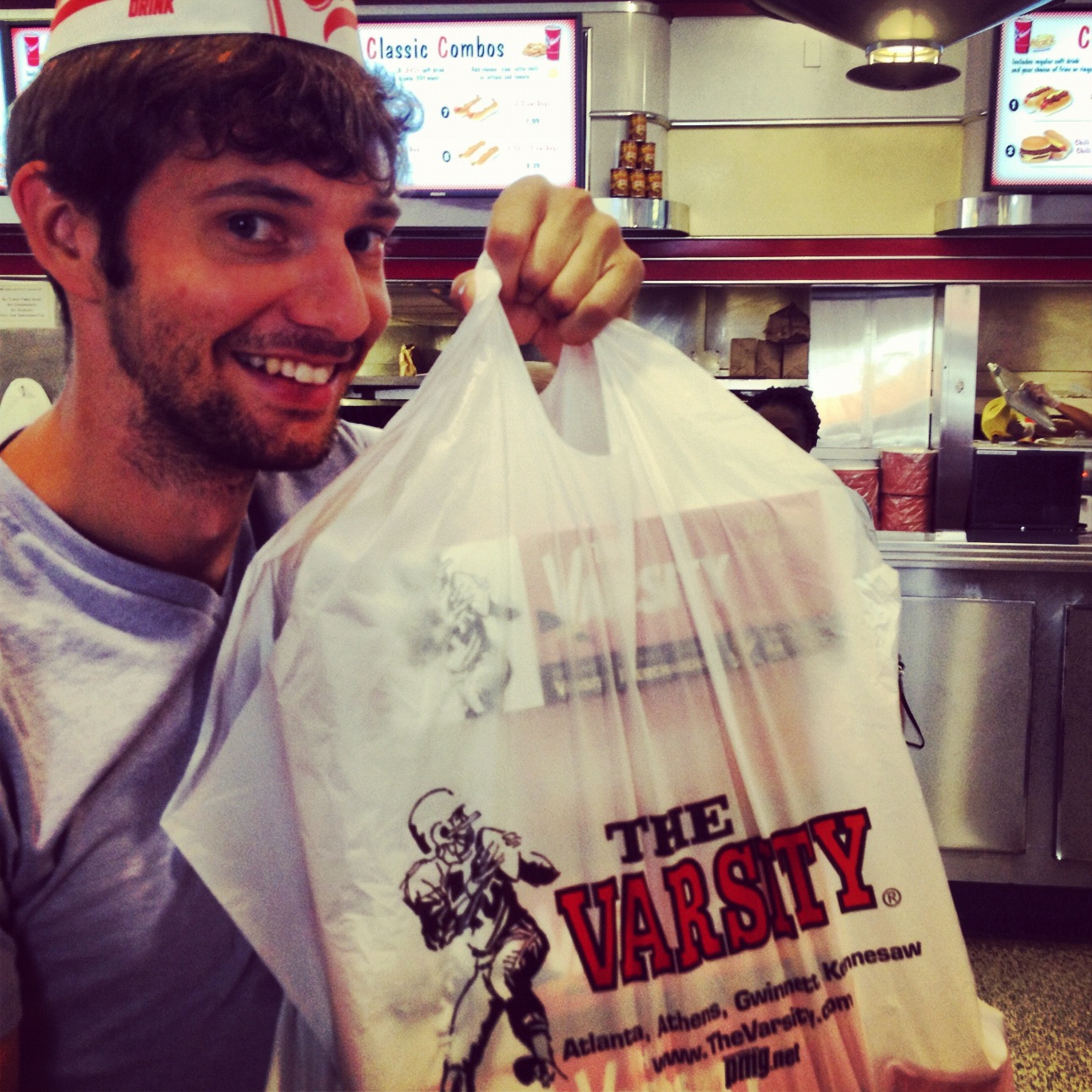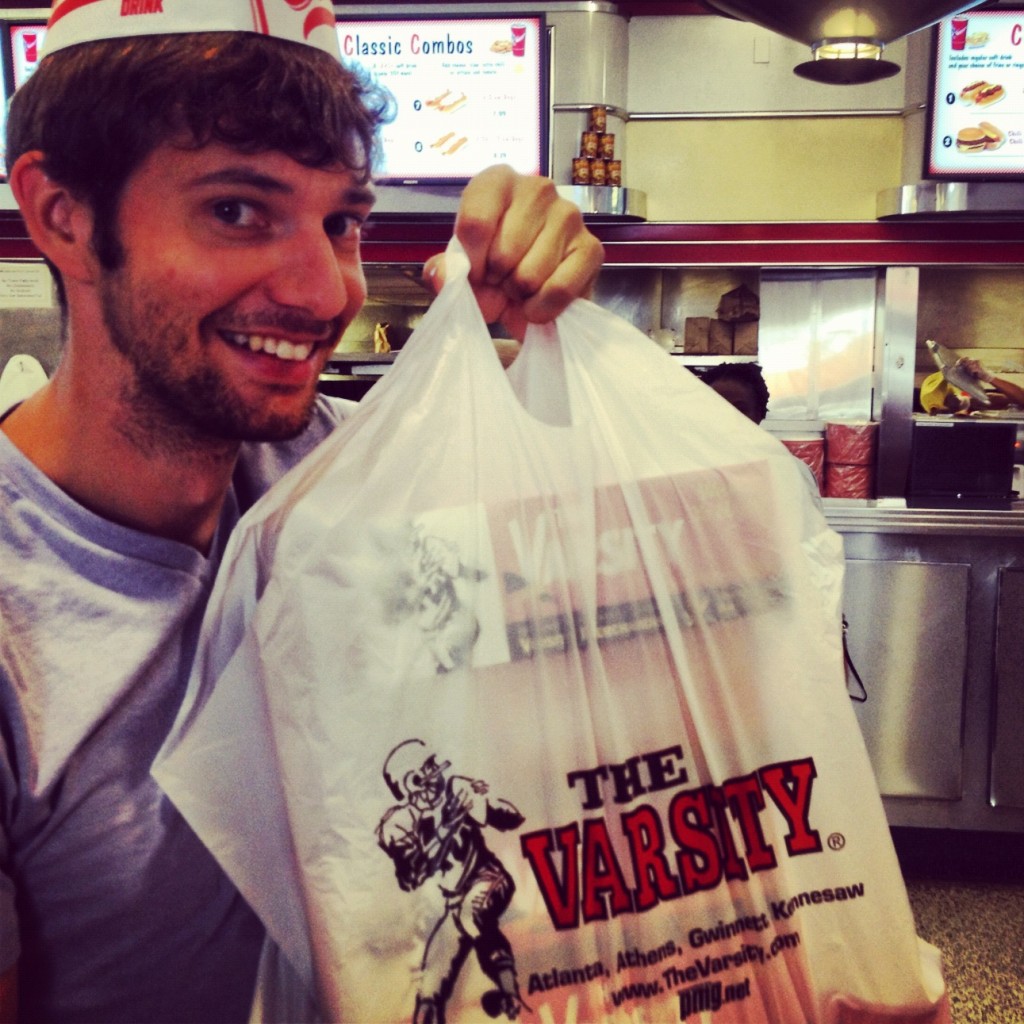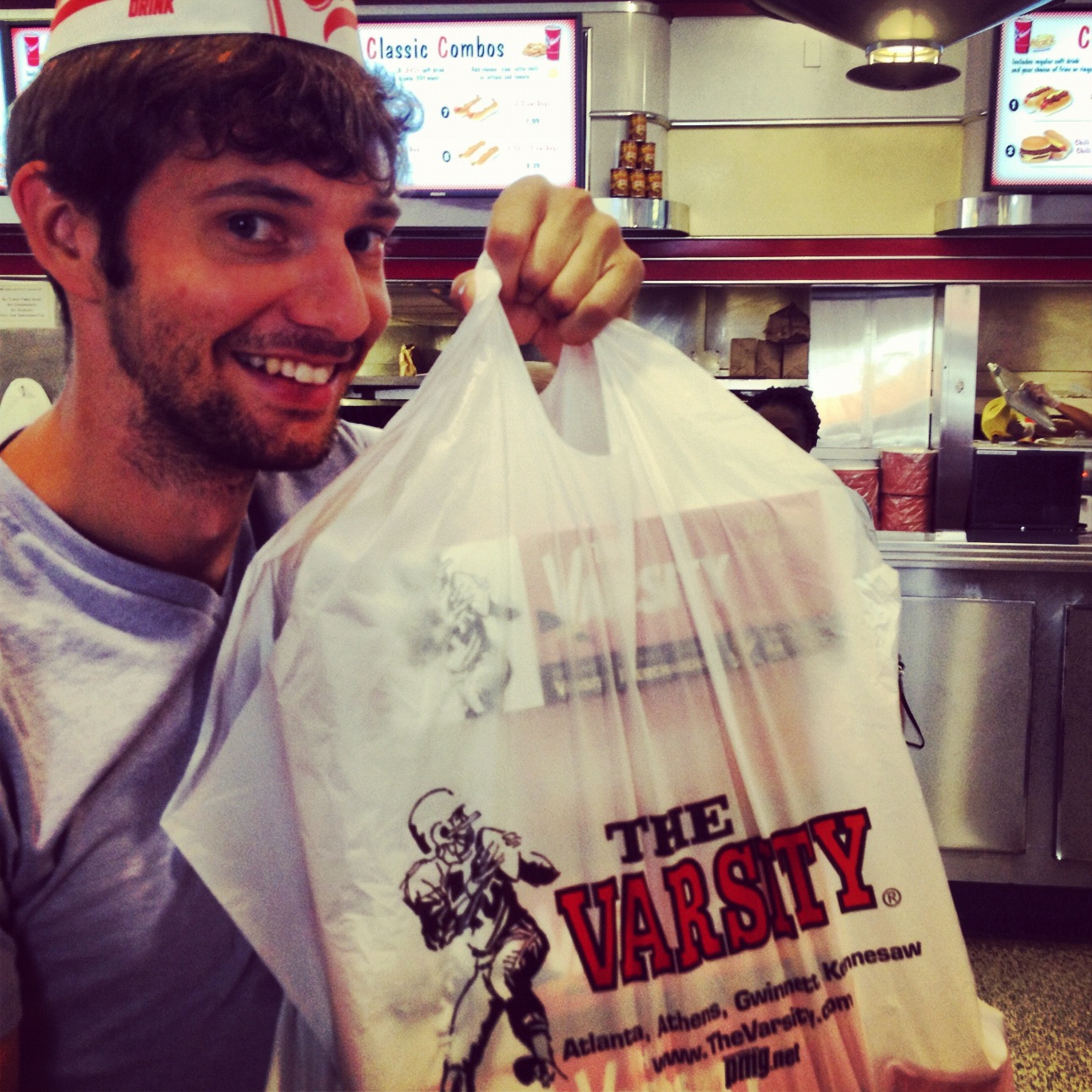 The World's Largest Drive In and the World's Best Hot Dogs
Everyone knows that we are completely obsessed with tacos, but a little known fact is that Bob is totally, 100%, completely infatuated with the chili hot dogs at The Varsity in Atlanta. To Bob, the best hot dog in the world is right in midtown at the 84 years old Atlanta institution, that has grown into one of his own family's traditions. He loves them more than the famous hot dogs in Iceland and much more than the Dodger dogs at Dodger Stadium.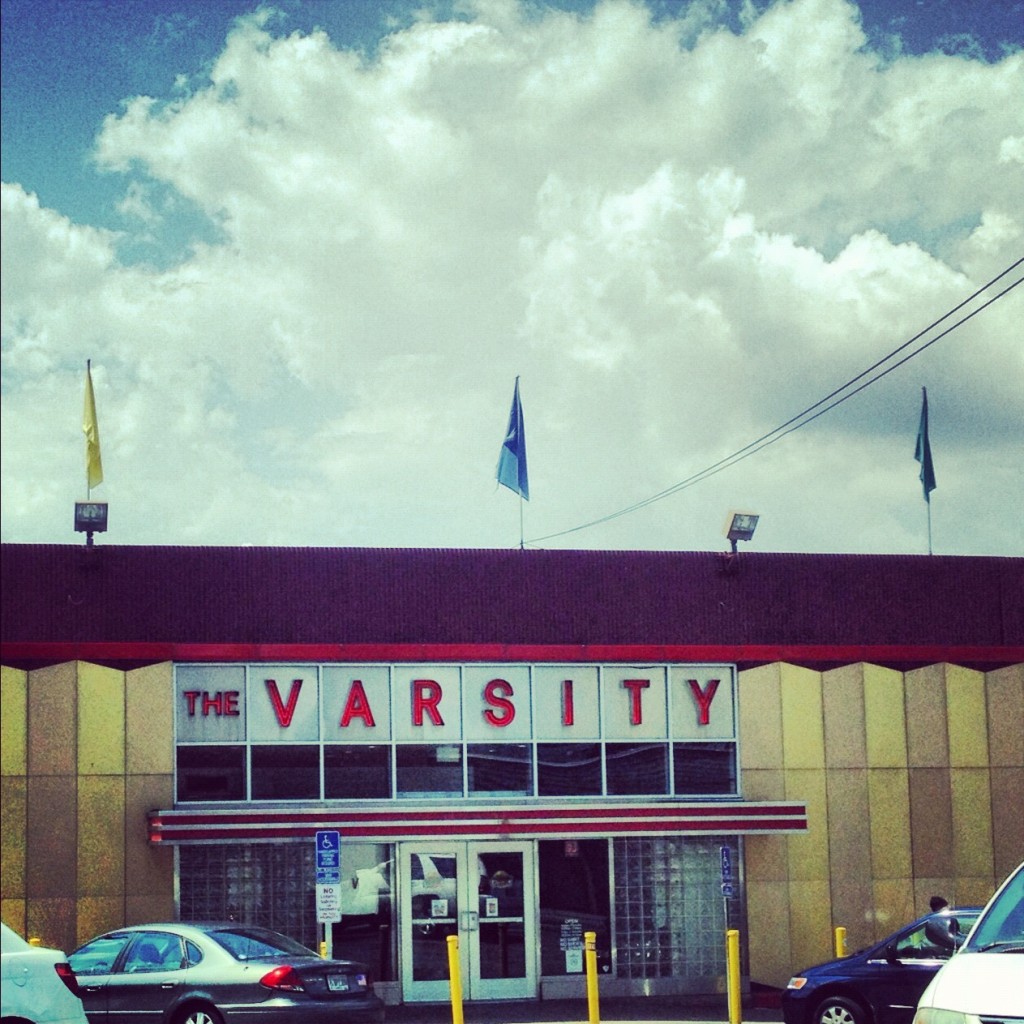 Our most recent trip went a little something like this:
It hadn't been more than 12 hours since we landed in Atlanta that we drove to The Varsity to order our weight in hot dogs, onion rings (which are made using pancake batter) and fries. Apparently the milkshakes and The Varsity "Orange" (a soda or frosty-like drink) is also super popular, but Bob doesn't waste his stomach space for those.  While we are ordering Bob's aunt rounds up a few Varsity hats and we all get into the spirit of the place. Not 8 minutes later are we walking out with a huge bag full of hot dogs (we had to bring them back for all the family members at home) and one very happy man ready to indulge in his favorite food.
Before we get back in the car, we've already polished off one side of onion rings, which happen to taste like a greasy pancake- a delicious greasy pancake- but still, you'll need two napkins to wipe your fingers.  While driving conversation turns to how long Bob's family has been eating these Varsity dogs and how he grew up eating them.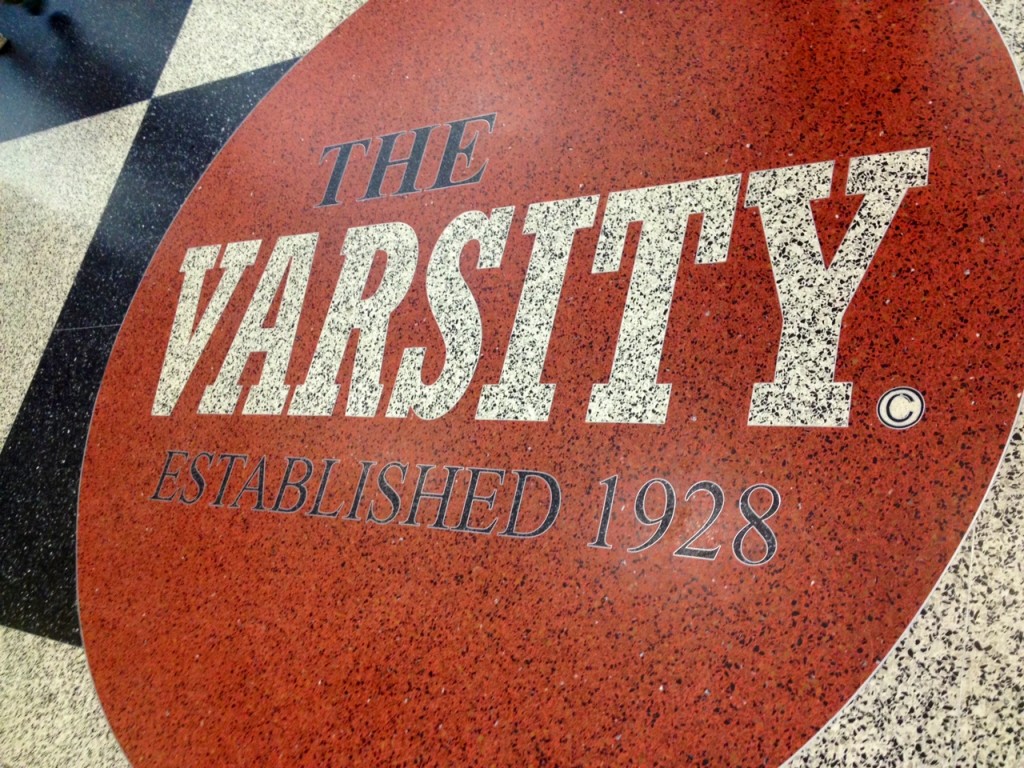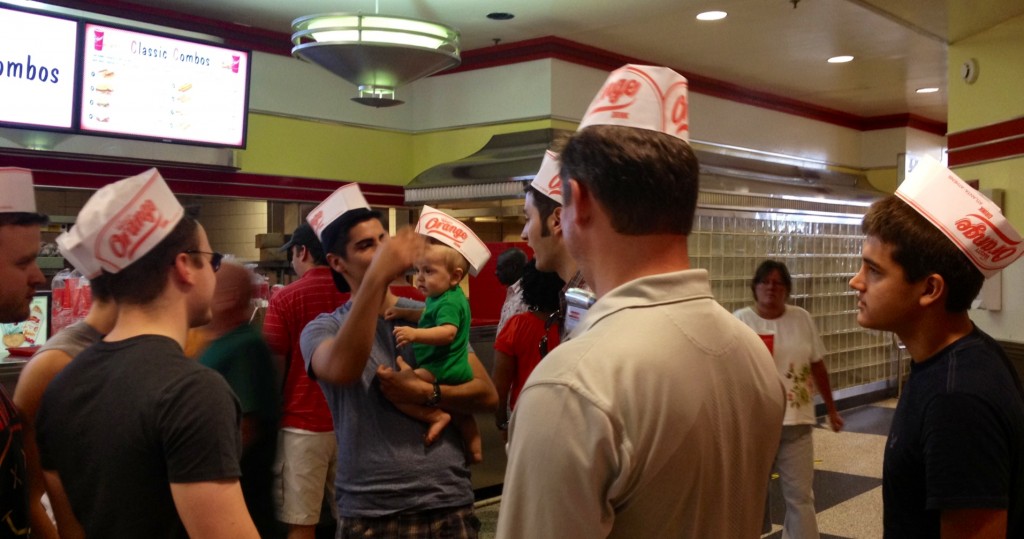 (Starting them at a young age, a little baby gets his first Varsity hat!)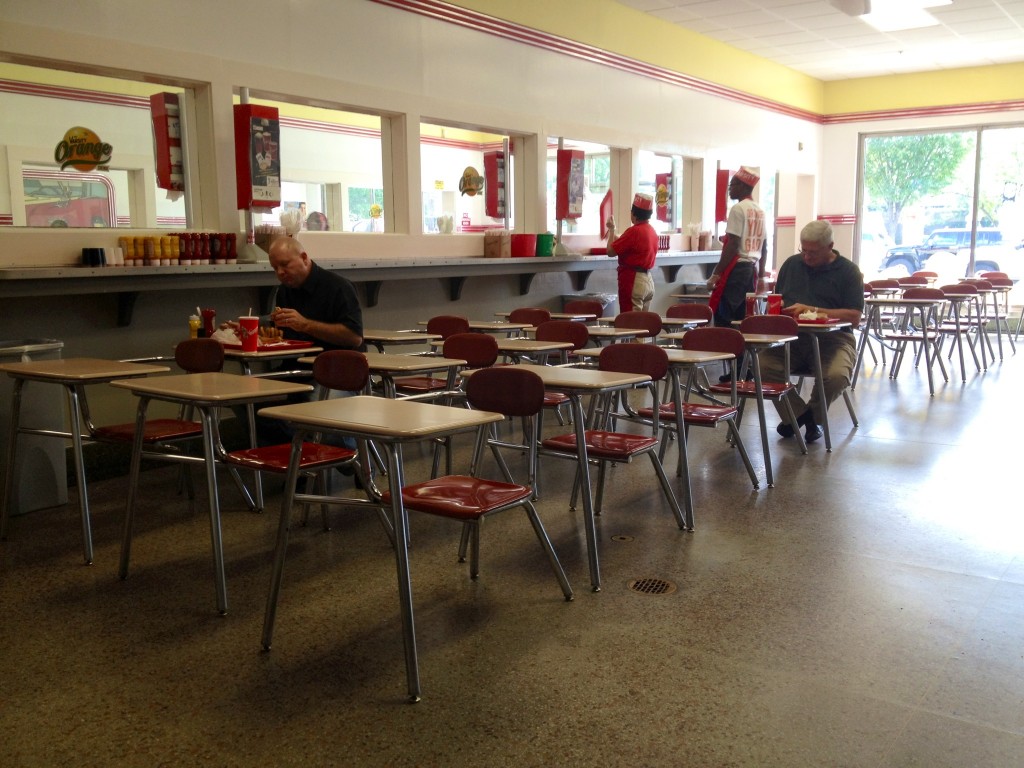 (Located near Georgia Tech University, the design inside the two-story restaurant is reminiscent of an old school building, with desks for seating and vinyl floor that you'd find in a school cafeteria.)
While there may be many other things on the menu, Bob only orders the chili dog. I made the mistake of thinking the slaw dog sounding tasty  and he scoffed at me! I did end up ordering a couple but he didn't even want the slaw dogs in the same container as his chili dogs incase any slaw accidentally touched his chili. These things are so precious to him!
We got back to the house and finished most of our order in less than 10 minutes. Bob wasn't worried about whether or not we'd have left overs because these things freeze like a champ. Bob actually decided on this trip that he likes them better the next day and cold (kind of like cold pizza… I guess).  If you've never had one before, I will try to describe what it taste like: A very soft bun, almost melts in your mouth, with a small hot dog covered in chili and one stripe of standard mustard. To me, the chili is mild but hearty and pretty salty.  I actually preferred the slaw dog, but don't tell Bob that- he might not marry me if he knew!
If you want to try it for yourself, The Varsity sells cans of their chili on the internet.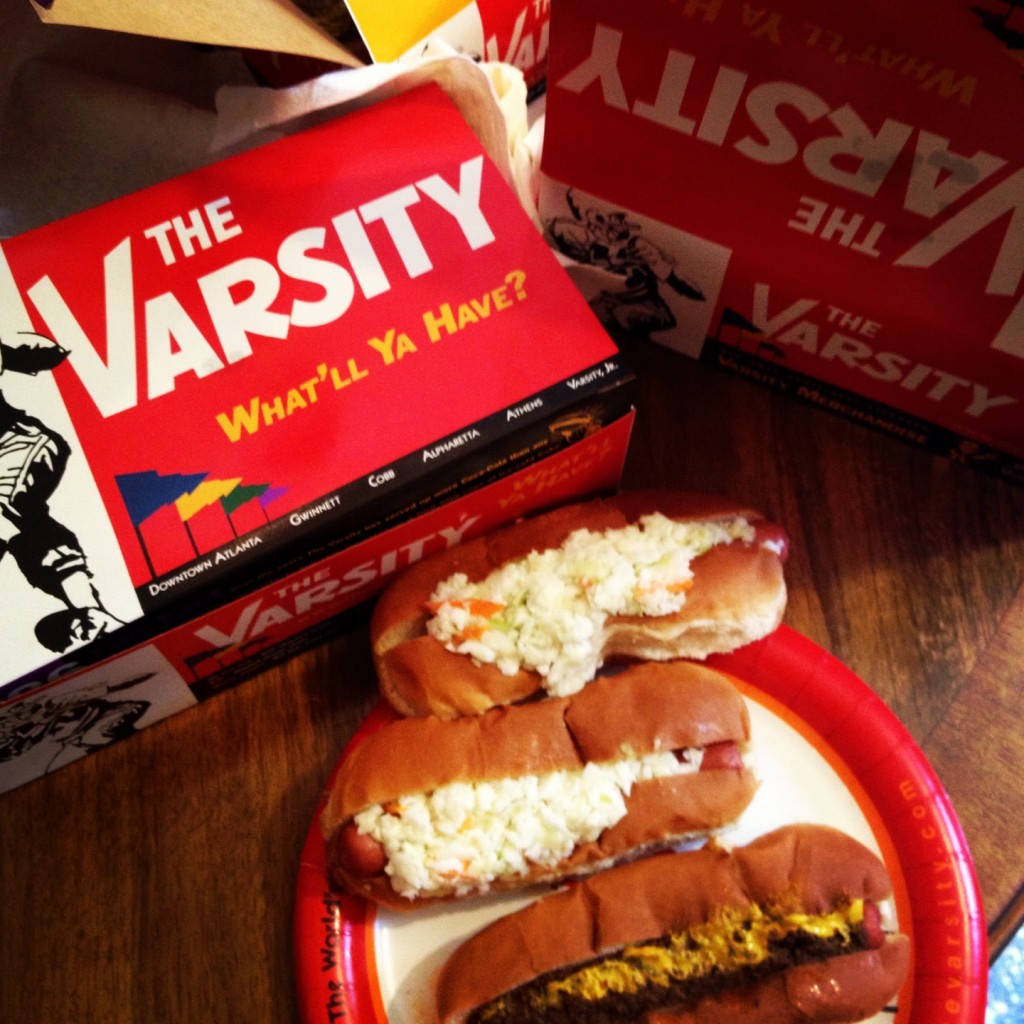 Fun Facts about The Varsity:
It's the World's Largest Drive-In, able to accommodate 600 cars and 800 people inside the two-story building.
On Georgia Tech football game days, the Varsity usually sells food to 30,000 people.
Two miles of hot dogs are made daily
300 gallons of chili are made from scratch daily
A "Heavy Weight" is a hot dog with extra chili
Have you been to The Varsity before? Where do you think has the best hot dogs in the world?