Barcelona to Girona: A Perfect Weekend Holiday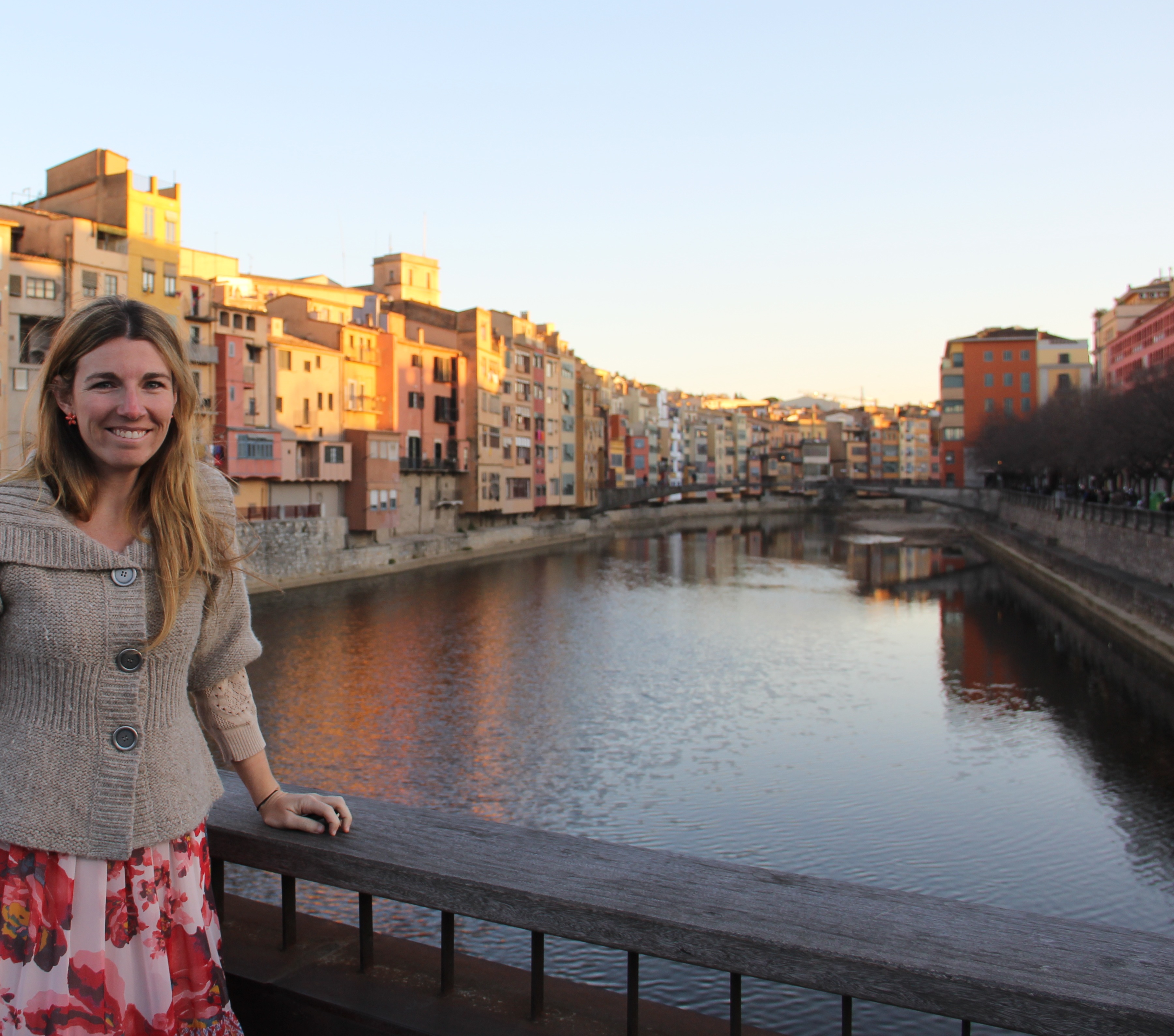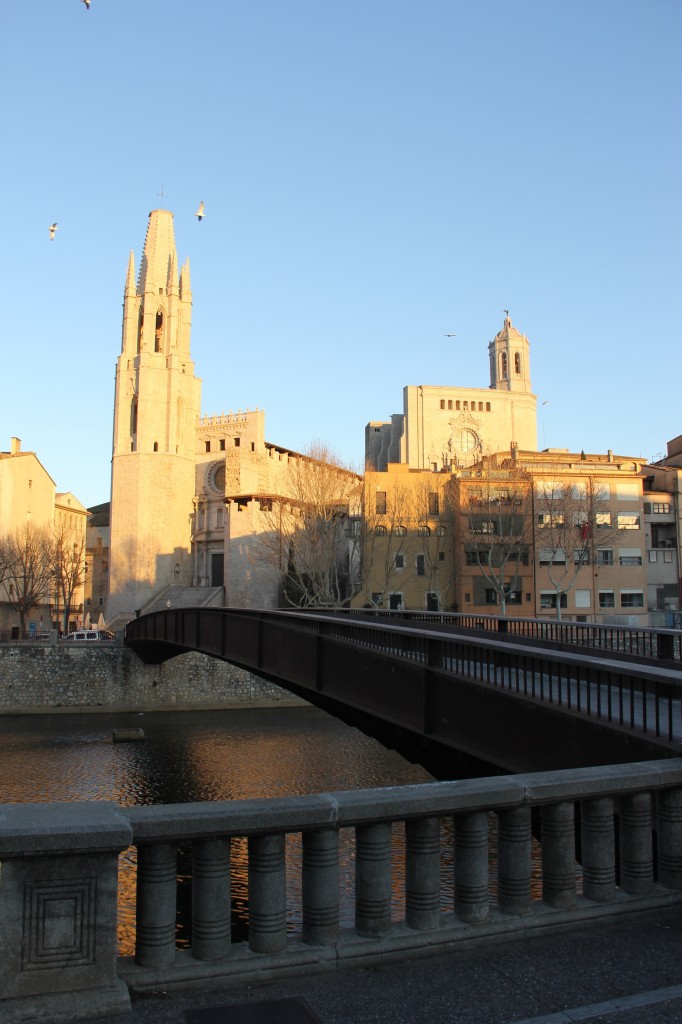 As much as I love the hustle and excitement that traveling through big European cities brings me, I also like to add in a couple extra days to explore the nearby smaller towns to get a deeper connection with the country and it's people. Some of my favorite travel memories happened when I stepped off a train or bus in a small village and set off to explore a place where I had zero expectations and little knowledge beforehand- the place then seems super special to me, like it's a secret that I'm involved in.
Girona, Spain is one of those secret cities to me. And while it isn't exactly small or secret anymore, the old town city center has the mixed Medieval charm and incredible modern food and bars that makes it a must- see detour when visiting Barcelona.
In fact, Girona is sometimes named the second airport for Barcelona with RyanAir bringing in 21 daily flights, 4 just from London. So, whether you are staying in Barcelona or flying directly into Girona, take a few days to explore Girona for the perfect weekend holiday.
…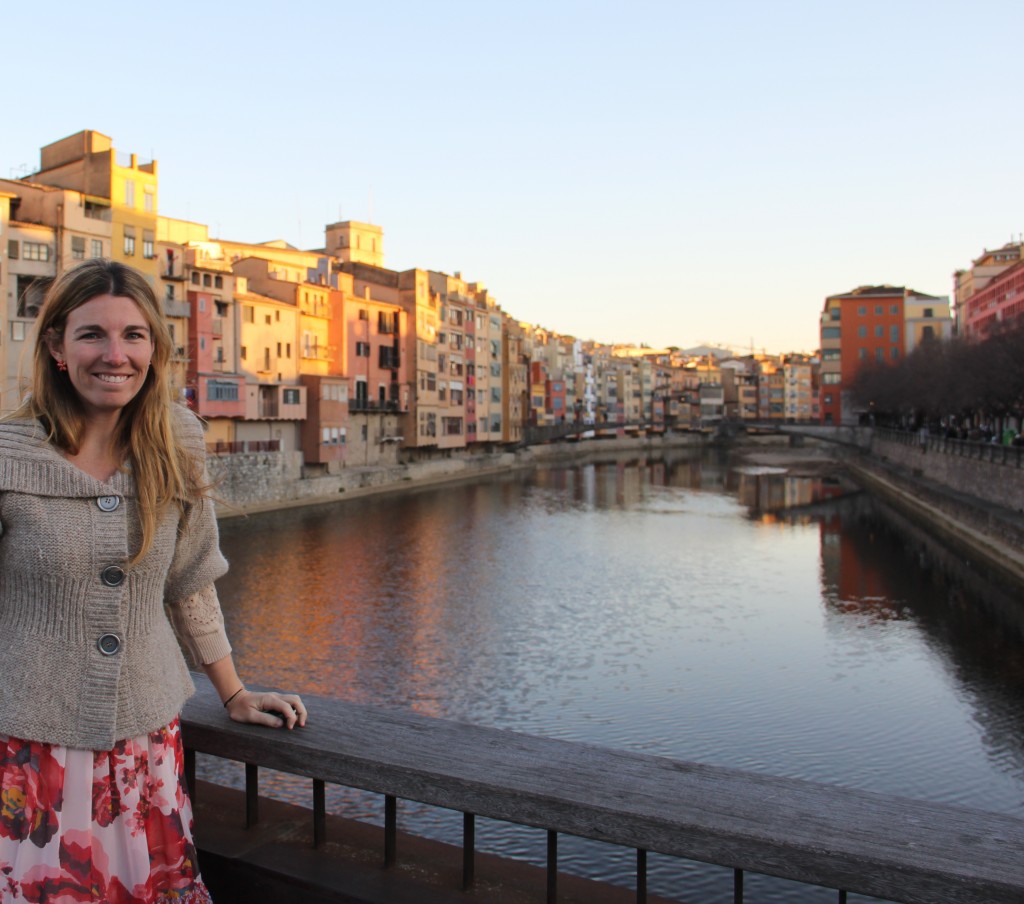 We arrived in Girona's historic old town about an hour or so before sunset. Before walking through the old city walls, we arrived at a lioness perched high on a column. Our very animated tour guide told us about Leona de Girona and the legend associated with kissing the lion's butt. It is said that if you kiss the lions butt, you'll be in good graces with the cities residents and it's a fortune that you are always welcomed back in the city, granting that you'll return someday.
It was quirky, it was probably super dirty, but when asked if anyone was going to kiss this strange little lion's butt- I was the first to jump up and plant a big ole kiss. I even posed for pictures- maintaining contact with the cold little statue for about ten seconds! It was super silly, but it was also really fun and such a great way to start a tour.
Continuing on, we admired the adorable old town, learning about the multiple battles and different conquerors of the village.  Seriously, this poor town has been attacked and fought over so many times by so many people because of it's location and proximity for trading, we are lucky so much of the village has been restored.
Travel tip: Wear flat or low heeled shoes or wedges. As much as I loved the cobblestone streets and alleyways, I decided to be all fancy and wear a dress with heels. While I may have looked cute standing still, that was quickly out of mind when I was teetering around trying not to break an ankle!
The next big stop was the Cathedral of Girona, with it's massive ornate facade, the building is stunning looking up from the bottom of the heart pumping 90 steps to the top. Once at the top, take some time to catch your breath and admire the setting sun off in the distance. The sun was creating these dramatic shadows and a golden glow onto all of the buildings below.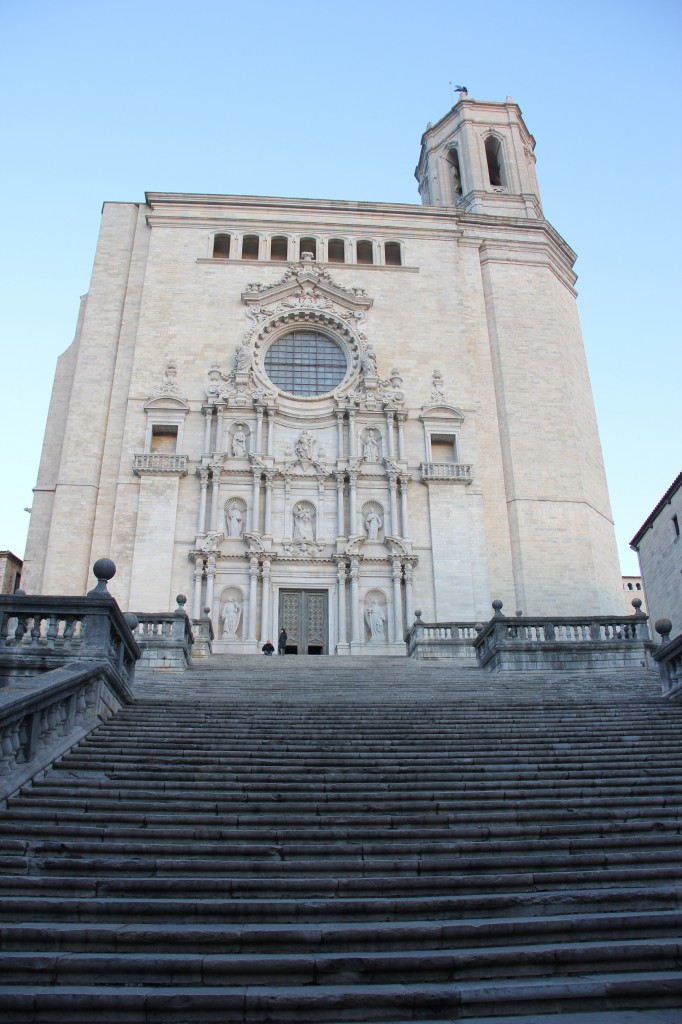 Travel Tip: Admission is free on Sundays.
Once inside, the tour guide continued to show and describe how the city transformed time and time again after so many battles. The Cathedral is widely known as having the second widest nave in the world. (A nave, if you are like me and had no idea, is the vaulting inside the church.)  There is also a small museum inside with some of the art from the different periods and some early copies of popular books from the 16th century.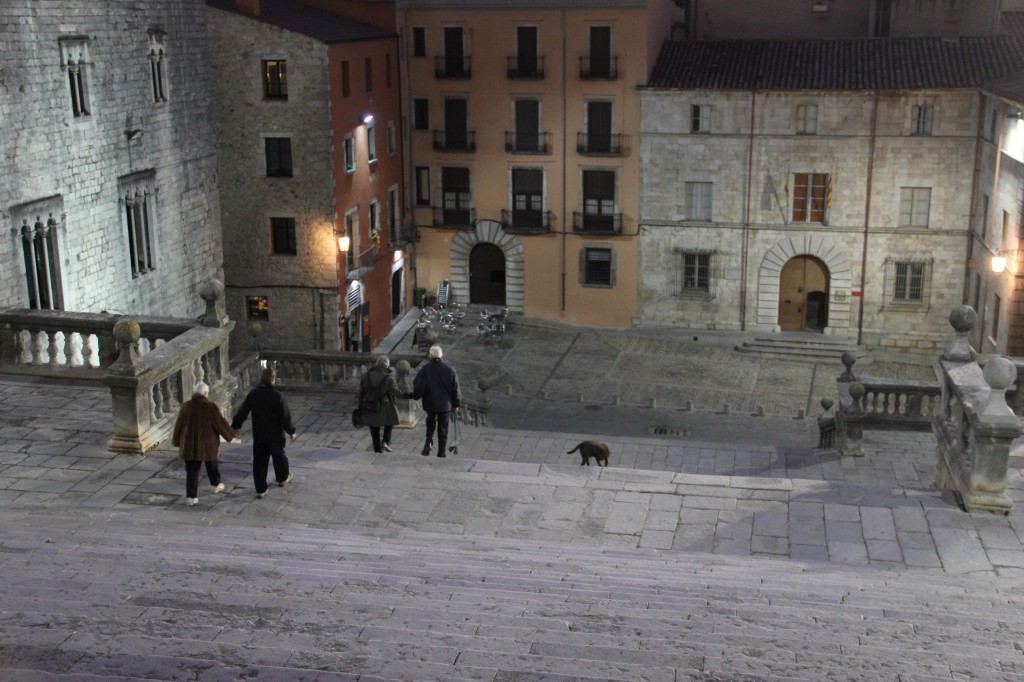 Travel Tip: Bring an additional layer (sweater, jacket, scarf) to bundle up inside the church. It is very cold inside. 
Continuing through town, we walked through the Jewish Quarter, Call Jeue, as the sun continued to lower. It was getting colder, darker and quieter. Learning about the history of the Jewish people in the area, the time of day and darkness brought along an eery and mysterious feeling.
It turns out the Jewish Quarter in Girona is very well preserved and one of the largest in all of Europe. Our tour guide talked about how Jewish life was in Girona and how they had common patios where multiple rooms let out into and the Jewish people could hang out together.  We weren't only hearing about the history, but we were there, living and breathing in the same space. It was really interesting to be apart of history in such a tangible way.
Nowadays, these areas are showcases for homes, store fronts and wine bars. And during the highly celebrated May Flower Festival, these areas are greatly designed and adorned with all the flowers.
This city is best explored slowly, so take the time to walk around the city's gates, sit down for a three or four hour dinner and relax at a wine bar with friends until the early morning hours.
While we were on our walking tour, we passed dozens of cute cafes, wine bars tucked into alleyways and restaurants with varied menus. We settled into Divinum for a 9 course tasting menu, filled with different local wines, cheeses, meats and vegetables. It was hard to pick a favorite dish, but the blue cheese pasta with purred bacon was seriously the best thing I had ever put in my mouth. A close second was the beef, but by the time it came out, I was so stuffed, I felt like I could die. Thankfully, I wore a very flow-y dress and my stomach could easily expand!
Let's just say, that after that meal, it wasn't hard to relax into my tub, slip into something a little more comfortable and dream sweet Girona dreams until I woke the next morning. Seriously, a perfect travel day.
…
Tips for the Perfect Weekend Holiday in Girona: 
If you are already in Barcelona, it's easy to get from Barcelona to Girona by bus, train or car hire. Renting a car will offer flexibility with driving and departure times, but really easy, affordable options exist with the train and bus.
Where to Stay: Instead of staying in a traditional hotel, continue your history exploration by staying in a restored villa. Charming Villas has several options in the area, ranging from luxury villas to beautiful city apartments, our restored villa happened to be located right outside town (only 5 minutes from Girona's city center) with gorgeous views of the countryside, offered sleeping for at least 9 couples, had a rustic design with modern amenities and even had a pool. Prices are by the week and affordable for families and big groups.
A Perfect Weekend to Visit: For one week in May, the city is beautifully adorned with lush flowers for its annual Flower Festival. Check out fellow travel blogger Abi's amazing photos from last year's festival. This year's festivities take place May 12- 20th.
When I flew into Girona the first time, I had no idea this gem of a city existed, and like a lot of travelers, exited my plane and quickly boarded my bus to Barcelona. Now that I know, I can't keep it a secret any longer and hope more visitors to Girona airport take a few days and relax in the city center.