Make this Tonight: Baked Fish and Chips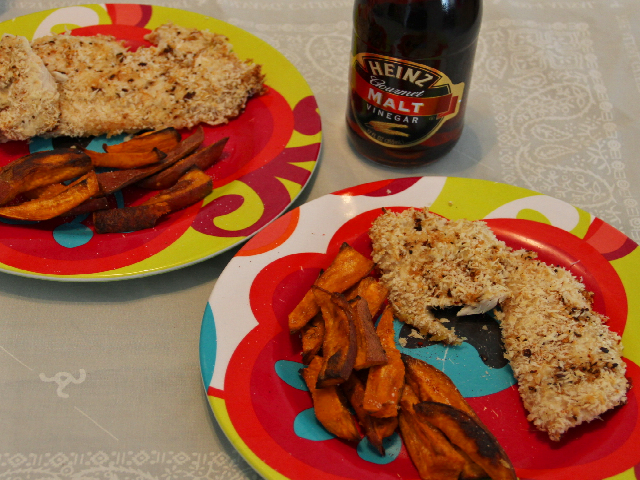 One of Bob's favorite meals in London, and, who are we kidding, any seaside town, is fish and chips. He loves ordering them on the street and getting handed back the fried fish and fries in a rolled up paper. I'm not sure if he likes the fish or the fries drenched in malt vinegar and salt more, but he is always licking his fingers with a huge grin on his face when he's done.
While my love for the UK classic isn't quite the same as my fiancé, fried fish is something I grew up eating in Florida. There is just something so tasty about the tender, super flavorful fish coated in a fried bready goodness. oh- yeah- yum!
Since we are now engaged and I'm trying to slim down for the wedding (yeah, I'm gonna be one of those brides), I am trying to make a few of our favorite foods in a more healthy way. My first attempt was making Bob's lunch time favorite and while it wasn't wrapped in an old paper, this recipe is pretty dang amazing and the fish batter tasted almost better than the real fried thing!
You'll notice a few key differences from traditional fish and chips to this recipe- first of all, we are using sweet potatoes instead of regular ones. Personally, I love sweet potatoes more and just want to take a small second to thank the food gods that sweet potatoes are actually good for you! That doesn't happen often! The other big difference is that we are baking the fish instead of frying them. This is actually another thing I like because frying inside your house can get dangerous- especially for a very inexperienced cook, like myself.
Hot oil+ No real cooking talents= burnt Jade.
So, here is the no fail, any one can make, perfectly diet friendly FISH & CHIPS!
Recipe adapted from the Eat this, Not that series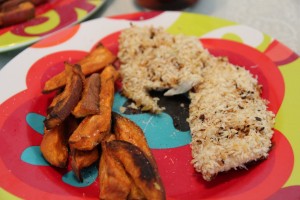 You need:
2 medium sweet potatoes
1/2 teaspoon smoked paprika
1 cup panko break crumbs
4 fillets of halibut or catfish (skin removed)
1/2 tbsp olive oil
1 tsp salt
1 tsp black pepper
2 egg whites
1 tbsp Dijon mustard
1/8 tsp cayenne pepper
1/2 tsp dried thyme
lemon wedges and malt vinegar (your preference)
Peel and cut the sweet potatoes into wedges, toss the wedges into the oil, 1/2 the salt and paper and all the paprika. Arrange evenly on a baking tray and place in the oven on 425. Next, whisk the egg whites, Dijon, cayenne and the other 1/2 of the salt and pepper. In another dish, combine the bread crumbs and thyme. Dip the fish into the egg mixture and then roll around in the bread crumb bowl. Make sure to coat evenly.
After the fries have cooked for 15 minutes, add the fish to the baking tray and return to the oven to cook for another 13 minutes (or until fish flakes easily). Cut the lemon and squeeze just a tad on the fish right when it comes out of the oven. Cut a few more wedges for the table incase you want more lemon flavor.
Enjoy! Let me know if you make them and how you liked them!
*Bob may have had fish and chips three times during our trip to London. Proof: London videos from our RTW trip.