Where are all the arches in Arches National Park?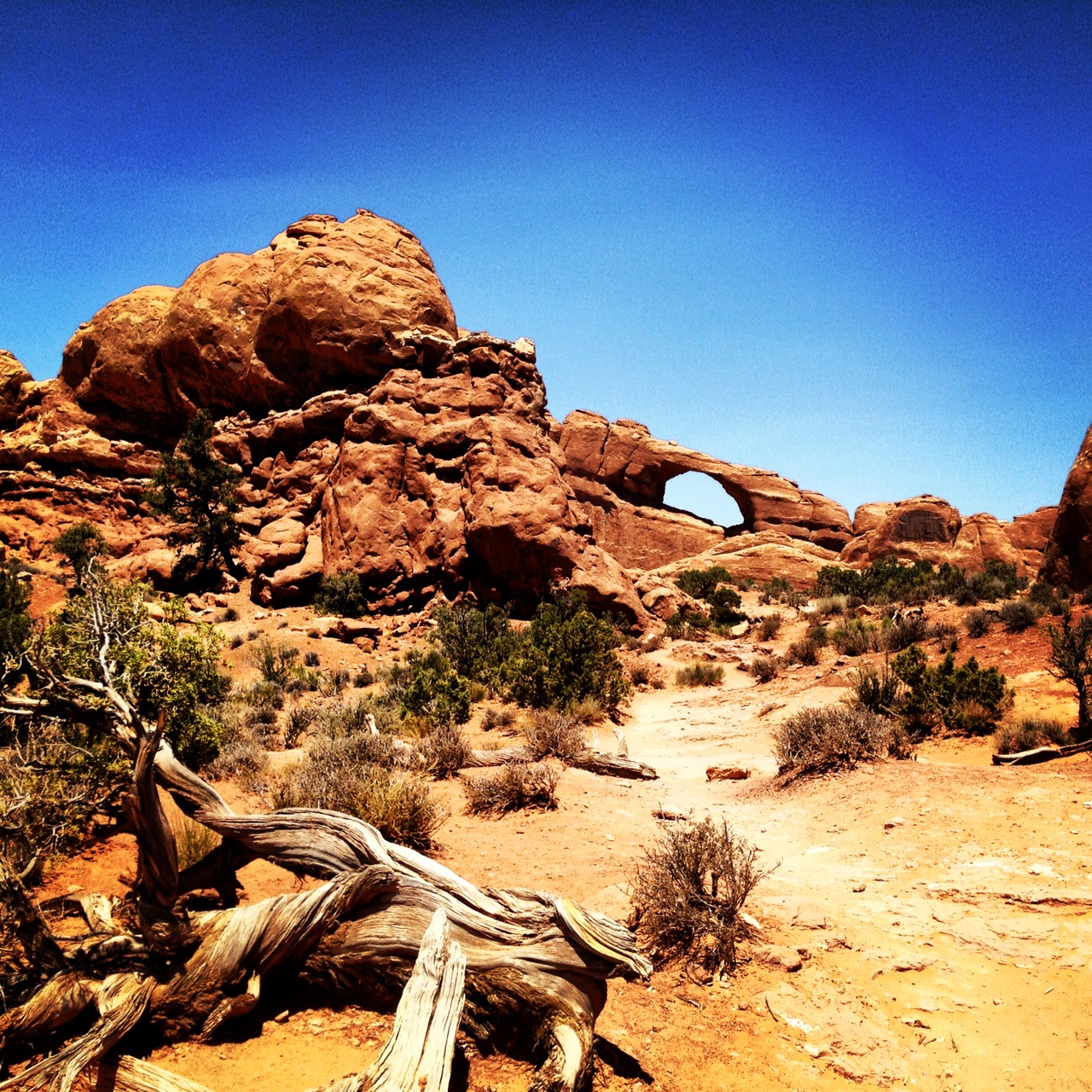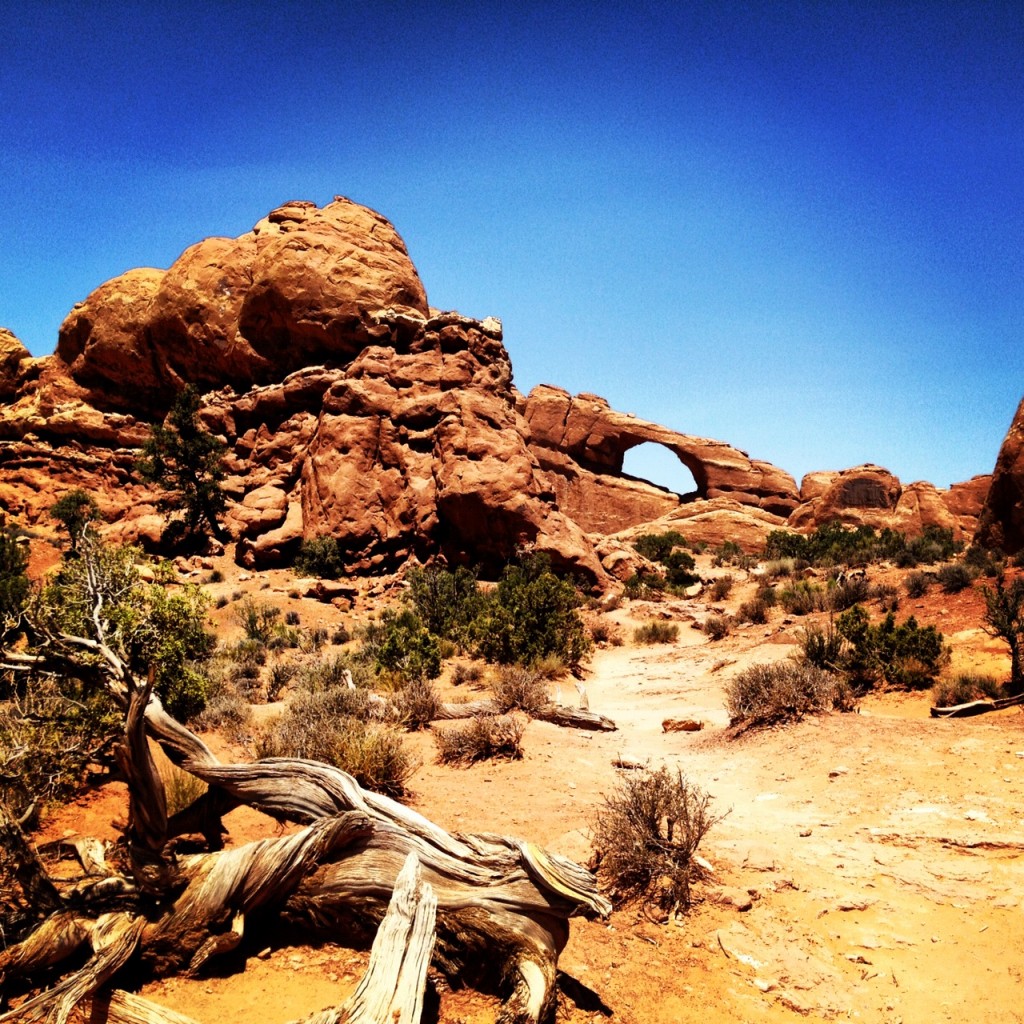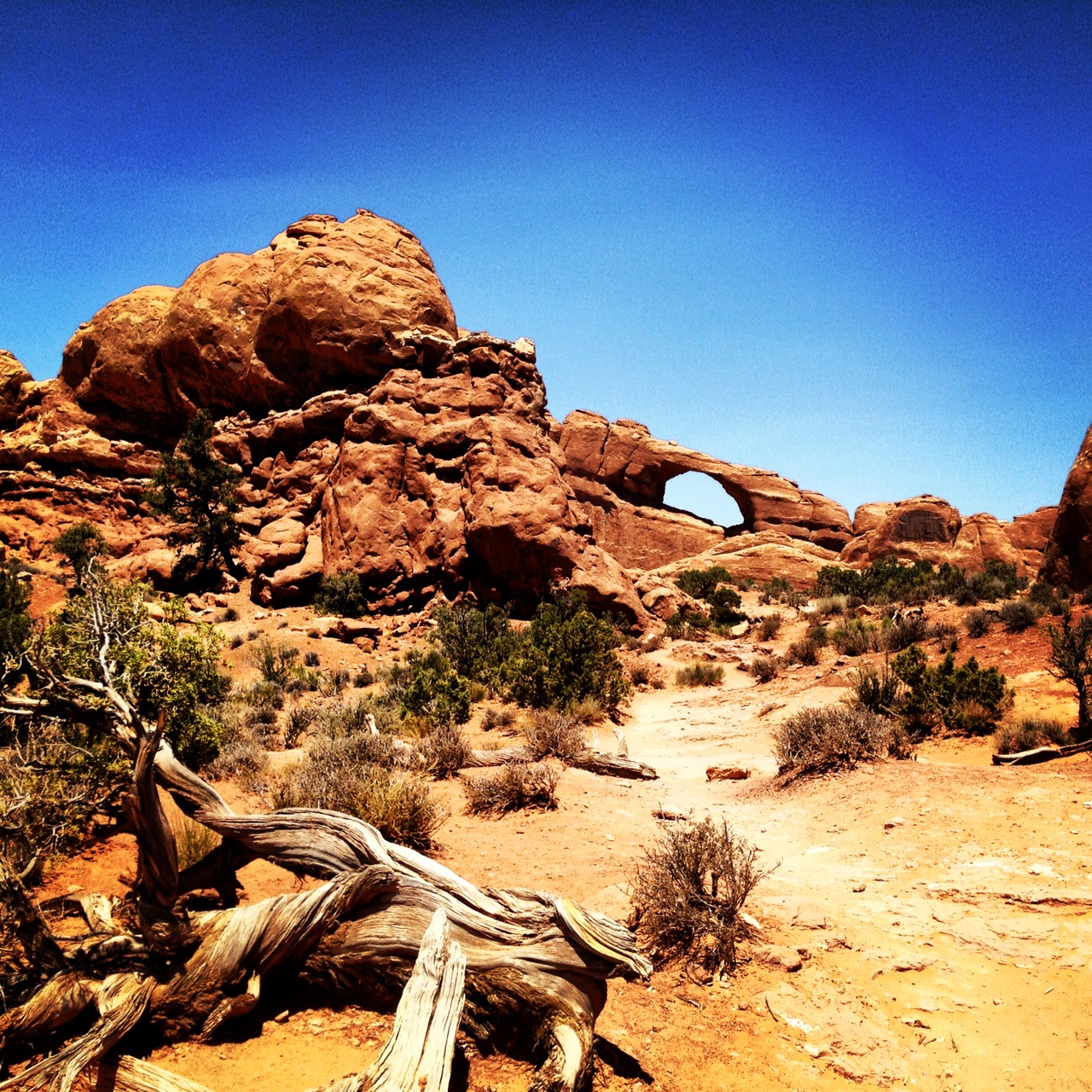 About two hours from the Colorado border, we arrived at Arches National Park in Utah.  It was our third national park we visited in Utah and the last stop on our national park road trip tour.  Our mission was to photograph all the arches of the park, all 2,000 of them! The reality though was a little different… we saw seven arches.
To be named an arch, it has to measure three feet in any direction.
Entering the park, we drove around the windy road in silence, searching for the arches. We are a tad competitive, and road trip games are often silly but still super fun. After two long solid minutes of complete silence, we both burst. WHERE WERE ALL THE ARCHES? I was the first one to say that for a park named arches, I was a little let down. I envisioned the park to be like a Disney themed out world, I was shocked that there were not arches everywhere.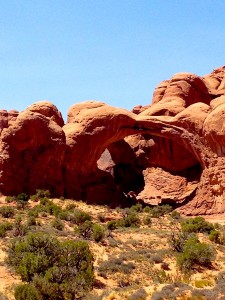 Even still, the park was very different from the other national parks in Utah and still really beautiful.  The canyons were vast and the mountains looked as if they had been delicately sliced and molded. Unlike the monster peaks at Zion or the horror movie spikes at Bryce Canyon, Arches seemed more like an abstract artist's playground.
Continuing on, the Utah sun was shining bright and hard, and the desert landscape accentuated the sun's blurry waves  beating down on the road ahead. We filled up all our water bottles at the visitors center and took off towards the end of the park.  
After a short, slow drive further into the park, we finally got our first glimpse at an arch. There it was,the reason we drove 120 miles out of our way and in all its natural glory- a single arch off in the distance.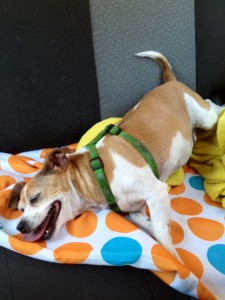 Parking at the trail head, many hikers were already sunburned, exhausted and out of breath, and it was only 10am. Luckily, a lot of the arches can be seen from the main road or the trail heads, allowing for us to get some great video and snap a few photos, without much effort. And unlike Zion and Bryce Canyon, traveling with our dogs was a blessing at Arches.  The dogs still weren't allowed on any trails, but considering it was a solid 98 degrees, feeling more like a wood fire pizza oven, I don't think we would have lasted too long on any one hike.
By the time we arrived at our last stop, the famous Double Arch, I discovered why so many people love this park. There is something slightly strange but fascinating about natural arches. Bob and I spent a lot of time after the park researching the geology behind the park and how the wind and low rain fall produce such erosion with the rocks. And while we didn't see all 2,000 arches, we did see a part of America that we had never seen before, not only checking off the bucket list, but feeling more connected to our beautiful and diverse country.
Planning a trip to Arches National Park? Here are some helpful tips to know before you go!
Travel Tips for Arches National Park:
It was cheaper than Zion and Bryce Canyon at only a $10 dollar entrance fee.
Located close to Canyonlands National Park.
Dogs are allowed in parking lots, camp grounds and picnic areas but not on trails.
There is no food sold inside the park, prepare a picnic beforehand.
There is a water refilling station at the visitors center. Bring a few extra water bottles and fill up before you head out on a long hike.
The most beautiful times to see the colors of Arches is around sunset and sunrise. If you don't want to camp inside the park, stay in Moab about 10 minutes away.
There is little shade and strong sun exposure and heat- make sure to bring a hat, wear sunscreen and bring extra water.
Best seasons to go are Fall and Spring, fewer crowds, less heat and shorter days (to catch those much desired sunrise and sunset shots).
Great for camping, hiking, mountain biking.
Check out this three day itinerary for camping around Arches.