5 Awesome Hands On Animal Experiences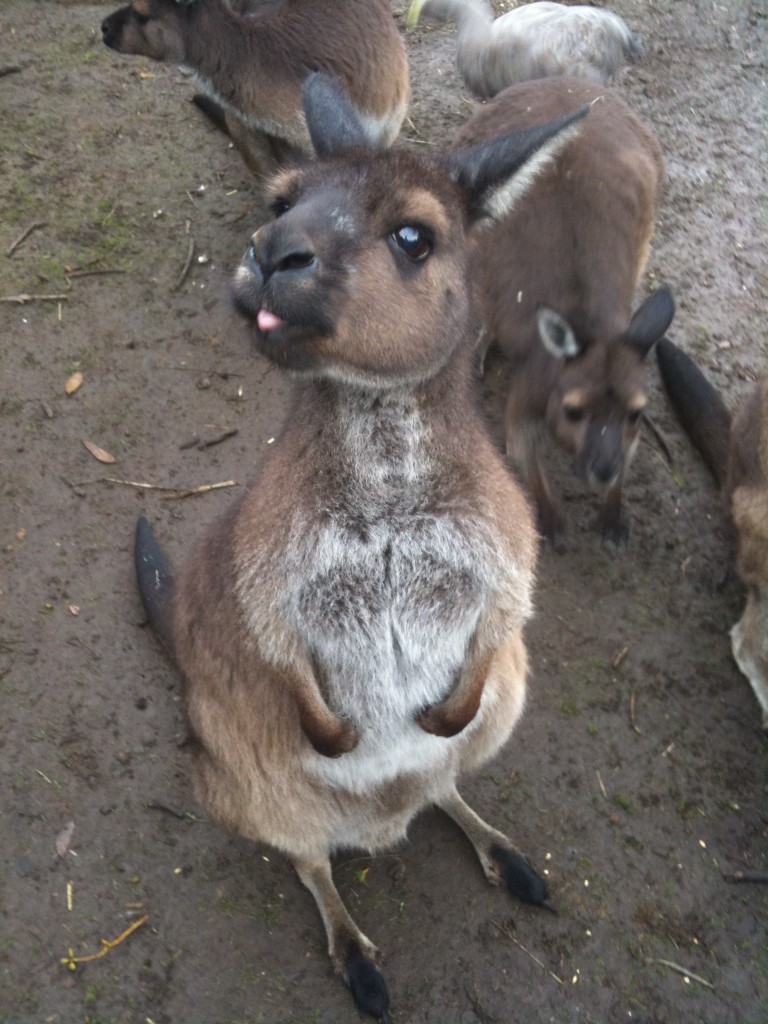 Zoos have really horrible bars that keep curious hands off the fuzzy, slimy, or furry critters behind them.  So while you might get to see all the animal kingdom playing infront of you, there is no way to join in the fun. To really run your hands through some hair, you need to get out and explore some of the best animal experiences the world has to offer.  
Not only will visiting these must-see places let you cuddle up or swim along with the animals, but you'll find out awesome things like kangaroos hold your hands to eat food, koalas can let out a happy squeal as they relax into your shoulder, seals love to slide down sand banks.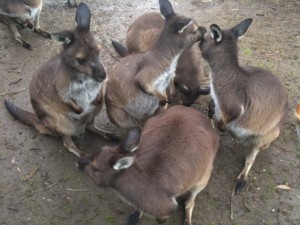 Prepare to go back to the time when you thought a monkey would be the best friend ever as we go through five of the best animal attractions and animal experiences to be found in the world.  (Don't forget the Purell).
One of the all time best animal experiences I found traveling was petting and feeding kangaroos at the Parndana Wildlife Park.  Parndana rescues and takes care of injured or abandoned kangaroos making sure they are able to lead a comfortable and well rounded life.  These rescues are given acres of land to roam around, while visitors are welcome to buy a bag of food and feed them by hand.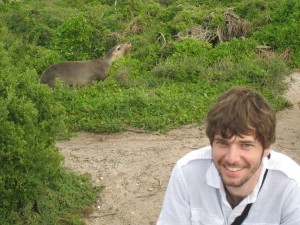 While feeding kangaroos is a somewhat common attraction in Australia, what separates Parndana from other parks I've visited is that the kangaroos here are all rescues (not captured and relocated) and in the off-season there is almost no crowd what-so-ever, which means, not only were the kangaroos more excited to see us than any other similar attraction I've visited, we had basically a whole pack of these amazing animals all to ourselves.
If you're traveling all the way to Kangaroo Island, make sure you visit Seal Bay for another truly unique animal interaction.  Seals play here year round and can come as close as a few feet from where you are standing.
Kayak around Sea Lions:
There are plenty of beaches and boardwalks that offer great view points for sea lions, but one of the only places that nearly guarantees kayaking around sea lions is in Morro Bay, California.  We rented kayaks from Kayak Horizons and it was an easy five minute paddle to the nearby dock, loaded down with sea lions.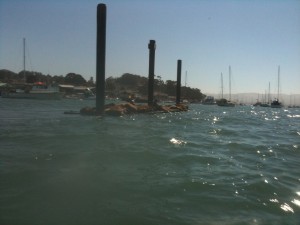 At first I was excited just to see the sea lions, but soon they were racing and playing all around our kayaks and swimming right beneath us.  In addition to sea lions, there are over two dozen threatened or endangered species that call this area home, including otters, seals, and a menagerie of birds.  Also, like most great wild animal attractions, rarely is there a huge crowd of people in the bay, so it's very relaxing paddling around the harbor listening to the barks and calls of the sea lions.
For an added treat, just a few miles up the road there is The Elephant Seal Rookery.  A boardwalk snakes down the coast, five to ten feet from the native seals of the area.
Swim with Whales:
I've been out surfing plenty of times and had dolphins and seals pal up with my board, but I've never gotten closer than a boat length from a whale.  It turns out that there are only two places in the world where visitors can actively book tours to snorkel with Humpback Whales in the wild, and the Kingdom of Tonga is one of the best places to make this dream a reality.  
Careful not to harass the whales, tourists are welcome to take tours out into the open ocean, toss on a snorkel, and dive in.  The whale's natural curiosity leads to some once in a lifetime interactions.
Housing babies, kids, adults, and grandparents, The Lone Pine Koala Sanctuary is one of the most koala populated places on Earth.  What attracted us to this location was the ability to hold a koala.  For just a few bucks, a trainer walks you though proper koala holding procedure, places a koala in your arms, and lets you hold it while they take some pictures.  While the experience only lasts a few minutes, it's one of the most unique opportunities I've ever had.  After you're done holding the koala, the sanctuary itself has open houses full of active and sleeping koalas.
Make sure to go there for the lorikeet feeding.  The birds are wild and flock in for the food, sometimes landing on your head or shoulders to get the best angle for the food.
The Mountain Gorilla Hike:
There are so many safaris in Africa, that to separate itself out, a journey to see the wild animals in Africa has to really be different.  The three day trek into the jungles of Ugnada for a glimpse of the mountain gorilla offers visitors the chance to understand the world in which the gorilla lives.  After the first day drive in, trekers are on foot, tracing the trail of the mountain gorillas living in the area.  This experience also offers sightings of a number of different monkeys and birds in the area.
Do you love animal encounters? What has been your favorite hands on animal experience around the world?