48 Hours on Kangaroo Island: Little Sahara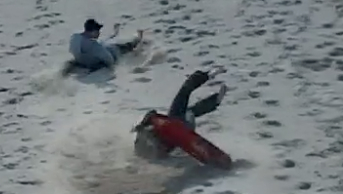 Little Sahara, the mighty K.I. desert
Experience: MUST-DO!     Price: $     Level of Difficulty: High
Little Sahara is a pretty amazing sight.  Kangaroo Island is a green and blue paradise and then you step out of the forest with yellow sand in every direction.  It was wild, and, walking through the trees, we ran across a ton of kangaroo paw prints- which was awesome! But, we were here to sandboard.
In case you're not familiar with sandboarding, it's similar to surfing, in that you are on a board, and close to snow boarding, in the fact that when you fall off it hurts like crap, but, besides that, not too much is the same.
Sandboarding was fun and scary at the same time.  When we rented the sandboard, the company gave us two because not many other people had come by, and they let us keep it until closing, another advantage of visiting during winter months! (Normally each board runs $25 AUD for four hours.) We walked the boards up the steep hill to where we could look out over the Island, it was kind of a surreal moment.  The whole world was so quiet and peaceful, but, I'm not going to lie, I was pretty terrified — (Mainly of breaking a bone and being so far away from a hospital or even another person), so, I made sure everyone took time to realize how beautiful the view was, while I gathered my courage.
Bob and Rob both took some gruesome falls, and Rob's shoulder was pretty sore for a few days afterwards. All I can say is that we are getting old, my friend!
I can't really describe what sandboarding feels like, but I can say my whole body hurt after flying off the board and being flung into the sand. It was totally fun though, and we had the entire (little) Sahara to ourselves. I would say this is a must do for anyone heading to Kangaroo Island.